Alejandro Guzman
Born 1978, Hometown Vega Baja, Puerto Rico, Lives and Works Brooklyn, NY
When the love is easy
About:
Alejandro Guzmán is known for orchestrating and participating in ritualistic group performances featuring "performance sculptures" that he roughly constructs from disparate found materials. The actors in his ceremonies dance around or within the wheeled vessels made of commonplace items such as wood, fake flowers, mirrors, cut paper, plastic, and knitted yarn patterns, activating the space with a range of expression–from sexual exultation to discontent. Titling his performances Class Wars, Creative Misunderstandings, Somos ("we are" in Spanish), The Existentialist, and Mendacity, the artist has said that "sharing our inherent mutual experiences and beliefs is at the forefront of my work."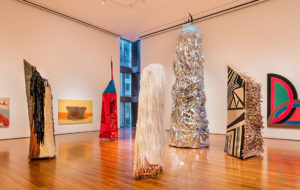 Creative misunderstandings
Installed in a sunroom at Wave Hill, a public garden in the Bronx overlooking the Hudson River Palisades, Intellectual Derelict (2012) is an installation that emphasizes human connection to the natural world. At the center is a "performance sculpture" that emphasizes duality–one side colorful flowers and drawings, the other mirrors and black-and-white drawings. A sacred space is carved out by paintings on the wall and floor–the latter evoking ritualistic floor drawings such as Haitian veves and Tibetan Buddhist sandpaintings. Guzmán invigorated the installation on three occasions with performances of sensual awakening, ecstatic exuberance, and concern for the environment.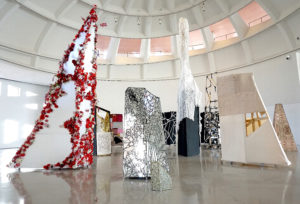 Installation view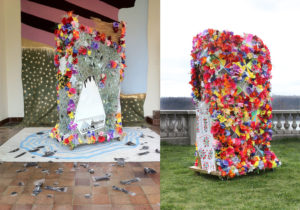 Intellectual derelict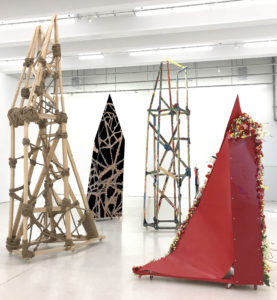 La Charada
Guzmán has exhibited in venues throughout New York City, including solo exhibitions at Taller Boricua, AD Projects, and Clayton Gallery & Outlaw Museum, as well as group shows at the Queens Museum of Art, 55 Delancey Street, HammerSpace, and Low Lives. Guzman has shown nationally in venues such as Galleria Sin Titulo in San Juan, Puerto Rico, the Boulder Museum of Contemporary Art, and the Toledo Museum of Art.