"The starting point of my work is what I refer to as a 'love-note to my daughter'. I started capturing her everyday life as a child. I evolved my style through play and experimenting."
Christabel Johanson interviews Benji Reid
Light Bike, 2021, Giclée print, 110 x 165 cm. Edition of 8 plus 2 artist's proofs
Benji Reid: Laugh at Gravity
Benji Reid unveils his first solo exhibition at the October gallery in London entitled Laugh at Gravity. The name is apt as the self-proclaimed "Choreo-Photolist" includes new dizzying work that aims to challenge your sense of perspective. Reid's unique synthesis of "theatricality, choreography and photography" helped coin the term. Laugh at Gravity's reinforces the spectacle of flying, suspension and all manner of anti-gravitational poses. "The body in space has always been my weapon of choice, my voice…the aim is to create without boundaries, slipping from the Black dreamscape to the political."
Beginning his career as a performer and creative director, Reid has spent the last 30 years contributing to Black physical theatre and collected many awards along the way. In 2012 he began merging his practice with photography and started producing his own images.
In Laugh at Gravity Reid's arresting imagery amidst colourful backgrounds, explores ideas of mental health, fatherhood and the Other. He transforms everyday objects into a new signifier of meaning. In doing so, the audience are forced to re-imagine the mundane as special. By helping the viewer escape from the common world, Benji's props therefore become characters in their own right.
This sense of escapism became important especially last year when most of the world was stuck at home. During the 2020 lockdowns Reid's work was featured in his home town of Manchester in The National Football Museum. The 50 Windows of Creativity project encouraged the exploration of art around the city during lockdown.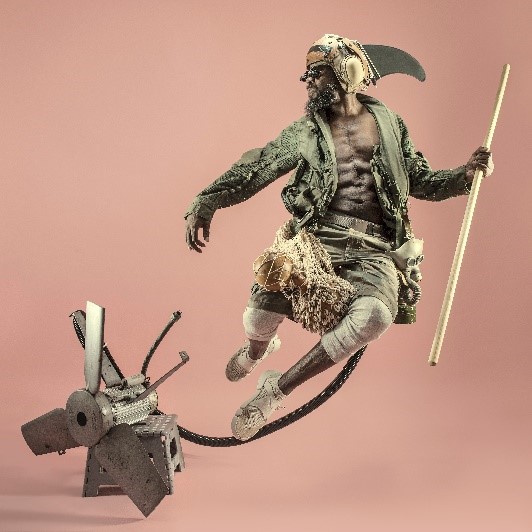 Moebius II, 2020. Giclée Print, 100 x 100 cm. Edition of 8 plus 2 artist's proofs (#1/8).
Benji how did you begin your career?
The starting point of my work is what I refer to as a 'love-note to my daughter'. I started capturing her everyday life as a child. I evolved my style through play and experimenting.
Where have you drawn inspiration from in the past?
Firstly, Bjork inspires me because you can see that she in her work she is constantly at play: she refuses to settle on one idea, she is constantly finding different way of exploring the possibilities of presentation and subject matter. These are methods I absolutely admire. Kerry James-Marshall, I admire his understanding of art history and how he applies art history to his work. His pieces are always in conversation with previous works, and they find a new way to present his Black subjects.
We've heard about how "familiar objects like a paddle, a sparkler or a stool somehow transform to transport the viewer into an alternative reality". Does an object inspire a scene, or vice versa?
There is always a conversation between me and the objects. Each object has a different vibration, I listen to the vibration of the object. It is an act of listening. Just as the initial ideas for a work progress, this act of listening to what the object calls for is also part of this progression. The objects are not props, they are active ingredients that transform, they become something else, in these alternative realms they have an alternative meaning.
I love anti-gravity as a symbol of liberation from our own realities. How did you visualize your portraits and how did this fit into the liberation theme of each story?
There was a desperateness to remove myself from the mundane. In finding a place where the body was suspended in space I was able to move away from a mundane portrayal of the body. In becoming less earth-bound I found liberation. There is a liberation that occurs when the body is allowed to explore space: physically, politically and emotionally. There are so many layers to this act of liberation. In one sense it is a re-enactment of freedom.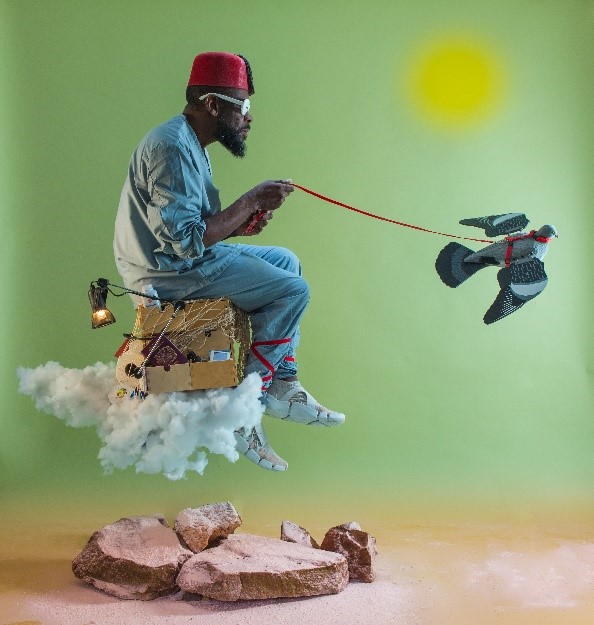 Spirit Guide, 2020. Giclée Print, 100 x 95 cm. Ed. of 8 plus 2 AP.
Can you talk more about the mental health aspects of this work?
As a father in custodial role, having to fulfil duties as a father and transitioning into this role is an important theme in my works. Holding on to Daddy is about the structure of roles and the duality between the father and daughter: how she becomes the anchor for the father as he spirals out of control. It challenges and questions what do we do as adults, or as parents when we are in a situation of crisis.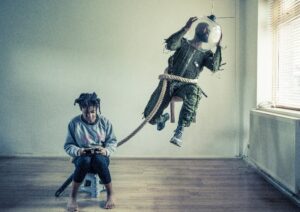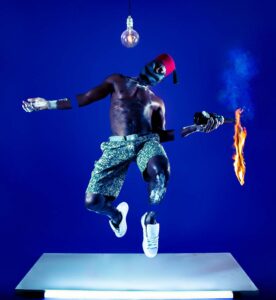 Holding onto Daddy, 2016. Giclée Print, 80 x 110 cm./Inconsolable, 2020. Giclée Print, 100 x 92 cm. Ed. of 8 plus 2 AP.
The exhibition is an opportunity for males to celebrate fatherhood and its complexities. What conversations are you hoping this aspect will strike up in men?
Proposition, the works offer a space to think, I do not have a presubscribed idea as to what people should feel about the work or the reaction it garners. I understand some people will reject a work and some will gravitate towards it, equally those responses interest me as it means people are engaging with the work.
The label "Choreo-Photolist" expresses the theatricality of your work. Can you tell us how conscious you were of keeping this aesthetic to engage your audience? How important was energy and dynamism for this show?
There is a mission to include story in the pieces. To include drama, I'm interested in story and dramatic tension. If I can find that within the portrait then that is how theatre lives through the work. Theatre provided me with a lens to explore new perspectives.
Each piece feels like an iconic snapshot. How much should each piece be read within the context of your show versus as a standalone piece?
In some of the more recent pieces, I could feel the subject was on a journey, especially in the works I created in the height of the pandemic. There is a feeling of wanting to transition: to escape, to travel. In these works I could travel emotionally, spiritually and mentally. A constant theme that seems to be occurring in my recent works, especially those made during the pandemic, is liminality: moving from one space to another space but not yet arriving. I created a work that features my daughter on a chair that becomes a chariot. When you frame it as liminal you understand she has departed but is not yet there.
Is there a piece that stands out as being most challenging and why?
Each work is about stripping away. At the start of the process I think I am going in to create something else and then as I start to strip away and pull back, I arrive at a set of ideas and objects. I allow them to have a conversation with each other.
For example, in Jet Age, there was almost a final stroke moment to make all the components of the piece work together. At one point the piece felt like a selection of ideas and the more I stripped away, the more I could make them become a composition. This piece was made in the pandemic and focuses on liminality
***
Most of us say "the only way is up" but for Benji Reid "up" is nothing new. By combining clever photography, creative prop ideas and a flair for theatricality Reid gives audiences an uplifting exhibition. Laugh at Gravity is a welcome dose of vibrant photography as London begins to explore the Art world once more.
ALL IMAGES: COPYRIGHT BENJI REID. COURTESY THE ARTIST AND OCTOBER GALLERY, LONDON.
Benji Reid, Laugh at Gravity, Until 8th October 2021, October Gallery, London
Christabel Johanson is an art historian and art critic from London