Cal Bocicault
About:
He is a native son of Connecticut. His parents migrated from Haiti, a country deeply rooted in art, so Cal was destined to be an artist. Growing up, he had dreams of becoming a cartoonist or an illustrator. Later in life, those dreams were quickly shot down simply because his parents were opposed to him pursuing either as a career. He then began to suppress his artistic abilities, focusing on other things like sports. However, he returned to his artistic side while studying graphic design in college. It was during this time that Cal realized how art and graphic design went hand in hand.
Cal's influences include Ellis Wilson, Jean-Michel Basquiat, and Alphones Mucha. They all played a major role in his growth and development. At the same time, he incorporates his own findings and philosophies by mixing media using different techniques and painting on all types of materials. Using his knowledge as a graphic designer to get his message across, he often would leave specific details out of a painting so that viewers could either think deeply about the painting or picture themselves in it.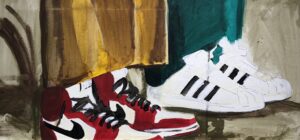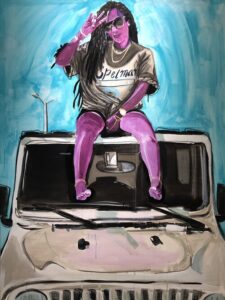 He has had some success with his style, catching the eye of collectors such as director Spike Lee, two-time welterweight boxing champ Andre Berto, and R&B singer Maxwell. His works are in each of their collections. Cal wishes for his works to be exhibited and seen all across the world, and he hopes that they change the way people think one way or another. He truly believes he can make an impact on the way most people view things through his artwork.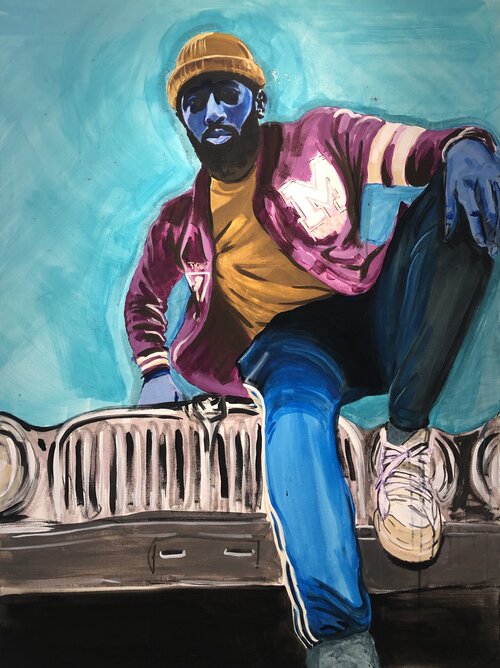 Artist Statement
As an artist, I feel it's my mission to master this language without words and to shed light on the issues I feel are often swept under the rug. I struggle each day trying not to fall victim to stereotypes and statistics that plague our society. I believe that my work reflects this. It's very eclectic, and I'm constantly in search of ways to elevate it as an artist. My work also has been described as raw, realistic, expressive, and thought-provoking. One of my goals is to become the voice of my generation and to make a difference. Art is universal no matter what language you speak, where you're from, what race you belong to, or what your social status is.