Klémagha Toussaint Dembélé chose Klèmèguè as his artist's name. Born in 1982 in Koutiala, Sikasso, Mali
Lives in Kati and works in Bamako, Mali
About
Klémagha Toussaint Dembélé chose Klèmèguè as his artist's name. In high school, his drawing teacher advises him to go to the INA, the Institut National des Arts. After four years of visual arts, he joins the Conservatoire des Arts et Métiers Multimédia Balla Fasséké Kouyaté, where he ends up being first of his class with a sculptural video installation. After a few years of teaching between 2011 and 2014, he goes back to his art and starts attending the Atelier Badialan, initiated by artists Amadou Sanogo and Ibrahima Konaté.
His work expresses with a lot of colour a deep unease that comes from his personal problems or from the violent news that come from Mali since 2012.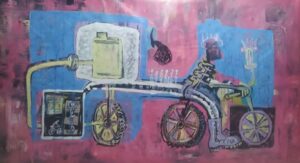 The ensemble of works presented by MAGNIN-A is a variation on the theme of the morning street vendor, alone in Bamako with his colorful loading and his bike. The town always empty in black and white is a sleepy setting surrounding this active and variegated figure. For canvas to canvas, this street vendor has mutated into an avatar of the artist, overcrowded by his psychological weight instead of his commodities. The central figure is a chimaera, a mix between the carrier, the load and the mode of transportation, at the heart of tortuous landscapes, the city becomes blurry and turns into a cave, crossed by vibrations.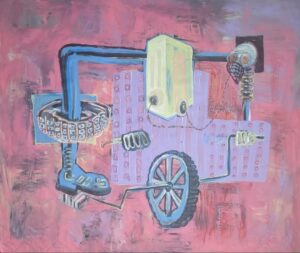 « We are alone when we have visions »
These psychic disorders, these anxieties, come from the family life, and the worry by the terrible news from Mali, subject to a great violence these last years. Klèmèguè likes to work when he is on edge, to drive away his deamons. This cathartic effect is visible in the nervousness of the lines. There is an urgency is his painting, to "throw up as much as possible" the anxieties that burden him.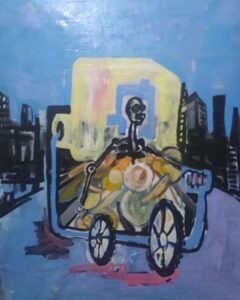 Klèmèguè, great admiror of William Kentridge, creates without showing them animated videos.