I am fascinated with the surface of steel. It is a substance so strong and industrial in nature. I love interrogating it, pushing its boundaries and playing with the alchemical processes. I look to bring life and dynamism to the materials that have constructed my hometown. I also love painting on it, the beauty of the oil paint gliding on its smooth surface.
Fadzai Muchemwa interviews Candice Kramer
Untitled, 2019
Nothing Stays the Same
A Conversation with Candice Kramer
Candice Kramer was born in Johannesburg. She holds a BA in Fine Arts from the Univer-sity of the Witwatersrand. Candice's method comprises of rusting metal and combining the contemporary surface of steel with the traditional medium of oil paint. By activating the rusting process in the metal, she expresses her curiosity with degeneration and re-generation. The themes of the passing of time and the erosion and transmission of memo-ries and values infuse her work as well as the degeneration and regeneration of our city landscapes. She extends this theme to Johannesburg, old Johannesburg and its beauty as well as the city as it is today. Her work is inspired by the energy of the transforming city. Candice questions the passing of time and its seemingly inevitable eroding nature. All materiality is transient and turns to dust thus begging the question what is transcendent through the generations.
Candice Kramer has recently exhibited in group exhibitions: Meeting Places by the Bag Factory Artists' Studios at Oford Parks, Divided Self at Kalashnikovv Gallery's P72 Pro-jects and The Bag Factory: So Far, the Future presented in parentship with FADA Gallery, University of Johannesburg. Here she talks about her process, positionality and what the future might look like.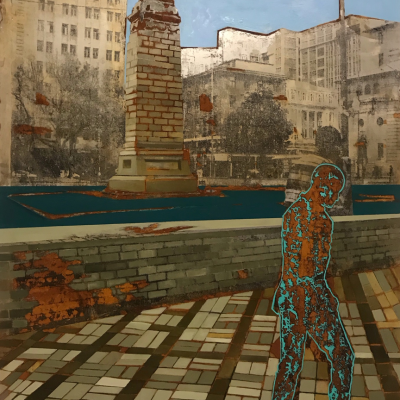 Solitude, 2019
What does art mean for you?
Art is my drive that I feel cannot be halted. It is my deep inner need to express myself. To create the beauty that I see.
Who was the first artist you loved?
Penny Siopis – I remember seeing her work Melancholia on a trip to the Johannesburg Art Gallery and being completely mesmerised by her use of colour and paint.
In your opinion what is the responsibility of the artist?
The responsibility of the artist is to enrich the world through a visual language and ideas
What were the origins of Transient Dust? (title of a solo of Kramer rmp)
Transient dust evolved from working with steel and water. I first became intrigued with steel when I had mistakenly left my coffee cup overnight on the steel. The next morning there was this perfectly rusted circle. I decided to explore it further -to draw with the rust, something that is impermanent – transient. I paint on steel, and I rust it. The rust is the natural alchemical process that happens to steel when exposed to water. It also reflects the ageing process and the passing of time. This further adds meaning to my work. The rust forms a dust when scrapped from the surface. We age like the steel. Nothing stays the same, everything is transient.
What drew you to the material that you work with?
I am fascinated with the surface of steel. It is a substance so strong and industrial in nature. I love interrogating it, pushing its boundaries and playing with the alchemical processes. I look to bring life and dynamism to the materials that have constructed my hometown. I also love painting on it, the beauty of the oil paint gliding on its smooth surface.
Besides the transmission of memories and passing of time, what inspires your work? How do you navigate the archive that is Johannesburg?
I reference people, historic family photos and antique maps, I am trying to connect to the memory of the past, to find my space in the future. People love looking at the maps in relation to themselves, where their studio is or, where they grew up. It is the memories that these spaces hold. I reference people, I love South Africans their sense of Ubuntu and the energy of the inner city. Having a studio in town definitely inspires me. I either rust my figures or paint them in colours – you have no idea of the colour of their skin. They are just street walkers, figures traversing the city scape, "raceless" in a way, Just Humans. We are all mortal no matter what colour we are. Colour definitely plays a large role in inspiring me.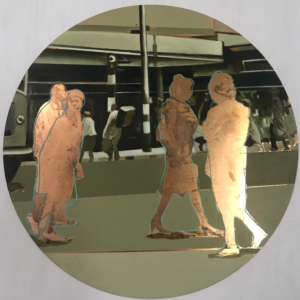 Reflection, 2019
Do you play it safe when it comes to your choice of subject matter?
Yes, I think I do need to push myself to continually discover "my voice", to explore it further, to make more of a comment. This is one of the areas that I am working on to more and more integrate with my natural passion for colour.
Does your positionality affect how you approach your work?
My positionality definitely affects my work. As a white middle-aged woman from privileged background, who was a child during the apartheid years, I make use of my art and my art environment, to make sense of the world. My art is an attempt to understand and come to terms with that, at times with guilt and at times with acceptance, gratitude and a sense of responsibility. The physical structures (buildings) in my works remain yet the ideologies that existed when they were built are transient too, just like our existence. Is my positionaIity a blessing or a curse? I am not sure. But I believe in the process and that true genuine voice will find its space. As an artist you are continually looking to push your work and your voice. There have been times in my life where I have thought that this industry is too difficult to succeed but there is an inner cry to be creative that cannot be crushed.
What was it like for you growing up in apartheid South Africa and what is your lasting memory of that era?
Growing up in apartheid South Africa, to a large extent I was ignorant or unaware of the debilitating social impact of the apartheid laws. All I knew was that my family loathed the National Government and that my family was involved in outreach to the poor. I was most aware of my doting, loving and dedicated domestic worker, Margie. On one occasion I accompanied my mother to rescue her from arrest because she had walked up the road to the nearby cafe without her passbook. This is one of my most poignant and impactful memories. As profound, is my memory of travelling often into town with my aunt to visit family living in Joubert Park and the surrounds. An area that become a no-go space, but which is slowly being transformed into a safer destination.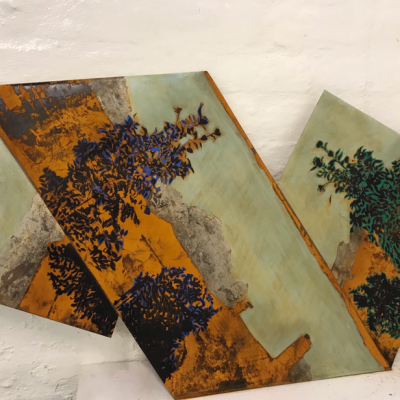 Folding Heaven, 2019
Has the pandemic affected your life as an artist?
Yes, it has, sales have definitely been affected, regular corporate clients have taken a step back because of their own financial constraints. It has also been good for me from a creative process, it allowed me the time to play and explore my practice. It has also made me shift from urban to suburban subject matter.
I am interested in how you frame transience. Has 2020 changed the way you consider your work?
Yes, it definitely has, COVID has highlighted even further how transient and fragile we are. It has bought mortality to the forefront of all our minds. This has further informed my work by how I draw and make a mark. I am drawing more on the steel. There is more sensitivity in how the line is drawn.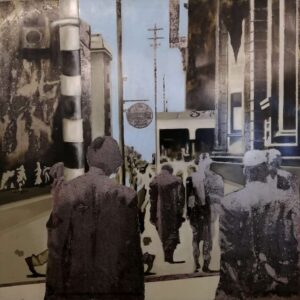 Jozi Walkers (Market Street) 2019
What are you working on now?
I am looking at other alchemical processes that happen. I am currently exploring verdigris and the mark and colour it makes on copper.
What is the legacy that you hope to leave?
You've probably heard of the 10,000-hour rule, which was popularized by Malcolm Gladwell's blockbuster book "Outliers." As Gladwell tells it, the rule goes like this: it takes 10,000 hours of intensive practice to achieve mastery of complex skills and materials. I would like to master my skill and leave a visual language in the world., but for me it is actually more about a journey than about the end game. A legacy to my children, more than to the world at large of having achieved through being true to myself. Following a passion of creativity that is integral in all aspects of my life. A legacy of success through determination, grit and sound values.
What does the future look like for you?
I am not sure what the future holds, all I know is that I am in the process, and it is only ever about staying in the process, I am constantly looking to push myself as an artist.
Fadzai Veronica Muchemwa is an independent curator and researcher. She is currently a Master's researcher with the Arts of Africa and the Global South's programme in the Fine Arts department at Rhodes University in South Africa.