You might ask yourself, what would be fascinating about the doll-like representations of humans? Is the artist playing with our minds? Is this just buffoonery? Why bring puppetry to the gallery? Well, why not? But there you have it. They are copies of us, made by us, meaning, they can easily stand in for us, which the artist does.
Matt Kayem on Posers of Canon Griffin.
Canon Griffin: Clowning The Art Or Not?
While other photographers choose to study human bodies, landscapes, wildlife and others, for his most recent show at Afriart gallery, Canon chose to go with mannequins!! Yes, you read it right, the tailor's dummies are of interest to the artist. This is not a freak show, neither is it the circus but an art exhibition. Posers is the title of the show, accompanied by the slogan, Come float with us where Canon captured images of mannequins anywhere he could find them on Kampala streets. He has been building the body of work since 2011 which comprises of 33 works.
You might ask yourself, what would be fascinating about the doll-like representations of humans? Is the artist playing with our minds? Is this just buffoonery? Why bring puppetry to the gallery? Well, why not? But there you have it, they are copies of us, made by us, meaning, they can easily stand in for us, which the artist does. He makes the mannequins talk to us, reveal their inner voice, he gives them a chance, an ear, he makes them echo human stories, he breathes life into these plastic beings. Each of them is a Poser, as the artist designated them, a human being playing a role or representing one. They peer at you, mounted and locked up in clean glass, bordered by wooden frames, printed with high resolution by an inkjet on archival paper. They probably say silently, Help!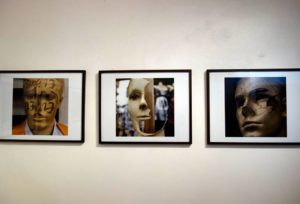 Three Posers at the exhibition. Image by Ronex.
It's now clear that the artist is interested in anthropomorphism which is the attribution of human traits, emotions, or intentions to non-human entities. We encounter the art form in traditional fables, religion, mythology, film, television and video games but it is rarely employed in visual art. Thanks to the unconventional mind of the artist, we have the art form in the gallery space. The concept of the uncanny valley comes into play while interacting with the work at a deeper level but at first sight, the observer ought to put psychology aside.
Something else you might miss during your visit to the exhibition is the formation of the photographs inspired by German artist Gerhard Richter's 48 portraits. Richter translated photographs of carefully selected rather famous men into more or less uniformly painted portraits that float back and forth between individuality and formality. He continues to play around with the way they cast their gazes into space. Andrea Stultiens, the curator of exhibition describes the artist as one with an omnivorous eye because he amasses pictures, builds series years on ends and shoots continuously. Personally, I have been watching the artist on facebook and his posts are evidence of Andrea's claim as the artist photographs everything, anywhere, even the most bizarre things like a polythene bag or dead bird on the street. Daudi Karungi, the director of Afriart gallery echoes our claims too as he had this to say about the artist, Canon is what I call a true artist; he is constantly working, collecting material, sometimes useful, sometimes not. All that material helps him put together bodies of work that have time, context, content, aesthetics and sheer avant-garde-ness. He is an important artist of our time but we might fully appreciate him much later, I hope not too late though.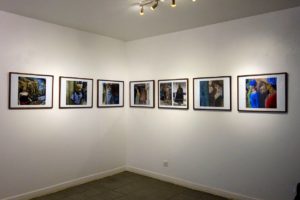 Installation view of the photographs at the show. Image by Ronex.
I like Canon's work for it's reflection of his character and persona which is eccentric, witty and playful. All that can be seen in this collection where he picks and presents to the public, images that question his sobriety. Like The Joker, a villain character in Marvel's Batman, he pokes at us, why so serious with whatever you do? Why not just photograph mannequins on the street? But all that is perhaps seeing the work from the surface because if one interacts with his work deeper, he finds the weight of it. The ability to free his mind and stay true to himself renders his artistry original, uncensored and the other half of him. For example, he wore a clown costume at the opening of the show from where I formed my next query, what was with the costume? To which he replies, Let's quote an amazing poser of high rank and formidable work, in song; It's …Marilyn Manson! …The light shines in the darkness and the darkness will never understand it, you can take me, the grave can take me, the earth is waiting to eat us alive, I love you damaged, I need human wreckage, I have to look up, just to see hell. As a poser among posers and pictures of posers, I needed to honor our amazing being, shining in enigmatic regalia. Let me astonish you, there was no clown there! That is how I chose to COME FLOAT WITH US, and Helen Nabukenya with her art amazingly took part in the conspiracy, thus making me worthy of the pose, the role of presenting this likeness to us in their solemn sanctity of being arrested in time, written in light.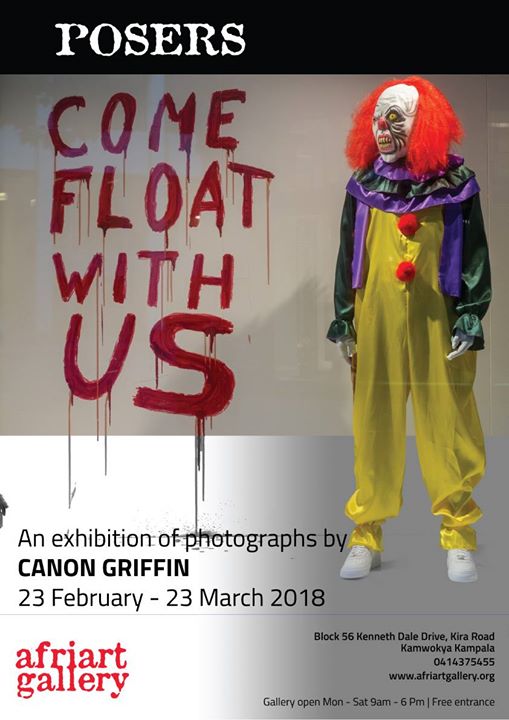 Poster of the exhibition.
An awesome writer in his own right, I can't resist the urge to serve you with his piece about Posers.
*
In the beginning was the horror. The horror was all.
Terror!
Hangings and overwhelming discomfort, coerced presence. No choice.
Then I looked at them longer and looked for them farther.
There is love, there is hope in a pose of no hope. Their persistence!       Their poise, grace, smothered being, fantanstic aggression,            unmatched submissiveness, their battered servitude, …                                                 … they are mutilated and flattered with dress … fattened with other material into expectant posers, …
All things happen to them … to us … a silence that is compliance to demise,
falling to pieces is guaranteed … Sadistic business doesnot become more fun by participants relenting! In place of one that quits are eager contestants … posing our best in a grotesque presence wrought in every passing now and every then, being the working dead, dressed and there.  It's our special display in a compulsory dance to individual ruin.                     Holding back? Being passive? Boring futility! Have your head taken away, neck torn up, be broken all over, tied to supporting structure … contorted and shuffled around … decay awesomely …
Nevertheless, proped still, fastened, bound, THE POSERS ENDURE.
They wanna be seen, they reach out, "Look like us. YOU ARE ONE OF US! COME FLOAT WITH US!"
A poser poses a question;
What life do you give unto me from your life story?
Sometimes, a poser scares me, showing me what's possible with our form, … in my physicallity, in my stark materiality!
Distance from the uncanny valley doesnot imply full comfort.
Our pathetic fallacy, inescapable anthropomorphism and other stretchings of our visual system … integral to our pitiful mechanisms … one can't be totally unassuming about anything present or perceived. It's us!
Look at these POSERS!
*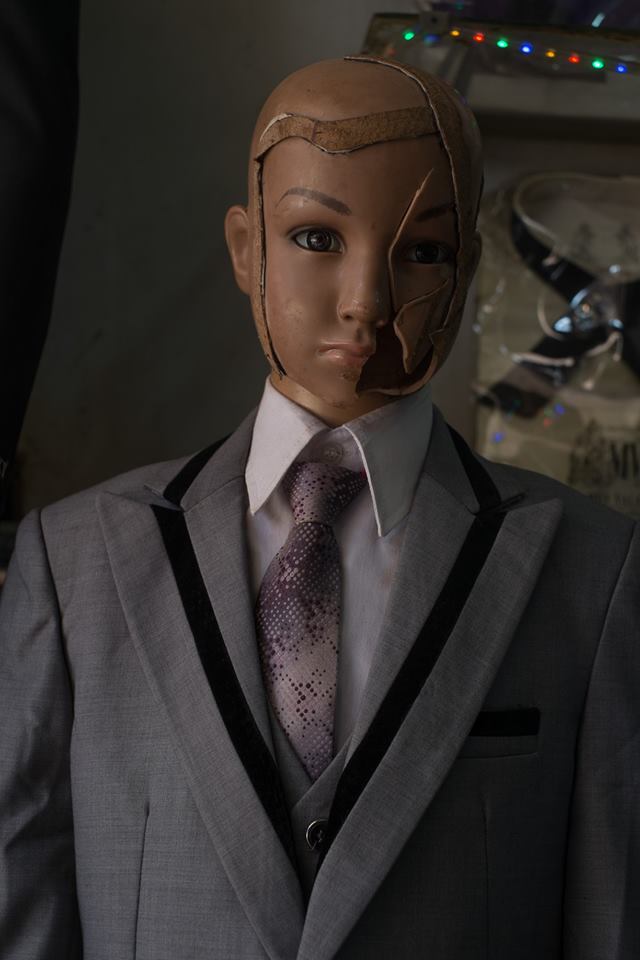 Canon Grifin, Poser.
During my engagement with the artist about the show, I asked him what he is trying to achieve with the body of work and he replied, I identify with the goals of image makers, who from pre-history have given man a pictorial narrative. Projection of our realities onto the forms expressed in our images is always an empowering pursuit that gives the necessary and cherished illusion of endurance in a mysterious presence we pose or are posed in. Every poser is every you, every me, every her and every him, each in a moment of the feelings and appearances of our (Aristotelian) predicament."
The artist in front of his work. Photo: Daily Monitor.
Canon's exhibit reminds me of our times which are filled with technology robbing away our humane senses. We have lost our social communication skills to social media platforms and the smart phone and soon it's going to be intimate sexual connection due to the advent of the sex robot. Could the work be related to this? You better visit the exhibition.
R. Canon Griffin (UG, 1991) is a kamikaze artist with an unflinching gaze into the abyss of his perception of the world he shares with us. He avidly shares his work online as UrbanUnkindness a title truly born of being observant in topsy-turvy cityscape like Kampala where the artist has consistently practiced. He has collaborated with Andrea Stultiens (NL, 1974.) since 2011, early in his career, together, as History In Progress Uganda, a platform they founded and continue to run. His work, under the collaboration or in other ways has been recognized by various prominent establishments, peers, and more. It's getting viral out of undeniable interest, relentlessly, and to last long. Canon Griffin uses various media such as Photography, Video, Digital Art, Drawing, and Painting to bring forth what he has to show. Photography is where he is in his hyper-beast-mode, with a number of photography series he has been expanding over the years. His search for the absolutes led him to dabble in various topics like Psychology, Psychiatry, Philosophy, Advertisement, Warfare, Mythology, Visual Communication & Image Theory, various Para/Pseudo Sciences. From his amorphously wispy psyche with reference to an index like a weird basement filled with objects, every object connected to every other object, aware or without consciousness, he presents us with staggering tableaux chasing the form of the infinite transmitted through his presence.
The exhibition, Posers is still on show at Afriart gallery, Kamwokya on Kiira Lane till the 23rd of March 2018, you don't have excuses not to walk into the multifaceted mind of Canon the Griffin. Or better yet, own one these treasures.
Matt Kayem is a contemporary artist, art critic and writer living and working in Kampala, Uganda. He can be reached via email, mattkayem@gmail.com.