In November last year Sasha Dees started travelling in the Caribbean region, researching the sustainability of contemporary art practices and the influence of international (exchange) projects, funding, markets and politics. During her research she will be keeping a travelogue for Africanah. Her first stop in the region was Ayiti (Haiti). In March she reported about her stay on Korsou (Curacao). In the April edition Aruba was reported on. Jamaica followed in May. Now the Cayman Islands and the US Virgin Islands are on.
Tony Capellán, Mar Caribe, 1996.
Caribbean Travelogue 5
Cayman Islands / US Virgin Islands
A Museum for Contemporary Art (or National Gallery on the British and former British islands) is 'a thing' in the Caribbean. Most islands have, as I have written about before, museums presenting the history of the island with archival material and art from colonial times and before. The contemporary art is often treated as 'the foster child', not fully accepted by the family. The artists on islands that don't have a Museum for Contemporary Art want one. The artists on the islands that do have one often talk about why it's completely failing and not facilitating the artists or serving the art field. Contemporary means it has its content and possible participants (artists, curators, critics, board members, collectors) present all alive and kicking and with opinions, strong opinions, mostly contradictory opinions holding everybody back, aka crabs in a barrel, as locals say.
There's a lot of politics and interests around museums, specifically the ones that are fully funded by the government: historical, personal, social, political, race and class coming up most. It has nothing to do with the arts directly but with having power, or not having power and wanting it. This is what is mostly preventing museums from either being built or from being utilized in a way that they can indeed facilitate the artists, the art field at large and the community they should be embedded in. My visits to Grand Cayman (Cayman Island) and St. Croix (US Virgin Islands) show me that a well-managed museum, not part of government, appropriately sized to the country and its capacities, serving the art field and its community and supported by it, is possible.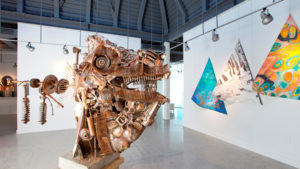 NGCI, outside and inside.
The National Gallery of Cayman Islands (NGCI) started in a storefront in Georgetown, Grand Cayman in 1996. In 2012 the organization, with the support of donations (land and financial) by community members has moved into a newly built multifunctional space to accommodate contemporary art the best way they can. It has a 2 story main exhibition space. The ground floor is for exhibitions being made by the NGCI, guest curators or acquired and/or co-commissioned travel exhibitions. On the 2nd floor the visitors can see shows made from works out of the permanent collection. This new and growing collection of local contemporary artworks has works from the '70s on. Its oldest works are from artists like the intuitive painter Gladwyn Bush (aka Miss Lassie) and one of its latest acquisitions is from young emerging artist Kaitlyn Elphinstone. There is a separate project space that can be used for lectures, panels, film screenings and third party rentals. Cayman Island artists can also submit a proposal for a solo exhibition there, like the exhibition I saw by Grand Cayman artist Randy Cholette. There is a café with a terrace and a museum store. The office space has small cubicles where the staff including its director work and a small library / meeting space. The final space is for education with programs for children all the way up to seniors, including mentally & physically challenged participants. NGCI hosts school classes in the museum every week.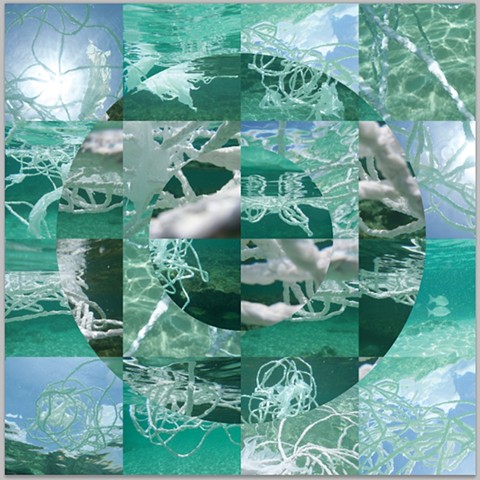 Kaitlin Elphinstone, White Plaits Blue Braids, 2015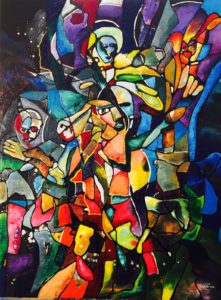 Randy Cholette, Mind Giant

Simon tatum, Collecting Turtles, 2015
I realize this all sounds like business as usual, things a museum does everywhere in the world. But it is considered an anomaly in the Caribbean. Travelling in the Caribbean it is the first time for me to see a completely new building and not the usual renovated old colonial building with more money going to the building than to the art in it and often being totally unfit for contemporary work. Granted I haven't been everywhere yet but NGCI is actually completely built to facilitate the art field and the artists first and foremost. This is also how the staff talks about their work, the vision of the museum, how they want and can contribute to that, their own plans etc. I'm sure there are the usual frictions between people like everywhere else but the crabs-in-a-barrel mentality that I have encountered elsewhere it is not.
It is also new to see such a young and dynamic staff. No offense to anybody, but it is refreshing to see a female director that just turned 40 and a staff that doesn't seem to exceed that age. Natalie Urquhart became NGCI's director in 2009. She has a core staff of 5 as well as paid interns. A healthy mixture of ages in the board and a young passionate staff contributes to the ability of the museum to embed itself in the community at large and also be in tune with the new 'trends', for lack of a better word, in the arts. This museum for contemporary art is not stuffy, formal, elitist, neither is it arrogant or indifferent. It's contemporary, current and vibrant. So are the people working there and its vision and mission. It is not just words but you feel it and clearly see it in everything.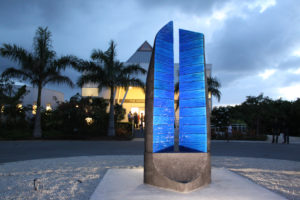 Davin Ebanks, Adjacent, 2014 (in front of NGCI)
Cayman Islands is also the island with the highest GDP in the region (44K) and money is a factor to success but certainly not the only or the main one. Passion and love for the arts and community combined with knowledge, hard work, flexibility and savviness has been the key to success. NGCI is its own organization; it owns its building and the land is built on. It is only approximately half-funded by its government and the other half of their budget is covered by private foundations, sponsorships, collaborations, donations and income. In comparison, the Museum of Modern Art and Belle Arts in Republica Dominicana as well as the National Gallery in Jamaica are all fully funded by their governments. More often than not governments fund the renovation of a 'grand building' but they forget to dedicate a sufficient annual programming and maintenance budget guaranteed long term to secure quality and continuity. It is not enough to appoint government employees to it. No guaranteed government income or benefits for the staff in Cayman. They need to raise money for their own salaries. It is definitely an incentive to get to work, present good exciting exhibitions and programming frequently, do it well and have good connections with everybody. NGCI benefits from the flexibility demonstrated in 2004 where the gallery was turned into a soup kitchen and safe place for displaced citizens overnight. It needs its staff to be on point to guarantee the continuous support of their community at large by serving it (with a smile) the best way possible or better.
As its staff is young, it will continue to rotate; millennials tend to change jobs more frequently than previous generations. It guarantees a fresh eye and new knowledge every time a new person comes in. Experience and careers for this generation can be had anywhere, for whom travel and living in different locations is a given. Rotation of a small staff also brings challenges: how do you make sure you always have a healthy balance of experience and new people? And how do not make sure your staff doesn't leave all at once? NGCI is on top of this by giving out scholarships and having students return, thus creating an ongoing pool of potential employees. The scholarship program is for local talented youth to go oversees for a BFA and MFA. After graduation of each those students come back to the island and work as a (paid) intern for a year, sometimes staying on longer if there are vacancies.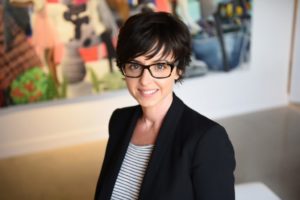 Natalie Urquhart, director NGCI
NGCI also reaches out internationally. Urquhart is the Chairman of the Museums Association of the Caribbean and NGCI is a core committee member of Tilting Axis, a regional annual conference. In addition to its educational programs, NGCI supports opportunities for its staff to go abroad and has started to invite people from abroad to come to Cayman for short visits and is developing a program to invite colleagues from abroad long term. NGCI also has a local Creative Careers program, mentoring students and emerging artists, and a public speaking series to inform and educate the community about creative workforce opportunities.
All this effort has increased the pool of people that are interested, available and have the qualifications to work in the museum substantially. NGCI works with the fact that a part of this generation will refuse borders to be in their way of their dreams and ambitions and they are more fluid then we have ever been. They go and come back, go again and come back again and don't even think about it. It's not their island but the region or the world that is their stomping ground.
2.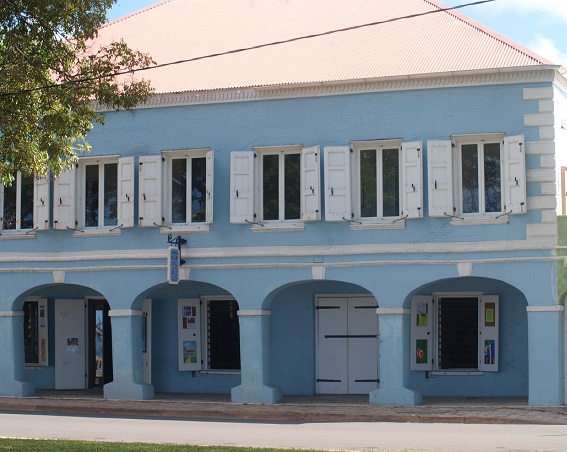 Caribbean Museum Ceter for the Arts, Frederiksted.
Caribbean Museum Center for the Arts in Frederiksted, St. Croix is an organization that has run entirely on volunteers since its founding in 1994. Yep that's right a museum run by volunteers for almost 25 years. Wow! Basically the board (a general managing board and an advisory artist board) of the museum all volunteer in the work that needs to be done. It's an organization led by the people you need to manage a museum so its board consists of artists, curators, educators, historians that came together to make this work. It's quite amazing.
It moved to their current location, a two-story colonial building at the waterfront, in 2003. The ground floor has a historical exhibition space and museum store. Its 2nd floor is for contemporary art. It also has three residency spaces, which at this moment are not functional because of last year's hurricanes. It has a heavy education program — even more after the hurricane — as the schools up till now share locations and students go to school half their normal time. The CMCA jumped in with extra art programs. Part of it, is just making sure children have a place to go supervised, a valuable resource for the whole community. When I was there, I saw groups going through the exhibition, getting assignments to react to what they were seeing there and other groups sitting in its outdoor yard making drawings.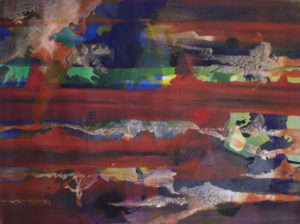 Judith Ganz, Untitled. The artist participated in Growth, a groupshow at CMCA in 2015
Being the only national museum/gallery on the island, CMCA is ready to professionalize after 25 years of volunteering. Its board has secured a one-time donation by a local philanthropist to hire an Executive Director who will get paid comparable international rates for this position. Within the year the ED has to develop a long-term vision and mission for the museum and fundraise for the consecutive years including her/his own salary, small staff, programming, exploitation and maintenance.
It is an exciting time for the museum. They are interviewing candidates so the ED can start this September. One criterium they told me is that they want somebody local or born on St. Croix but now living abroad. This totally makes sense given the fundraising that needs to be done. A local who still has strong connections and friendships to government officials can contribute to this. The NGCI model of diversified income where the government funds a basic part of the budget increases confidence in an organization by its community. It will certainly help to secure other donations and support next to the Virgin Island local government. Education will continue to be a key focus for this organization and with the appointment of an ED they want her/him to start reaching out to the region and internationally. To be continued… let's cross our fingers for them!
BACKGROUND TIMELINE CAYMAN ISLANDS:
The size of Cayman Islands (Grand Cayman, Little Cayman and Cayman Brac) is: 264km2 (102 square miles). It's a British Overseas Territory and has a population of 58.400 people: 40% mixed, 20% black, 20% white, and 20% other (2017). Its main religion is Protestant (70%). GPD per capita is $44.800, off shore banking and tourism its main income. Official language is English (Index Mundi).
1503: Columbus takes the three islands under Spain's rule but they don't settle. Up till today there has been no proof found of human existence on the islands before the Europeans arrived. The island was inhabited by crocodiles, alligators, iguanas and lots of giant turtles.
1630: The Dutch pirate ship Dolphijn crashes into the Grand Cayman's northern reefs. Captain and 120 crewmembers spend 16 weeks building a new small boat from the planks of the Dolphijn. They name the boat "Cayman" and it gets them to Cuba where they are taken aboard on other Dutch ships.
1670: Treaty of Madrid: sovereignty was ceded to England and permanent settlement began.
1831: An Elected assembly is formed. Elections follow in December (population is 2K)
1898: Cayman is governed by Jamaican commissioners until its independence in 1962. Cayman chooses to remain a British Crown colony.
1987: National Cultural Foundation is established.
1996: National Gallery of Cayman Islands is established.
2004: Hurricane Ivan.
2009: The constitution is reformed and the head of government becomes known as premier.
2012: National Gallery of Cayman Islands (NGCI) moves into its own building.
BACKGROUND TIMELINE US VIRGIN ISLANDS:
The size of US Virgin Islands (St. Croix, St. Thomas and St. John) is 346.36 km2 (133.73 sq. mi). It's an unincorporated and organized territory of the USA and has a population of 106.400 people: 76% Black, 15.7% White, 4.8% other, 2.1% multiracial, and 1.4% Asian. Its main religion is Protestant (60%). GDP per capita is $36,350, tourism, trade and service industry its main income. Official main languages are English Creole and English (Index Mundi).
8700 BCE: Guanahatabey inhabited the islands.
400 BC: Ciboney arrive.
200 AD: Arawaks arrive.
1300: Invaded by Caribs.
1493: Invaded by Spain.
1620: Invaded by England and the Netherlands.
1621: St. Croix Invaded by France.
1672: St. Thomas and St. John invaded by Denmark.
1673: Start of Transatlantic human trafficking.
1733: St. Croix purchased from France by Denmark, sugarcane, produced by
African slave labor drove the islands' economy during the 18th and early
19th centuries.
1733: St. John Revolt.
1848: Non Violent Revolt St. Croix.
1848: Abolition of slavery.
1917: USA purchases the islands from Denmark for $25 million in gold; they had been in economic decline since the abolition of slavery in 1848.
1989: Hurricane Hugo.
1994: Caribbean Museum Center for the Arts established in Frederiksted.
2017: Hurricane Irma and Maria.
My research is in part made possible by Mondriaanfonds, my research in Cayman Islands in part by the National Gallery of Cayman Islands, Natalie & Sandy Urquhart, in St. Croix in part by Kharis Kennedy & Kevin Stewart. Thank you artists, institutions and organizations in the arts field for making time to meet with me and refer me! Edited by Holly Bass.