My paintings are also a testimony to the beauty and intelligence of pre-colonial societies and a tribute to how these societies were organised. The way in which I place these societies in relation to the present is rather like tracing a traditional and cultural knowledge that was crushed by the rise of industrial power.
Christabel Johanson meets Eddy Kamuanga Ilunga in London
Fragile Responsibility: The Artwork of Eddy Kamuanga Ilunga
Until June 16 Eddy Kamuanga Ilunga's work will feature at the October Gallery in London. For this exciting event, I was invited to attend the opening night where I learnt more about this emerging Congolese artist.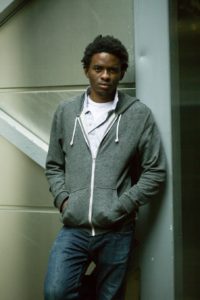 Eddy Kamuanga Ilunga, 2016. Copyright photo: Jonathan Green
Upon arrival a crowd had gathered in the small central-London gallery, marking the launch of Eddy Kamuanga Ilunga's first UK solo show Fragile Responsibility. The wine was flowing, the canapes circulating and I was ushered into the viewing space. Over two rooms and across several walls hung Kamuanga Ilunga's uniquely styled artwork, each piece its own world filled with symbols and ideograms. To truly appreciate the staging of his work, a little knowledge first had to be understood.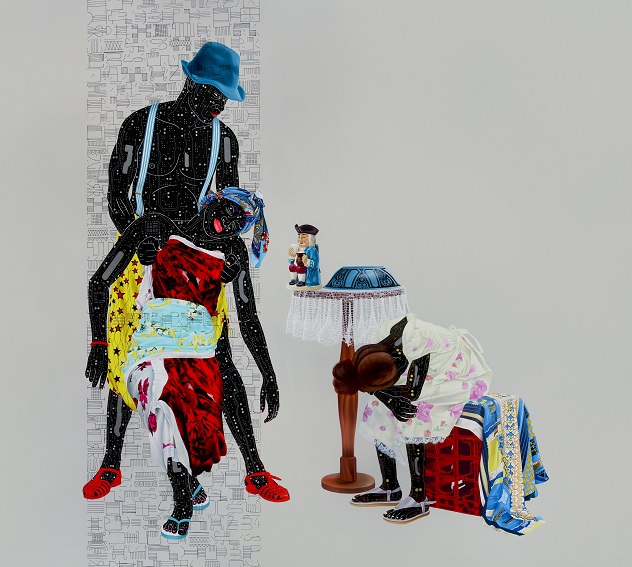 Born in the Democratic Republic of Congo (DRC), Eddy studied painting in Kinshasa before soon forming M'Pongo with other artists, meeting at a group studio to create their own scene reflective of their surroundings. With the surroundings being the Democratic Republic of Congo, it is safe to say that the country's history not only influenced but has shone through Kamuanga Ilunga's work. Building steadily on his portfolio Eddy has been exhibited across Africa including Dak'Art; Biennale OFF Senegal (2014) and globally with Panagaea II (2015) showcased in the Saatchi Gallery. Eddy reflects on his own portfolio as an almost living art form, "I have a strong relationship with painting. For me there is a sort of life in paintings; when I see them in museums I see a life after beyond the artist's signature. Paintings transform over time. In twenty years, I will look at my works and they will probably be different."
Different they may seem with time but what will remain are the clever motifs that Fragile Responsibility repeats. In order to read these symbols correctly however, one must appreciate the social, political and economic context of the DRC. As a predominantly Christian country, native traditions have been side-lined and rejected from popular culture often vilified as 'Pagan' beliefs. Ironically this influence came from Catholic missionaries whose job was to 'save' natives by converting them into Christians, yet their influence is an intrinsic part of the indoctrination and suffering of the Congolese people. Another important fact is that the DRC is the world's largest exporter of coltan, a metallic mineral used in computer processing and telephony. This is featured in Kamauanga Ilunga's work; plastered across his figure's skin, faces and body as a ubiquitous reminder of this trade economy.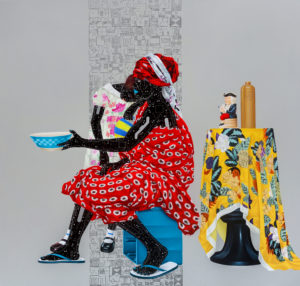 The idea of fusing the current with the stylised was perhaps implanted in Kamuanga Ilunga from an early age. Inspired by other artists Eddy recalls "When I was five years old on my way home from school, I would always see a group of artists who would reproduce American cinema posters in oil paintings on large format paper. Whenever I saw those posters I felt a connection, something that I could finally hang on to. So I started trying to reproduce posters, comics, everyday objects and images from advertising on the street. It helped me understand something else, another form." The circuitry that replaces his figures' skin confirms this cultural context in the same way, making the artwork a reference to popular culture and contemporary mores alongside traditional aesthetics.
When asked what else informs his work, Kamuanga Ilunga replies, "It is a natural process. Often it is based on my experiences, my reality and the condition of life within my society that have profound effects on me. I cannot choose a theme to work with. I can be confronted with a reality and be interested in a specific thing, and on that basis of that I try to dive into the past. Looking at stories of the past I can understand how we have arrived at such a reality today. I never try to create an artificial context. I think of my work every minute of the day. My work is also about the notion of reconciliation between the past and the present. My work is an attempt to understand the present through the past, but also it examines how this past has an influence on what is happening today in the Democratic Republic of Congo. My paintings are also a testimony to the beauty and intelligence of pre-colonial societies and a tribute to how these societies were organised. The way in which I place these societies in relation to the present is rather like tracing a traditional and cultural knowledge that was crushed by the rise of industrial power. There is also the question of exploitation in the Congo, which dates back to the 15th century with the arrival of the Portuguese who exploit human beings, reducing them to slaves, in complicity with those ruling the Kongo Kingdom and the other chiefs; the exploitation of rubber around 1885 by Belgian King Leopold II; there is also the exploitation of minerals during colonization or even today, the exploitation of coltan. The Congolese administration reproduces the colonial model which drives this whole society back into chaos. A painting of great precision, as well as the use of bright colours, shows that beyond this chaos (political, historical, etc.) there is a life. It is precisely this 'life' that allows Congolese society to resist this chaos."
In this UK solo exhibition Kamuanga Ilunga indeed examines Congolese history, colonialism and its effect on contemporary society and identity. Walking through the gallery and examining the bold pictures hanging on the walls, I can clearly see the notable objects such Toby Jugs or porcelain decorations used as leverage by the Portuguese. These factor into the overall meaning of the portraits by bringing slavery and its baggage into the forefront of interpretation. Indeed Eddy himself says he delved into this history deeper to observe its heritage to slavery. The 17th and 18th century in particular holds importance as this was when such trade, coercion and bribery persuaded African leaders and kings to sell their own people into slavery.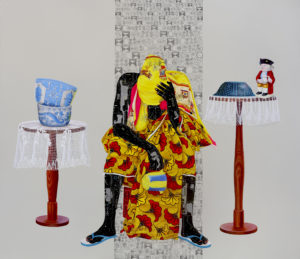 The above piece entitled Fragile 1 shows a woman sitting with her head in her hand, in a position of distress or defeat. She is surrounded by the Toby jug and other bowls. Draped in tradition African print she is a typical Congolese woman yet the circuitry on her skin and the artefacts create a motif. The tradition of exploiting black people extends from the slave trade to present day with the export of coltan out of the land. "They refer to the violent exploitation…in the Democratic Republic of the Congo. This illustrates my attempt to assume personal responsibility (by raising awareness, awakening others). By exposing the lack of responsibility in our leaders who are complicit with the West, I try to interrogate the utopia of a social-democratic state and expose the threat of losing the historical roots that are crucial lines of thought, essential to each individual." The picture is made up of contrasts; for example her black skin stands out against the light porcelain, the Toby jug rests steadily on the side table whilst the figure slumps in her chair. There is fragility but not from the delicate object but rather the people themselves.
It was on a trip to the Mbutu Kiniati village that everything fell into place. Eddy stumbled on those same artefacts preserved by the village elders, still believing that they held supernatural powers from the white tradesmen. This inspired the artist to use his own work as a bridge between the present and the past, linking these objects to their narratives not only in the DRC but other countries within Africa, Asia and South America that shared the same colonial heritage and likely the same pain
If you were thinking that the philosophy of Kamauanga Ilunga's art goes deeper than scrutinising the past, you would be right. He explains, "This led me to think about our current situation, and the responsibility of our own leaders today…History appears to repeat itself over and over again. Our leaders must be held responsible, and be answerable to the society for the current abysmal state of our country."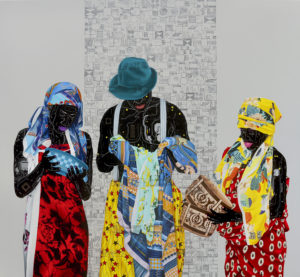 So in today's world the DRC much like Eddy's exhibition contains contrasts. Both modernised yet still anchored to the past, Kamauanga Ilunga's art is a lament as well as a celebration of the land and its people. His figures are broken and suffering however they are not defeated; they are downtrodden but not dead. They remain standing, alive and there is a silent strength about their poses which demonstrate survival. "My work is a way of processing history and memory, of bearing witness to the violent displacement of societies and villages by the authorities today, so that Western and Chinese corporations can exploit our mineral deposits…This project is my way of paying homepage to the slaves and ancestors who resisted human trafficking… I tackle complex questions and unspeakable subjects without resorting to brutality or shock tactics. By making conscious artistic choices, I aim for my art to be a space where people can be involved without feeling uncomfortable."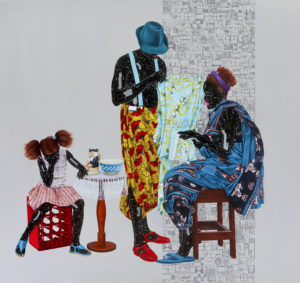 After my visit to the October Gallery I was not uncomfortable but left feeling fragile – perhaps unsurprising given the theme – I was unsettled by the reminder that human life can be so easily commodified. However with this came a better understanding of what it means to be truly strong: if Eddy Kamaunga Illunga's artwork teaches us anything, it is to learn from our past in order to free ourselves in the future, and that standing in the face of difficulties is more than just rebellion; it is true strength.
Credits for artworks: Eddy Kamuanga Ilunga, Fragile Responsibility Series, 2018. Acrylic and oil on canvas. Courtesy the artist and October Gallery, London
Christabel Johanson is a writer and a curator from London. She has had previous writing and poetry published and is currently involved in organizing her cultural nights "Christabel Presents…"