CHIBUIKE UZOMA: Quasi School of Taught, 2013
About the project:
These photographs are a metaphorical engagement with the educational system as I experienced it in Nigeria. In his autobiography, Henry Adams said, "The chief wonder of education is that it does not ruin everybody concerned in it, teachers and taught." I felt something similar during my years in university. These photographs capture and re-enact moments from a recruitment session for the quasi-military called Man 'O' War in order to evoke ideas of power, authority, and servitude as witnessed in higher institutions.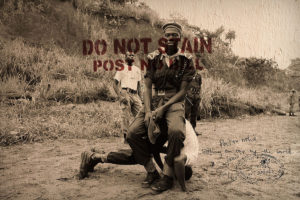 Sitting on top of the world, 2013.
About the artist:
Chibuike Uzoma (b. 1992 Port Harcourt) is a multidisciplinary artist who works with painting, photography, drawing, and text. He graduated from the University of Benin (2013) with a major in visual art (painting) and since then he has been practicing as a full-time studio artist, with projects, exhibitions and artist residencies in Africa, Europe, Asia as well as the United States.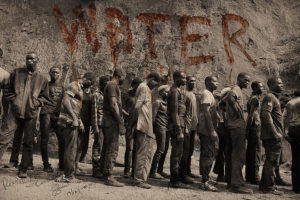 Water, 2013
Uzoma's art projects are generally inspired by the fabric of everyday life and the relationship between humans and their immediate environment. He creates visual languages to portray narratives that modify common understandings of places and people. Usually taking reference from Nigeria, the African Diaspora, and the Global South, his artworks engage issues of contemporary politics, post-colonialism, migration, popular culture and themes related to religious and ethnic conflicts.
Store, 2013
His art process is organic, spontaneous, and conceptually-driven in which the paintings, drawings, and photographic performances develop in conversation with ideas and analysis. He often creates his artworks through the superimposition or overlaying of collage, stencils, stamps, prints, and official documents.
Chibuike Uzoma lives and works in Ile Ife and Lagos, Nigeria.(Courtesy text and images: the artist)