Chiffon Thomas
Confronted, 2022
About:
Chiffon Thomas' (b. 1991) multifaceted practice incorporates embroidery, collage, drawing, and sculpture to explore the self as split, fractured, and transforming. Identifying as a non-binary queer person of color, Thomas contends with the crafted body in his work, examining wider issues of gender, race and sexuality. Embracing the liminal space between figuration and abstraction, Thomas' "impossible bodies" forcefully eschew easy classification in order to serve as vessels for personal memories and collective narratives. Reminiscent of the diverse, mixed media practices exhibited by David Hammons, Robert Rauschenberg, Louise Nevelson, and Faith Ringgold, Thomas' own application of materiality is a unique language for translating both shared and personal experiences.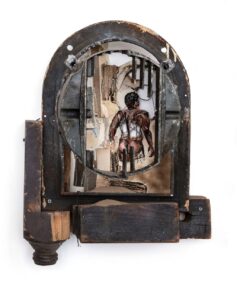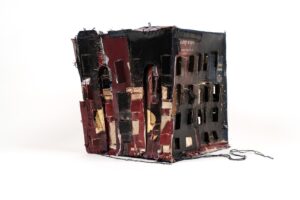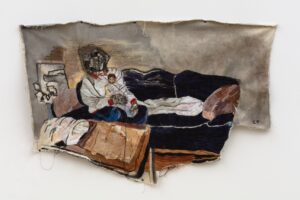 Solid, 2022/Calumet 2022/Case 2020
Thomas holds an MFA from Yale University and a BFA from The School of The Art Institute of Chicago. He has completed prominent residencies with the Skowhegan School of Painting and Sculpture, Skowhegan, ME and the Fountainhead Residency, Miami, FL. His work is in the permanent collections of the Hammer Museum, Los Angeles, CA; Institute of Contemporary Art, Miami, FL; Pérez Art Museum, Miami, FL; and the Currier Museum of Art, Manchester, NH; among others. Thomas is a 2022 recipient of the Joan Mitchell Fellowship. P·P·O·W presented Staircase to the Rose Window, Thomas' first solo exhibition with the gallery, in fall 2022 and his first solo museum exhibition will open in fall 2023 at The Aldrich Contemporary Art Museum. Thomas's work will also be included in the Hammer Museum's sixth biennial, Made in L.A: 2023, opening October 1st, 2023.