Hussein Salim
Sisters, 2021
About:
"For me, art not only evokes memories and contemplation of the loss of home but it also encounters the present and shapes the future. My work is the product of a rich heritage from my origins in Sudan, my training there and my recent diasporic experience"
Hussein Salim's paintings are a dialogue between different cultures, and represent his strong feelings that art must be used as a tool to initiate dialogue.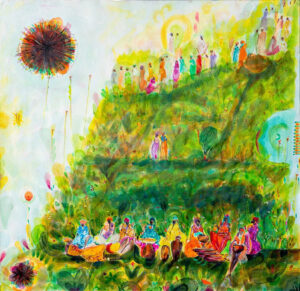 Picnic
Hussein left his home country of Sudan as a refugee, and his works awaken in us an appreciation of our differences and diverse reactions, but bring us back to the shared foundation of mankind. A sense of displacement and a longing to return to his country has influenced the nostalgia in his art.
His richly textured canvases employ an extravagant layering technique to create a dense impasto feel, using personal symbolism that is both ancient and contemporary.
Hussein is the latest artist to join the 6-week Artist Residency, in association with SAFFCA (Southern African Foundation of Contemporary Art) at Lion Sands Game Reserve. The Residency allows artists to live, work, and interact with guests, and centres around creating art that is inspired by our natural surroundings.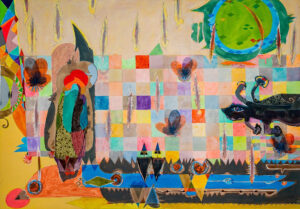 Snappy
'"As a Sudanese, my past and present are marred with memories of loss, isolation, migration, exile and forgotten heritage"
As a result of the socio-political unrest caused by the First and Second Sudanese Civil Wars, Hussein Salim, along with millions of others, was forced to flee his native Sudan and spend a number of years as a refugee in countries like the UK, Germany, Egypt and South Africa. His work, characterised by its use of vibrant colours, the layering of intricate patterns and the impasto painting technique, describes his journey of displacement while celebrating his homeland's diversity and multicultural communal root.
"As an Artist, expression has come to me as a matter of trying to grow the feeling and capturing the essence of the little things in life (the details) in their presence and their absence. My aim was refreshing the memory of the viewer, about shifting environments and its people. My aim was to draw light to the tiny details that no one pays attention to.
Effection
The journey that I took (and I still am on) has shown me what I truly want. More. Not more of life, but more from life.
My artwork always needs to convey my passion. What I believe, is that artwork is supposed to reach beyond the boundary of the frame and break the laws of physics, society and the very way our minds work.
These paintings are my thoughts married with action. These are when I have "jumped out the frame". I hope you enjoy them as much as I did creating them."