My criteria for choosing the artists on the list has included how long they have been practicing professionally, how active they are in terms of showing their work, sales of their work, strength and maturity of their concepts, aesthetics and technical competence, value at auction, novelty and the avant-garde factor in their work, personal taste, among many others.
Matt Kayem about the criteria for his top ten contemporary Ugandan artists
Contemporary Artists in Uganda
A personal top ten
The recent fascination with African art has not left Kampala, the capital of Uganda without color and expression. A bunch of brush obsessed individuals in Kampala are entertaining, shocking, creating dialogue, challenging the status quo, questioning our times, erasing the boundaries and crafting novelty. Whereas the Kampala scene is not as vibrant as the one in neighboring Nairobi, it is built on the strong stem of Margaret Trowell School of Industrial Art at Makerere University which has churned out a huge number of artists who are leading the industry. Afriart gallery as the foremost gallery in the city represents the most cutting edge creatives in the land. With centers like 32° East, Ugandan Arts Trust and the Kampala Biennale that had its first edition in 2014, there's surely a place for contemporary art in the Pearl of Africa. All this evidence shatters claims by Simon Njami, a renowned curator who came down and said there was no contemporary art in Uganda.
As an artist who's been quite active and a huge spectator on the scene for the last two years, I would physically write Njami's words on a paper and advise him to eat it. For you who wants to know the big boys and girls of the land and probably would wish to pull your pockets out to acquire some treasures, here's is a list you should look into. My criteria for choosing the artists on the list has included how long they have been practicing professionally, how active they are in terms of showing their work, sales of their work, strength and maturity of their concepts, aesthetics and technical competence, value at auction, novelty and the avant-garde factor in their work, personal taste, among many others.
1. Donald Wasswa (Waswad), b.1983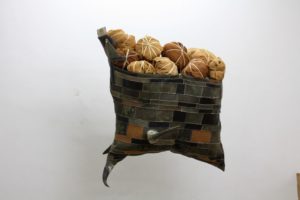 Waswad's Ensi y'obukolomoni, an installation from his Zikunta series. Photo from the artist.
As a multi-disciplinary artist that trained from Kyambogo University, his work is both aesthetically and conceptually charged. From his drawings, paintings, sculptures and installations, there is immense attention to fine finishing and detail as well as building mature concepts and story-telling. He is interested in paring-down design elements to their purest forms and minimalists like Sol LeWitt, Donald Judd and Yves Klein would drool at his work in admiration. Waswad was second runner up at the Barclays L'atelier competition in 2016, the most prestigious prize of its kind on the continent. For his winning work, Maali Ya Muswangali, Waswad told a story of a farmer and trader, Muswangali who loses his bags of maize in transit and they are discovered in Mombasa but with trash in them instead of maize. For his body of work, Zikunta, which is a Luganda adverb loosely meaning, 'the winds blow'. He investigates the psycho-socio effects of rural-urban migration and adds it together with the refugee crisis worldwide as well as neo-colonialism on the African continent leading to immigration to western countries in search for greener pastures. With works like My Screw Ups and Specimen X;Molokonyi, he pushes boundaries of Ugandan art as he opts to display found objects rather than fabricate the work.
Waswad started the art collective Art Punch Studio and he lives and works in Kampala.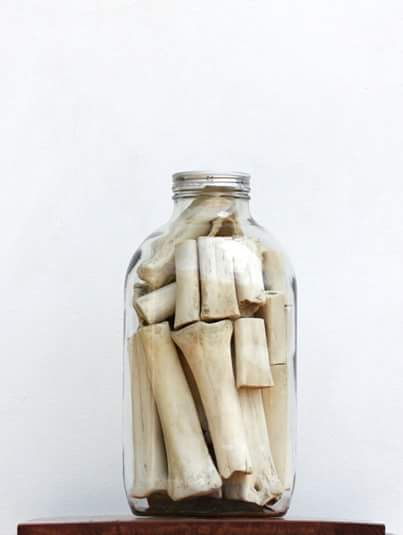 Waswad, Specimen X; Molokonyi, animal bones in jar, 2016. Image by artist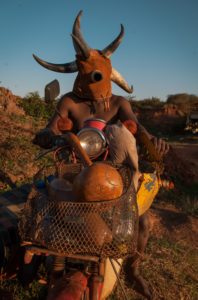 Waswad, Dr.Zunga, a photograph from his Zikunta series. Photo from the artist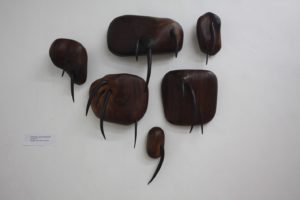 Waswad, Emisinde gya ba Kamyuffu, an installation from the Zikunta series. Photo by the artist
2. Sanaa Gateja, b. 1950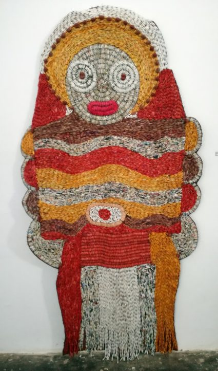 Sanaa Gateja, In Power, Paper beads on barkcloth, 194x 103cm. source: afriartgallery.org
Nicknamed 'The Bead King', Sanaa could be put in the same category as El Anatsui and Abdoulaye Konate for they have all mastered using recycled material in their work. He invented beads made from the recycled paper which makes his work totally unique. His practice falls in line with the global consciousness to preserve the environment. Gateja is indeed one of Uganda's art bigwigs as he holds a wealth of experience, studied at the London College of Art and Design and at the Universita Internazonale dell Arte in Florence. Through Afriart gallery that represents him, his work has been to both the Cape Town and Paris art fair in 2017. He is very active and has exhibited extensively since 1980 in Uganda, Kenya, Rwanda, U.K, U.S, Germany, among others. Sanaa is represented by Afriart gallery in Kampala.
Sanaa Gateja, Life Source, Paper beads on barkcloth, 180 x 180cm. source: afriartgallery.org

Sanaa Gateja, Pineapple Lady, Paper beads on barkcloth, 190x 55cm, 2017.source: afriartgallery.org
3. Xenson, b. 1978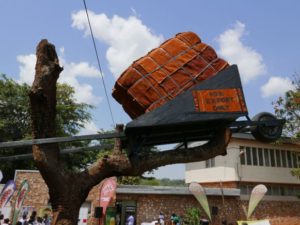 Xenson's Ndiboota Exporters at the Kampala Biennale 2016. Source: startjournal.org
A painter, poet, performer, fashion designer, graffiti writer and installation artist, Xenson is the quintessential multi-media artist. He has refused to be grouped into a singular artistic expression because he lives by his motto, 'creativity is limitless'. As a multi-talented creator, the unconventional comes to life with an extraordinary imagination in his work. He is influenced by the splendor of African arts, African cultures, vitality of African dance and hip-hop as a free expressive art form. Xenson's work usually explores the concepts of identity and global circulation of culture against the contextual background of pre and post-colonial history. Xenson's avant garde fashion has an afro futuristic touch to it, a genre which has been of interest in the African contemporary world.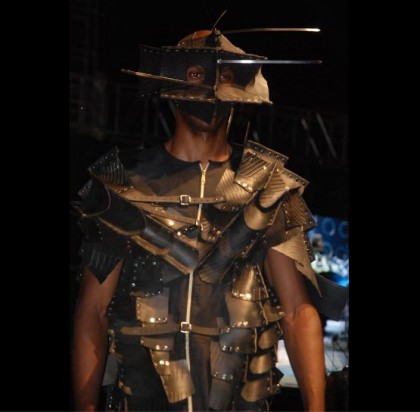 Xenson's fashion. Source: bigeye.ug
4. Paul Ndema, b. 1979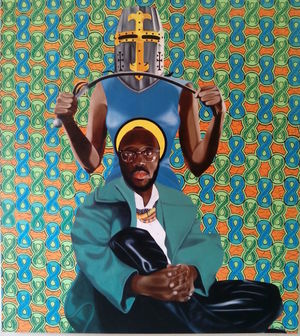 Paul Ndema, Cracking The Whip, Oil on canvas. Source: nhcontemporary.com
A very skilled painter and draughtsman, Ndema plays around with satirical interpretations of Christianity in his paintings. With fine brushwork, he creates human figures on top of geometric colorful backgrounds similar to African fabric prints and sometimes alike stained glass art from churches. The attention to detail in Ndema's work is astonishing as every layer of paint seems to have been applied with great care. The often simple compositions addressing complex contradiction become a sort of syncretism, a way of coping with accelerating change in our daily lives as modernity cracks through the past and splinters into color. Ndema is a graduate from the prestigious Margaret Trowell School of Industrial Art. He has shown at the Kampala Biennale 2014, Circle Art Gallery in Nairobi for the group show, Kampala Contemporary, Cape Town Art Fair(2016, 2015), AKAA Contemporary Art and Design Fair, Paris(2016), 1:54 Contemporary African Art Fair(2016) and Circle Modern and Contemporary Art Auction(2015,2014). "Last Supper", one of Ndema's most iconic works was acquired by the Sindika Dokolo Foundation in 2015. The painting borrows from DaVinci's but instead of the disciples, we have African leaders and revolutionaries with the originator of Afrobeat, Fela Kuti in the middle.
Paul Ndema lives and works in Kampala and he's represented by Circle Art gallery in Nairobi.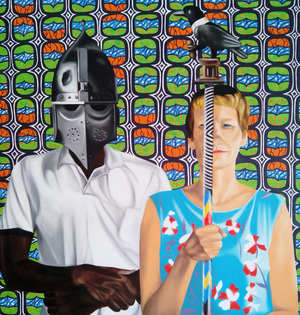 Paul Ndema, The Overseer, oil on canvas. Source: nhcontemporary.com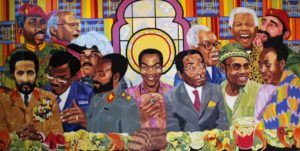 Paul Ndema, Last Supper, oil on canvas. Source: nhcontemporary.com
5. Henry "Mzili" Mujunga, b. 1971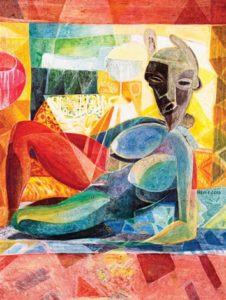 Henry 'Mzili' Mujunga, Kati Kati, 2016, Courtesy Afriart Gallery.
On the local art scene, he is widely known as the artist with a well of ideas which could have led to the title of General. As a young artist under his wings, I attest to this. Like most of the artists on this list, he is also a graduate of Makerere University where he received a Bachelor in Industrial Art. He is a print-maker and painter, the latter being his main practice now. Mzili throughout his career has been exploring intuitive ways of reviving African art through an art movement called 'indigenous expressionism'. Maybe this explains why he has had a profound influence on most of his younger contemporaries. There has been a gradual change in style and imagery in his work over the course of his 20 year old career. He strongly advocates the importance of networking among contemporary African artists in order to share their culture and create an interesting dialogue with the art being produced globally. His "Crowd Control" series, shown in 2016, touched on issues of love, friendship, contentedness and interconnectedness through the concept of the six degrees of separation. He says this about his new body of work that hasn't been exhibited: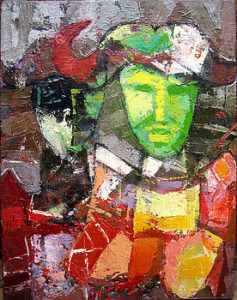 Henry 'Mzili' Mujunga, Among the Living, Courtesy Afriart Gallery
'My work is about issues of gender; the shifting paradigm towards "a new normal" in defining our identities. It is a conversation about the recent history of gender, the fluidity of gender and the posturing of gender in the attempt to create a new structure for social control in this age of attention seeking. Thus the frequent reference to the selfie in my work. In a generation that claims not to put labels on people and things, the need to define the self still obtains'

Henry 'Mxili' Mujunga, Mamba, Courtesy Afriart Gallery.
Mzili is a winner of the Royal Overseas League (ROSL) Art Scholarship 2003 and has exhibited in galleries in Uganda, Kenya, Tanzania, Nigeria, Togo, Benin, Burkina Faso, Mali, Ghana, South Africa, the United Kingdom, Germany, France, and the Netherlands. He has recently been represented by Afriart gallery at the Joburg art fair and the Cape Town art fair. He has been valued at the Circle Art Auction in Nairobi and at the Piasa Auction in Paris in 2017.
6. Eria "Sane" Nsubuga, b. 1979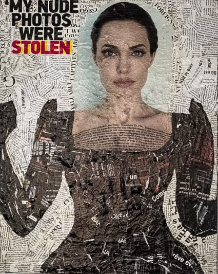 Eria Sane Nsubuga, My Nude Photos were Stolen, mixed media. Source: afriartgallery.org
The first time I saw Sane's work was at his solo show, Mukaabya's Legacies, at Afriart gallery in 2016 and was blown away by his juxtapositions of popular personalities. From the 18th century Muteesa I, ruler of Buganda to Ai Wei Wei, Jesus Christ, Sudhir Ruparelia, Princess Diana to himself. At the sight of his work, you can see he is weaving around big and deep stories.
Sane is currently pursuing a PhD at University of Southampton in UK. He has been lecturing at the Department of Art and Design at the Ugandan Christian University in Mukono, and practices painting, illustration and sculpture. Since the beginning of his career in 1999, he has constantly been challenging himself and his art by experimenting with techniques. Often he has been confronting viewers with new and difficult subjects such as human rights, social privileges and responsibilities, and most recently political affairs. Coming from a background in sculpture, he works within a variety of media. From drawings, paintings and illustrations to sculpture and installation he always tries to relate his art to viewers by using or depicting familiar objects and symbols as well as experimenting with local materials. His work contains multiple layers of meaning that often comes ahead of aesthetic considerations, and, as he admitted recently, he has had to learn to enjoy his own work without waiting for other people to like it.
Sane is represented by Afriart gallery in Kampala and has shown in Nairobi, Europe and recently at art fairs in Paris and Cape Town and Johannesburg.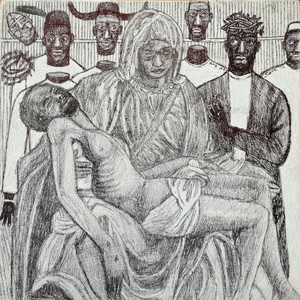 Eria Sane Nsubuga, Mukaabya's La Pieta, drawing on newspapers and plywood. Source: afriartgallery.org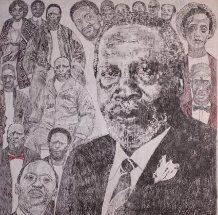 Eria Sane Nsubuga, Children of Kitara, drawing on board. Source: afriartgallery.org
7. Collin Sekajugo, b. 1980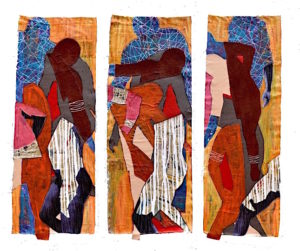 Collin Sekajugo, Purification 2, mixed media. Photo from the artist.
Secolli, as his pseudonym reads, has just completed his residency at the International Institute for Creative Development in Abuja from October to November 2017. For an artist who identifies as Rwandan-Ugandan and lived in Kenya too, it's understandable that he is interested in culture and has this to say about it,
*
"I have learned to believe that Ethnocentrism has always
been the worst problem on the soils of all humanity since
the genesis of man."
"We tend to become constrained in our heritage and
cultural backgrounds. I believe that when culture dictates
a lot in our day to day lives, we eventually lose our moral
values as subjected to the world we live in today."
*
Collin Sekajugo's art is about social conscience and healing. He raises awareness for issues that break our societies: from discrimination to environmental change, segregation, and disintegration. Through his work, he develops concepts on the elements that build or destroy our societies. The message that is portrayed in his artwork is a demonstration for social transformation: stitching together different identities that create a bond for our common values as a people.
The pursuit of social transformation is not only reflected in Collin's artwork, but also in his art-community building activities. Collin has founded Ivuka Arts in Rwanda, which enables promising young artists to develop their skills and gain exposure. In addition, he founded the WEAVER BIRD Community for the Arts in Uganda, where he works with artists from all over East Africa to transform a once very poor village into a Community for the Arts and a Community Tourism hub for East Africa.
Collin is a versatile artist, whose work ranges from paintings, to mixed media work, to performances. He has followed numerous residencies, workshops and conferences in Africa, Europe and North America and has participated in various solo and group exhibitions all over the world. His artwork holds the distinction of being displayed in multiple public and corporate collections and has been featured in different galleries in East Africa, South Africa, Japan, Europe and the USA.
Sekajugo's work was collected by the Smithsonian Museum of African Art, Washington D.C in 2012 and by the American comedian, Chris Rock in 2006. He is represented by Eclectica Contemporary in Cape Town, ODA gallery in Franshoek, Western Cape, Sulger-Buell Lovell gallery in London and Afriart gallery in Kampala.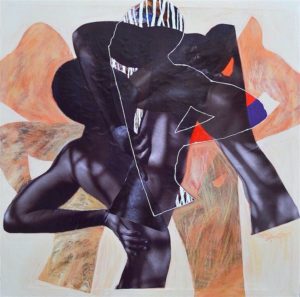 Collin Sekajugo, Self Repair, mixed media. Photo by the artist
8. Ian Mwesiga, b.1989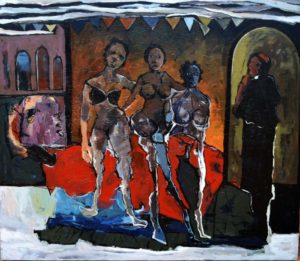 Ian Mwesiga, Perpetual Nihilism, acrylics on canvas. Source: makerereartgallery.com
Mwesiga is another skilled painter on the list from the younger generation. Though his career is still young, he has already been valued at auction by the Circle Art Auction in Nairobi where his Black Man in A White Suit went under the hammer and fetched 2780 U.S dollars. This was early 2017. The dynamism and maturity in Ian's brush work is what should catch your attention first as he has been experimenting with a lot of styles in his early work. His early work has influences from western schools like cubism showing that the young star is knowledgeable about his art history. That is no surprise though as he has a Bachelor's degree from the prestigious Margaret Trowell School of Industrial Art which he completed in 2014.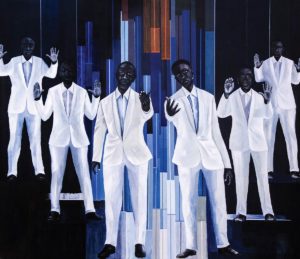 Ian Mwesiga, Black Man In A White Suit, acrylics on canvas. Source: circleartagency.com
He has undertaken residencies at 32° East, Ugandan Arts Trust, Kampala and Kuona Trust Centre for Visual Arts, Nairobi, both in 2014. His works have been exhibited in a solo exhibition at AKA Gallery Kampala, in 2014 as well as numerous selected group exhibitions including Forward Ever Backward Never, Framer Framed, Amsterdam, 2015, East African Encounters, Circle Art Gallery, Nairobi, 2014, KLA ART 014, Kampala Contemporary Art Festival, 2014 and Moving Africa, Dak'Art Biennale, 2014. Mwesiga participated in the At Work workshop facilitated by Simon Njami and the Asiko Art School in Maputo facilitated by Bisi Silva and CCA Lagos, both in 2015.
In his new body of work, Mwesiga references the aesthetics and sentiments of the Black Arts Movement, considered to be the literary and visual arts wing of the Black Power Movement that emerged in the USA in the 1960s. He utilizes this ideological visual language to challenge the ethnographic gaze focused on post-colonial African society by creating striking reflections and proud celebrations of social identity in the context of a highly racialized world.
Ian is represented by Circle Art gallery in Nairobi and he lives and works in Kampala.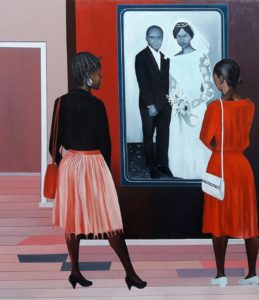 Ian Mwesiga, In The Awe of The Married Couples, acrylics on canvas. Source: circleartagency.com
9. Stacey Gillian Abe, b. 1991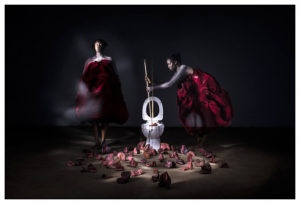 Stacey Gillian Abe, EnyaSa, Inkjet on fine art rag paper. Source: staceygilllab.wixsite.com
Another powerful young artist on the rise, Stacey holds a BA in Industrial Art from Kyambogo University.
Stacey's installations and performances are integrations between man and the spiritual realm and more believing these spheres influence and form our individual identities.
Her concepts materialize into created imagined spaces that probe thought on identity, spirituality and cultural mysticism.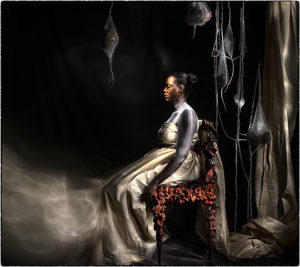 Stacey Gillian Abe, Seat of Honour, inkjet on fine art rag paper. Source: staceygillab.wixsite.com
As the process highlights the strength and fragility of the female mind in the self, each space that Abe works on as its own contexts and gets its own interpretations. Besides participating in group exhibitions like Institut Francais Kinshasha (2014), Kampala Contemporary, Circle Art Agency Kenya (2016), Eroticism and Intimacy Faces, Places and Paths, the Underground Art Space (2016), Being Her(e) –Angola Luanda (2017) and The 2nd Kampala Art Biennale-KAB (2016). Workshops like; (Re)-Thinking Feminism and Black womanhood Iwalewahaus-Germany, Goethe Institute (2016), Decolonizing the Museum (2017) Abe also completed a residency at 32° East | Ugandan Arts Trust (2014); Nafasi Art Space Dar es Salaam (2015); Culture Vultures Morocco (2016), East African Soul TrainEAST (2017) and holds a certificate in Cultural Leadership-Arterial Network, Goethe Institute (2015).She is a receiver of the new talent award (2nd place) – the boda boda project KLAART 014 and a Prince Claus fund award (2016). She was nominated for an artist in residency fund program for African artists through Africa Centre 2016/2017 and also listed among the young provocative African artists to watch in the continent- featured in 'This is Africa' and 'Africa.com' (2016). Stacey was selected for the Project Space Residency in Johannesburg which was started by another Ugandan artist, Benon Lutaaya.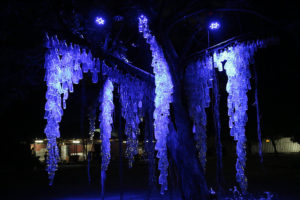 Stacey Gillian Abe, Strange Fruit- Konyagi, glass bottles and light. Source: staceygillab.wixsite.com
10. Canon Griffin, b. 1991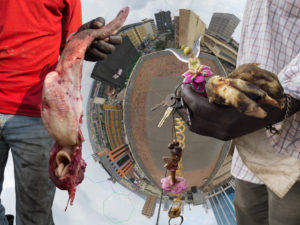 Canon Griffin, Minor Clashes/Residual Letters from the Metro, photography. Photo by the artist
Canon fulfills my ideal of an artist which is, an artist doesn't have to paint or erect a sculpture to know they have a wonderful brain. They could just talk or walk by and you just smell the creativity. This is how you feel when Canon opens his mouth. He's overly informed for his age and can move from one topic another with a lot of ease in his conversations, often adding in puns and juxtaposing different words and meanings ending up losing his listener. All this is evident in his art too. Canon has also freed his mind to unimaginable levels; very witty, playful and eccentric. The unorthodox and twisted worlds come alive in Canon's work. Disrobed and Bold is one of his controversial work where he was photographed naked with a bunch of artifacts, wearing a tie and shoes only. This is a link to that work, http://urbanunkindness.tumblr.com/post/137003648694/disrobed-and-bold-full-retard
It is just beautiful to see an artist whose character is accurately reflected in their work.
Canon works with photography, drawing, graphic design and painting. He has been part of group shows at Afriart gallery, Makerere art gallery and showed at the last Kampala Biennale in 2016. He has participated in major photography programs like the Addis Photo Festival, Pricca Practice, Noorderlicht Photo Festival and Mugran Photography workshop in Khartoum. Canon is currently doing his residency at 32° East | Ugandan Arts Trust in Kampala.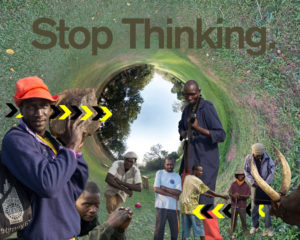 Canon Griffin, Guardians of the Underbelly/Crass Hyperbole, photography. Photo by the artist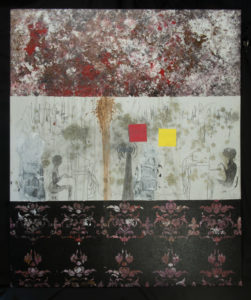 Canon Griffin, Blip.Do.Blip.Do, graphite and acrylics on paper and canvas. Photo by the artist
Honorable mentions
1. Immy Mali
2. Ronex
3. Denis Mubiru
4. Sheila Nakitende
Matt Kayem is a contemporary artist, art critic and writer living and working in Kampala, Uganda. He can be reached via email, mattkayem@gmail.com.