I was grieving the loss of a close friend and during one of their wakes, I heard someone say that my friend was lucky because she had left all of the weight of the world behind. That got me thinking. What if that's not true. What if some of this baggage follows us to the other side. That was the seed of the story and we developed the world from there with my co-writer Mugambi Nthiga.
Mbithi Masya about what inspired him to make the movie Kati Kati
Kati Kati
A review and an interview
[WARNING: Implied Spoilers]
Debuting in 2016 at the Film Africa Festival, Kati Kati of the Kenyan director Mbithi Masya is a compelling drama about life, death and life after death. We begin with Kaleche (Nyokabi Gethaiga) a young woman, dressed only in a hospital gown, who appears outside a resort named Kati Kati. Wandering inside she is met by a crowd playing games by the pool. You'd be forgiven to think she is intruding on a group holiday but as one man Thoma, walks to the front and tells her "This is Kati Kati. And you're here because you're dead" we learn that this is not your typical movie.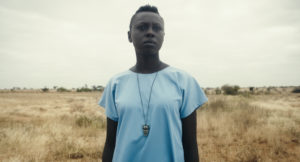 After an escape attempt thwarted by an invisible wall (perhaps in some ways a metaphor), Kaleche still has no recollection of her past but accepts she is indeed dead. All the residents have arrived in Kati Kati for some reason although not always immediately after death. Mikey, a young man who died in the mid-90s, has only been a resident for a few months. Thoma is the closest thing to a leader the group has has been there for years.
The story unfolds through Kaleche's eyes as she gets to know more about these characters and the mysteries surrounding their passing. As she grows closer to Mikey he reveals the circumstances around his death and then the next night is spirited away from Kati Kati after confronting his own demons.
This confrontation is an interesting concept because all the characters have something in their past that is left unresolved. The film's co-writer and director Mbithi Masya personifies their reckoning through creative use of ghostly white paint. Some find it on their legs, some like King the priest finds it on their hands, but one thing is certain – when it appears judgment is coming for them.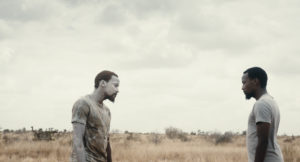 Thoma (Elsaphan Njora) comes face to face with this judgment in the form of his "other" self, like a shocking apparition of conscience, only seen by him. It seems that the self-appointed nice guy and Good Samaritan has his own skeletons in the closet. This is our reminder that Kati Kati, despite its idyllic setting and leisurely pace, is not paradise and these souls including Thoma are trapped in their own stories of shame, guilt and fear which shackle them to this place.
Here comes the crux of the story; the only way out of Kati Kati for these people must come from facing the past; facing their deaths and the secrets they have dragged into the afterlife with them. The movie is tender, tense and shot beautifully on the grounds of the resort and its surrounding areas. Some scenes play out like an avant-garde music video, other scenes are genuinely moving especially when characters pass out of Kati Kati. We feel the group's loss and this is the result of building three-dimensional characters in a limited time. The soundtrack is noteworthy featuring Kenyan songstress Mayonde singing the movie's touching theme Find Us A Way and Funk/Disco/House collective Just a Band scoring the more energetic parts.
As the film approaches its climax Kaleche and Thoma's storylines inevitably boil to the surface as they are forced to face their past, and in doing so allow themselves a future out of Kati Kati. Kati Kati is not a Horror or religious film but rather a drama with supernatural elements, much like Ghost and similarly a love story that defies the grave. Without giving too much away Kati Kati is a creative and compelling story, with a sympathetic ensemble cast and professional production. The film also leaves us wondering some questions like where do these souls go first before Kati Kati? Where do they go after they leave? Is there a Heaven or Hell? Even if we never learn the answers, Kati Kati creates such a believable and somehow realistic world of purgatory that will leave viewers feeling satisfied and far from tortured. In fact the movie is going on to represent Kenya in the Best Foreign Language Film at the Oscars in 2018.
*

I caught up with co-writer and director Mbithi Masya to talk more about Kati Kati, its production and the afterlife.
What do the words "Kati Kati" mean?
Kati Kati is Swahili for "in between".
As a writer what does Kati Kati mean for the characters? Is it a purgatory?
Kati Kati is a purgatory. A holding space for departed souls who haven't quite finished their business with the land of the living.
What was your inspiration to write the film?
I was grieving the loss of a close friend and during one of their wakes, I heard someone say that my friend was lucky because she had left all of the weight of the world behind. That got me thinking, what if that's not true. What if some of this baggage follows us to the other side. That was the seed of the story and we developed the world from there with my co-writer Mugambi Nthiga.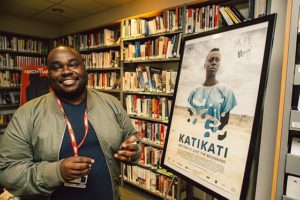 We see the characters battling their own demons. How moralistic is the film or did you want to present a different approach to this theme?
We intentionally wanted to avoid a moralistic tale. The focus was to be on each characters own value set, own moral compass and how they view their past actions through their own value set. That they're own frame of guilt and shame would be what tormented them, not one placed on them by an external power.
Most of the characters seemed to be stuck in Kati Kati through shame or guilt. How does Kaleche's story fit into this?
It might feel like a bait and switch, but the story was about Thoma. Kaleche's story was just starting to unfold by the end of the film. And she does have a story, a reason she's at Kati Kati and we wrote it but the core story, the film was about Thoma. A man who had run from his own guilt till he came face to face with it.
Would you ever write a sequel explaining more of her story?
Not sure. Maybe one day. I'm more interested in exploring new stories right now. Kaleche's story may be logically incomplete but for the story being told in Kati Kati, I was most interested in her relationship with Thoma. A relationship that despite all they'd been through still existed in acceptance. Her acceptance of Thoma, was the catalyst for him to learn to forgive himself. And he was the catalyst in also starting her journey in self-acceptance.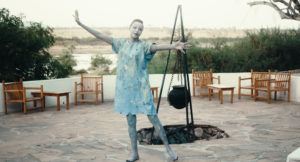 The soundtrack was beautifully sourced. How involved were you in the choices?
The core story of the film was inspired by the song, Find Us A Way by Mayonde. And because of that, the music was a big part of the writing and production process with the song being the emotional core of the relationship in the film.
Most of the music, including score was carefully selected by me, while working with the composer team. I knew early on that the music and soundscape would be a core piece to making the film work so I was personally involved with the music all through.
How important was the setting to the story? Was it a practical concern (e.g. limited budget) or did it play more of a creative role in telling the narrative?
The location was selected due to the limited budget but this also helped the story greatly as we were able to write with a specific location in mind and built in little story details into the script because of our knowledge of the location. So it was a budgetary item that ended up becoming a very important creative piece.
How important is it that these stories from African communities are told to the wider world?
I'm not even sure about how important these stories are to the wider world, but I know they are so important for ourselves as Africans. Seeing our humanity reflected in stories. Not just our situations or political circumstances but the little things that make us human. The joys, the tears and love. And on a wider world scale, it would also be important for audiences to connect with the humanity in our stories and not just watch Africa through a lens of exoticism.
What were the highlights you took from the experience?
Working with the entire team to put this together was the greatest highlight. From my writing partner, Mugambi Nthiga; cinematographer, Dru Mungai and editor, Louizah Wanjiku and so many others! And the entire cast was magic, anchored by Elsaphan Njora and Nyokabi Gethaiga.
What challenges did you experience during the project?
We had a very short window to write and film the project with everything coming together in about 6 months. So time management was a major challenge.
Finally, what projects you are working on next?
I am currently back to writing and seeking production support to make my next feature project. Development is always a slow burn process but we hope for the best and hopefully you'll see another feature film from us soon.
In December 2017 Kati Kati's picked up 6 trophies, including Best Feature Film, at the 2017 Kalasha International Awards. At Toronto International Film Festival, the Kenyan film won the Prize of the International Federation of Film Critics (FIPRESCI) for the Discovery program.
Christabel Johanson is a writer and a curator from London. She has had previous writing and poetry published and is currently involved in organizing her cultural nights "Christabel Presents…"