Crossing Cultures: 30 years Thami Mnyele Foundation Residency Award
11th of December 2020 untill 27th of February 2021, CBK Zuidoost, Anton de Komplein 120, Amsterdam
Guy Woueté, Terre & Visages, 2015-2018 (outside, opposite the CBK building)
Participant Artists:
Kunstenaars: Razia Barsatie (Surinam), Sharelly Emanuelson (Curaçao), Neo Matloga (South Africa/The Netherlands), Moshekwa Langa (South Africa/The Netherlands), Atta Kwami (Ghana/GB), Georges Senga (D.R. Congo/ The Netherlands), Michele Tabor (South Africa/The Netherlands), Guy Woueté (Cameroon/ Belgium)
Atta Kwami, Bego 1, acryl on linnen, 2019
This year, the Thami Mnyele Foundation Residency Award celebrates its 30th anniversary with the exhibition Crossing Cultures. Active since 1990 and with a small group of enthusiastic volunteers, the foundation has been a driving force for many years for new narratives and artists from Africa and the African diaspora. These new narratives and artists are seen and embraced by more and more cultural institutions in this current time.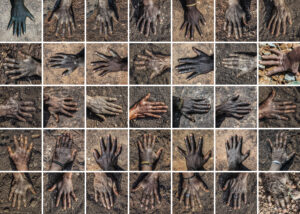 Georges Senga, The Void, ink-jet on paper, 2018
The Thami Mnyele Foundation is one of the oldest small international artist residencies in the Netherlands. It was created in memory of the exiled South African artist and activist Thami Mnyele, who was killed 35 years ago in Botswana by death squads of the apartheid regime. Thami Mnyele used art as a tool for expression and communication in the struggle for liberation from apartheid.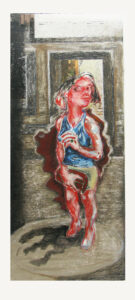 Michele Tabor, Tourist in the House of Art (Self Potrait), collage on paper, 2012-2016
The Thami Mnyele Foundation is an artist-in-residence that promotes the exchange between visual artists from various African countries, the African diaspora and the Netherlands. For 30 years, they have been inviting artists to establish a cultural exchange between the guest artists and people from the Dutch art world and Amsterdam in particular.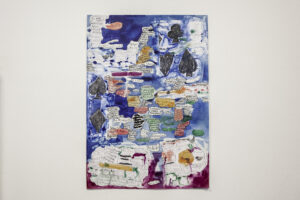 Moshekwa Langa, Imperfect Reflections Series, mixed media on paper, 2011-2015
More than 120 artists from all parts of Africa and the diaspora have now received a Thami Mnyele Foundation residency Award with financial support from the city of Amsterdam, The Amsterdam Fonds voor de Kunst (AFK). The Award includes reimbursement of living expenses, travel expenses, a bicycle, a museum year pass, insurance and free living and working accommodation for three months. However, the most important part of the residency is the active commitment of the extensive network of the Thami Mnyele Foundation and the cross-fertilization that this creates. For example, many Dutch artists, curators, students and so on, have been able to work in Africa and beyond with artists they learned to know during their residency in Amsterdam. In addition, alumni of the Thami Mnyele Foundation, after their stay, regularly participate in projects and exhibitions in the Netherlands.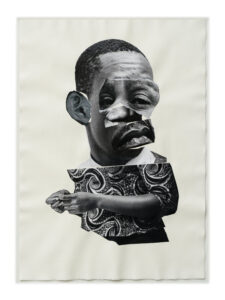 Neo Matloga, ramatla, collage on paper, 2019
The artists in this exhibition have in common that they all have been guests as artist-in-residence at the Thami Mnyele Foundation. All eight come from Africa and the diaspora. And they all still have a connection with the Netherlands or Europe; they have settled here or regularly travel back and forth between their home country and Europe because of their work.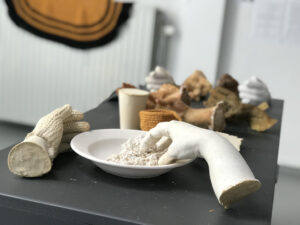 Razia Barsatie, Untitled, 2020
The participating artists each have their own visual language, their own working technique and they all tell their own narrative. They each occupy his or her own position within the international art field.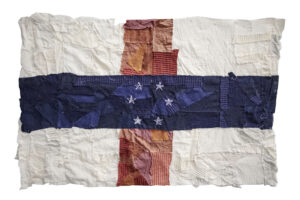 Sharelly Emanuelson, Teduki Nobo, textile, 2020