She makes use of what we could call ordinary materials such as wood, plastic glass, mirrors, record cases, and so on; as well as creatively abstract instances of black people inside bars, restaurants, shebeens, homes, and different kinds of interiorities, with great humor and play.
Athi Mongezeleli on the new works of Dada Khanyisa
precoital convos, 2019, all works courtesy Stevenson Gallery, SA.
Dada Khanyisa — Good Feelings
The works contained in Dada Khanyisa's exhibition, Good Feelings, currently showing at the Stevenson Gallery, Johannesburg, certainly leave one with a good feeling. Well, that is certainly how I felt: good. Sometimes the near-cliché sounding aphorism that a good piece of art has a contagious effect on its audience comes alive here. To be affected by an art-work can be a cause for celebration, or for grieving, or even for rioting in a person as it is not a common-place occurrence.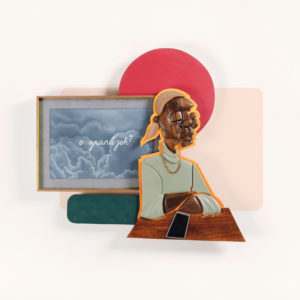 Are you okay, 2019
Back in 2005, I was touched by Dumile Feni's small sketch, Whisper Slight, shown during his Retrospective at SANG (South African National Gallery) and I have never forgotten the explosion of feelings — from genuine surprise at how he had handled the ballpoint pen with such graceful calligraphic precision, to how affective the composition of the sparsely scattered, and yet so compelling, flutists that emerged on the off-white newsprint substrate seemed. Of course, the power of Dumile has always been his ability to make encountering a picture or an art object so inescapably revelatory and informative for the viewer. When in a backhanded compliment, they dubbed him "The Goya of the Township," barely in his twenties, someone had to have caught on to how he gave elegance, not only to substandard art materials but also to the subject of black oppression — a subject that couldn't, under any circumstances during apartheid ever be mistaken for serious or beckoning.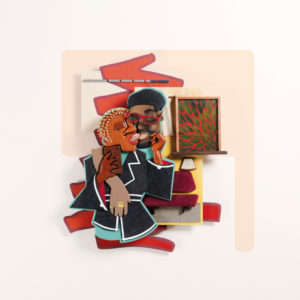 better than groin area massages, 2019
Khanyisa's Good Feelings does something similar to what Dumile's work does at the raw level of materiality and subject matter, for me. She makes use of what we could call ordinary materials such as wood, plastic glass, mirrors, record cases, and so on; as well as creatively abstract instances of black people inside bars, restaurants, shebeens, homes, and different kinds of interiorities, with great humor and play.
Even though it is no longer a novelty to recycle ordinary materials in contemporary art, the artist's sense of conceptual reach always shows the depth of creativity and the aliveness of the mind.
These interiorities are themselves ordinary moments, and they are unpretentiously unceremonious in their demeanor, but Khanyisa's handling of them makes a delight of that generic appearance in ways that draw in the viewer — because I was certainly drawn in, yanked even — to examine these two-dimensional objects up close, and sideways. Viewing these two-dimensional works from the side doesn't give one a critical leg-up in any way, except to see the obvious. Also, one can only be chuffed by a topography of color and the seductive way in which the medium of drawing is interpreted in a sculptural manner.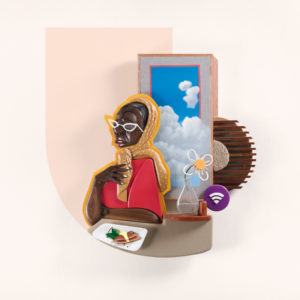 blue sky excuses, 2019
Even though classifying these works as "paintings," as per exhibition write-up, shouldn't be a problem; I will not be surprised if there are those amongst us enthusiastic enough to invent a new name for this form. Khanyisa's palimpsest of chromatically layered objects conjures a series of other forms of visual representation; from cartoons, to miniature doll houses, and even to certain approaches to graphic art.
Even though these mise-en-scenes they construct arguably repurpose an old visual idiom — which, like a horse worked to a point of irrecuperable exhaustion in South African black modernist art — Khanyisa's work revives an interest in the archaic subject matter with a fresh and whimsical touch. There's nothing minstrelsy about their sceneries; that is, blacks reduced to the stereotype of the rhythmic other. If anything, these could stand, with precocious confidence, next to similar constructs of the interior of black homes and recreational spaces exemplified in Kay Hassan's pub installations (2), Tommy Motsai's paintings, and even those of black British artist, Michael MacMillan – whose simulation of the interiors of post-war global south immigrants' homes does more than just be nostalgic.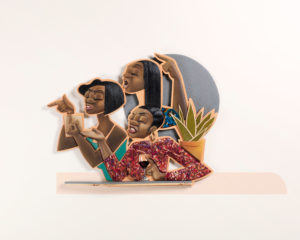 group chat, 2019
I recall telling the young gallerist who had received me at Stevenson, that the "paintings" reminded me of the Bakers Iced Zoo biscuits (1) I enjoyed growing up. Even though I did not remember the brand at the time of the conversation, I recalled how they visually affected my conceptions of taste. It felt good! Eating them had to also be an experience; licking, pealing, and biting into each layer individually and with unbridled joy. As one would imagine, after the feast I would be left looking like a pack of smarties myself. All this to say, with the kind of sensorial stimulation Khanyisa's work prompts, it is undeniably work geared towards the soul and the inside. Of course, the irony of this interiority or "inside" orientation in the work being determined or prodded by certain exterior layering of surfaces isn't lost on me. Generally, a painting always takes the form of something revelatory, showy — a certain move toward the outside, even when the opposite is the intension. Works of art cannot be but tending to the outside, whether through the classical model of revealing beauty, or when they veer off into what Mikhael Lifshitz calls "the crisis of ugliness."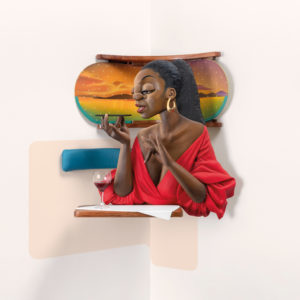 nox, 2o19
The implied or abstracted nature of these interiors situate their subject. Therefore, these are not people floating in time and space, neither are they, according to colonial jurisprudence, dismissible as unsovereign. They are situated in the world(s) they choose – – and sometimes are forced to inhabit – – recreating them, in spite and because of the ratified will to render them destitute. These are indeed great pieces of work, well considered but also arguably critical in their refusal to stage "the political," a term both faux and supervening in the present.
Athi Mongezeleli Joja is an art critic based in Johannesburg, South Africa