Devan Shimoyama is a young artist from Philadelphia, living in Pittsburgh. He explores the depictions of the black, queer, male body. He is one of the BLOOM generation as presented in TELL ME YOUR STORY. 100 years of storytelling in African Amerikan art. Kunsthal KAdE in Amersfoort, The Netherlands, until May 17, 2020.
Rob Perrée writes on his work
Countdown, 2019
THE BLACK QUEER MALE BODY
The work of Devan Shimoyama
On 11 September 2019 a special art project started in an ordinary neighborhood in Washington, DC, the so-called Barbershop Project. It was a space converted into a barber shop. Not a normal barber shop, but a salon where black queers would feel safe and comfortable. The haircuts were free. Artist Devan Shimoyama was one of the initiators of the project and he turned the interior into an installation that he called Mighty, Mighty. He transformed the space into a colorful, aesthetic , long narrow room with many silk flowers, sequins, fur, glitter, rhinestones and with striking paintings of young men on the walls. It was his response to the black barber shops of his youth in which a macho culture prevailed and homophobic remarks were part of the regular conversation. He hoped that his salon would be accessible to local residents, to those black men for whom a gallery or museum is too big a step.
*
Devan Shimoyama (1989) was born in Philadelphia. He obtained his BFA in painting and drawing in 2011 at Penn State University, his MFA in 2014 at the Yale University School of Art. He now lives and works in Pittsburgh, PA.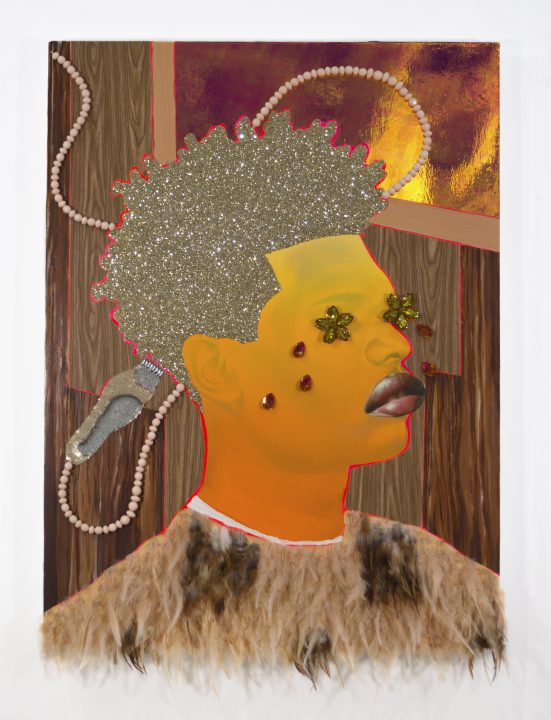 Not too close, 2018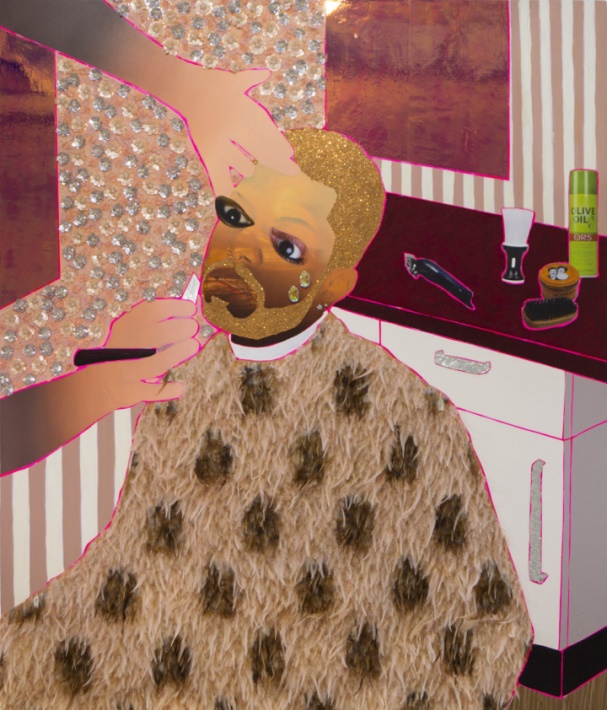 Sit still, 2018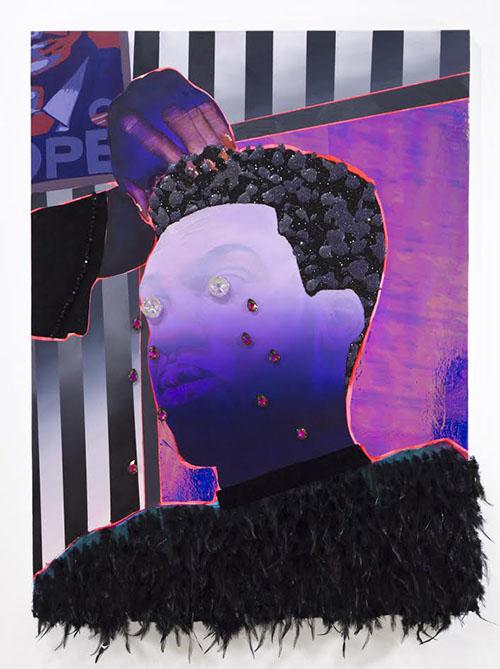 Make a wish, 2017
These three works are exemplary for the theme of Shimoyama and for the way in which he shapes it. He explores the depictions of the black, queer, male body. He often focuses on the concept of masculinity: the way a queer deals with it and the explanation that the (straight) community gives to it. On the one hand he celebrates the male body, he gives that body something magical and cheerful, on the other hand he pays attention to the problems that arise when one is shown to be queer. Celebrating happens with a lot of color and adornment of glitter – the hair – costume jewels – the faces – and fur – the hairdresser's cape. However, the costume jewels can also be read as tears. The portraits may evoke desire with the viewer, but they also radiate desire, a desire that is often misunderstood and / or not resolved. The eyes and the mouth are striking. He sometimes uses costume jewels for those eyes, but often also photographs of the eyes of women in his immediate surroundings. An indirect way to represent the femininity of the black male. Perhaps even a token of maternal love. The lips appear to be a cliché representation of the black man, a cliché that is brought in particular by many whites to illustrate their negative feelings. The artist undoubtedly has no intention of feeding that cliché. This is also apparent from the way he displays the skin color of the black men. It is never black. Orange, yellow, green, purple, off-white, but never black. Just as the extra thick lips give a distorted image, it is also short-sighted to lump all black men together. There is a great deal of diversity within black. Just as there is great diversity within the phenomenon of men.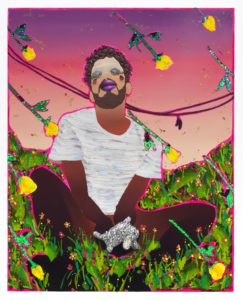 Cry Baby, 2016/Countdown, 2019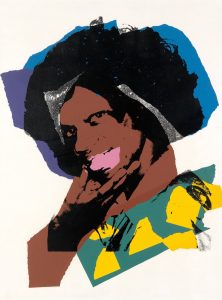 Andy Warhol, Ladies and Gentlemen Series, 1975
Shimoyama's Cry Baby opened in October 2018 at the Andy Warhol Museum in Pittsburg. Surprising, because the artist was hardly known at that time and his production did not deserve the designation oeuvre. Yet there was a good reason to link Andy Warhol and Devan Shimoyama together. The first had made a series of screen prints of drag queens in 1975, inspired by the visitors of Studio 54, a decadent club in New York that had gained fame "because anything was possible". That series – Ladies and Gentlemen – is rarely shown. The reasons for this is unclear. Warhol used photo portraits to make them. He also colors them in without taking into account the real skin color. As his young colleague, he emphasizes gender ambiguity in this 'treatment'. Unlike Shimoyama, Warhol seems to want to pay tribute. For him they remain cheerful club visitors. He does not delve into the shadow side, the more complicated side of the models.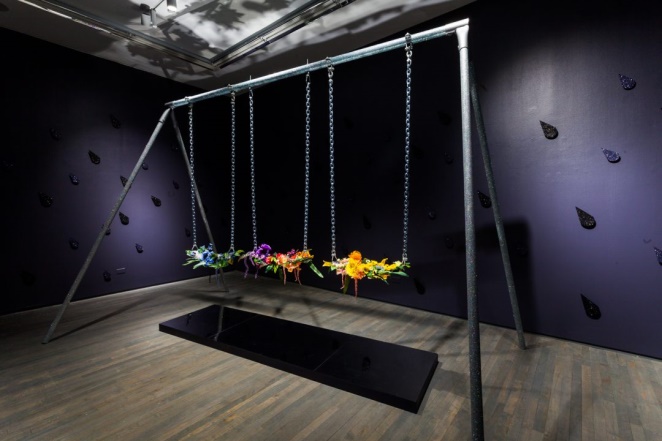 For Tamir (Full Wing Set), 2019
Sometimes the work of Shimoyama wants to be political. With For Tamir (Full Whing Set) from 2019, the artist honors the black boy who was sitting on a swing when he was shot by a police officer . He was criticized for that work because the aesthetic, decorative floral tribute was perceived as inappropriate. The exuberance of the form questioned the content, unwittingly. The association with the clumsy and disordered altars that are often set up by local residents at a place of disaster could apparently not be made. He himself says about this and other politically tinted work: "I don't want people to forget that this happened. These works are anchors to reality without shoving it in your face, another triggering presentation or black bodies in pain. "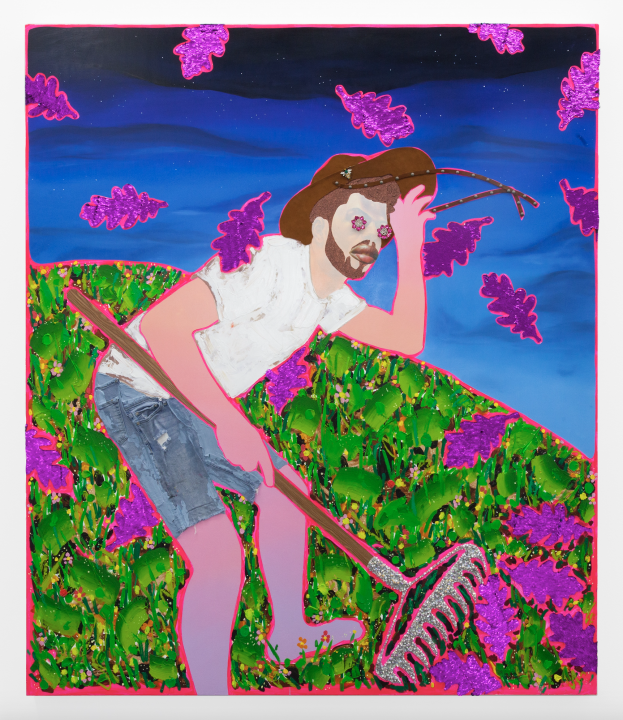 An Endless Task, 2019
With many portraits, the environment is a non-descript interior. It is about the 'model'. However, he has also made a series of works in which he places himself in a rural environment. That could also be seen as his backyard. Environment and man are matched here. They both manifest. These works are more story than portrait. The tears are missing. The natural environment seems to have eliminated the dark aspects of being black and queer. He himself describes these works as "more introspective". "To be showered in roses is much more celebratory than being showered in tears. I am thinking of an entire yard of flowers growing and blossoming so life can go on, move forward. "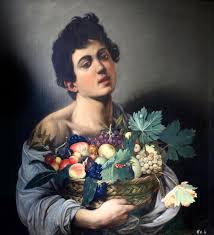 Boy with a fruit basket, 1593/94
Many writers who have written about him mention Goya and Caravaggio as examples. Goya seems far-fetched. There is little agreement in terms of both content and style. Boy with a fruit basket from Caravaggio shows that the relationship with this artist is more obvious. Thematically, a comparison can be made with contemporary Jonathan Lynden Chase (1998). His work is also concerned with the black queer male body in relation to its environment.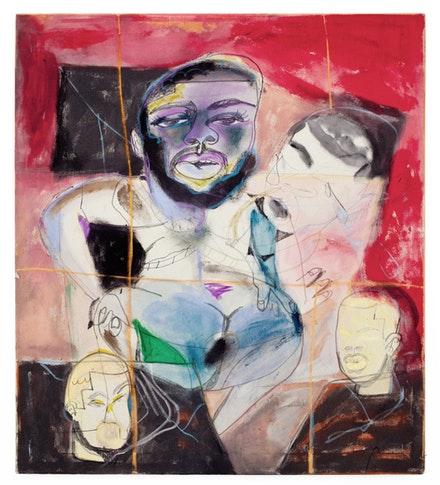 Jonathan Lyndon Chase, 1 head three masks, 2018, courtesy Kohn Gallery, Los Angeles
At the moment there is a lot of interest in the US for the work of African American artists. That has not always been the case. It is striking that many older artists are suddenly overloaded with attention: for example Betye Saar (1926), Faith Ringgold (1930) and Howardena Pindell (1943). In addition, a number of young people have achieved 'star status' within a short time. Devan Shimoyama is one of them. Many of those "stars" may be extinguished within the next 5 years. Shimoyama has too much talent to be part of that.
Rob Perrée is art historian, independent writer and curator, founder and editor of Africanah.org. Lives and works in Amsterdam and Brooklyn, NY.
Shimoyama is represented by DeBuck Gallery in New York and Kavi Gupta Gallery in Chicago.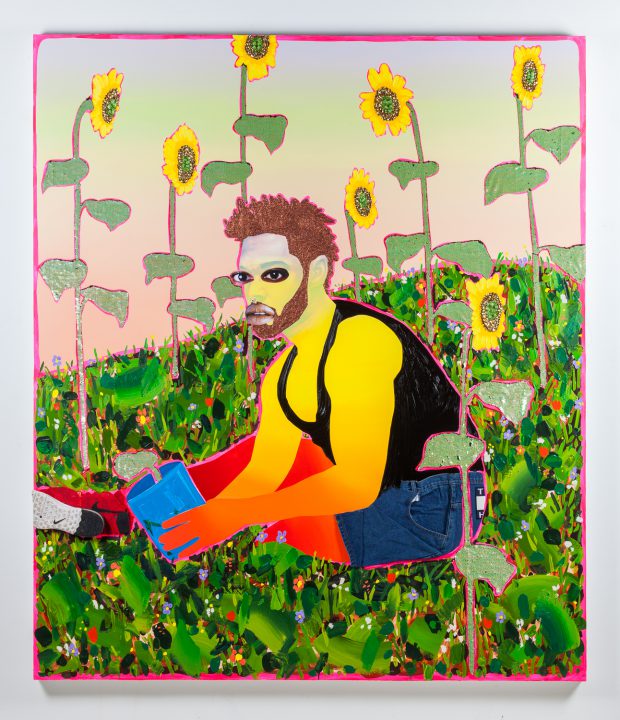 Potted, 2018