Didier William: recent work
M mache toupatou ave I, 2018
About:
Didier William is originally from Port-au-prince Haiti. He received his BFA in painting from The Maryland Institute College of Art and an MFA in painting and printmaking from Yale University School of Art. His work has been exhibited at the Bronx Museum of Art, The Museum of Latin American Art in Long Beach, The Fraenkel Gallery, Frederick and Freiser Gallery, and Gallery Schuster in Berlin. He was an artist in residence at the Marie Walsh Sharpe Art Foundation in Brooklyn, NY and has taught at Yale School of Art, Vassar College, Columbia University, and SUNY Purchase. He is currently Associate Professor of Art and the Chair of the MFA Program at the Pennsylvania Academy of Fine Arts in Philadelphia.(text website artist)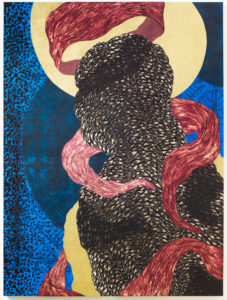 Sanité Bélair, 2018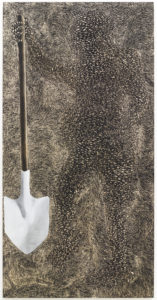 Sa a selman m bezwen, 2018.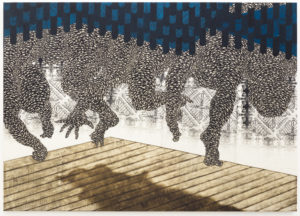 Nou tout ansanm, 2018
Didier William's most recent body of work, Curtains, Stages, and Shadows — as well as the title of this exhibition — explores the relationship between the formal tensions and the narrative capacities of painting. A series of large-scale mixed-media paintings replete with bold decorative patterns and cut through eye-shaped forms insist on a beauty and a sensuality that is almost audible and in the realm of the haptic. The titles of the pieces appear in Haitian Kreyòl, unapologetically, with no English translations or subtitles. Inspired by memories of growing up in a resilient yet vulnerable Haitian community in Miami and coming of age when black and brown immigrant bodies have come to symbolize precarious living, William created these mixed-media pieces as pictorial rather than narrative. As with most of his works, the body takes center stage, literally and figuratively. For William, the recurring motif of the stage evokes the unsettled sensation of immigrant life in the diaspora. There is always a performance to be "Black", a performance to be "West Indian" or "Caribbean," and a performance to pale angle kòrèkteman. Consequently, for Kreyòl-speaking immigrant people, Blackness, Caribbeanness, and language competence are cultural markers that are in constant negotiation to determine belonging. The paintings highlight a deep sense of vulnerability, yet their aestheticization is marked by a desire for deeper and more complex thinking of how to transcend such vulnerability and become inherently provocative. (Jerry Philogene, Ph. D., Associate Professor in the American Studies Department at Dickinson College, Pennsylvania, 2018, Anna Zorina Gallery).