Victor Ehikhamenor
I am Ogiso The King from Heaven, 2017
About:
Victor Ehikhamenor was born in Udomi-Uwessan, Edo State, Nigeria in 1970 and lives and works between Lagos, Nigeria and Maryland, USA.
Ehikhamenor is a multi-faceted artist whose practice encompasses painting, drawing, photography, sculpture and installation, as well as unique perforated works on paper. Hailing from a small village in Edo State, the historic seat of the Benin Empire, he draws inspiration from the dual aesthetic and spiritual traditions which infused his upbringing, using imagery and symbolism from both Edo traditional religion and Catholicism. His signature patterning is a frenetic mélange of gestural abstraction and stylised forms, revealing faces, objects and writing systems. This patterning is used in everything from paintings to photographs to immersive installations, producing a hypnotic experience, a sense of both meditative repetition and an ongoing narrative being told.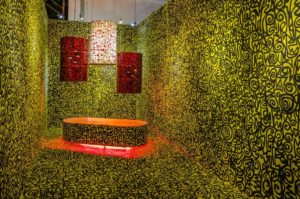 Wealth of Nations, 2015
Storytelling is an important element of the artist's practice, whether the magic realism of memory and nostalgia, or biting criticism of history and politics. Ehikhamenor is also a published writer, not only of fiction but also of critical essays in various academic journals, magazines and newspapers including the New York Times and Washington Post. He has also worked in journalism, as creative director and columnist at Next Newspapers in Lagos, as well as serving as CEO and editor-in-chief of the Nigerian national newspaper the Daily Times. His book, Excuse Me! (2012, Parresia Publishers), a satirical non-fiction look at Nigerian life, is a recommended text at two Nigerian universities.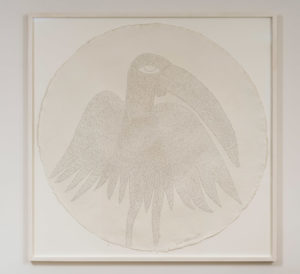 I am Ahiamen-oro, The Bird of Prophecy, 2017
The artist has designed book covers for award-winning authors such as Chimamanda Ngozi Adichie, and collaborated on a fashion line with Nigerian designer Ituen Basi which was featured in Vogue Italia (2013). In 2015, he started an initiative called Ink Not Blood in order to promote peace and discourage the violence which often accompanies the electoral process in his home country.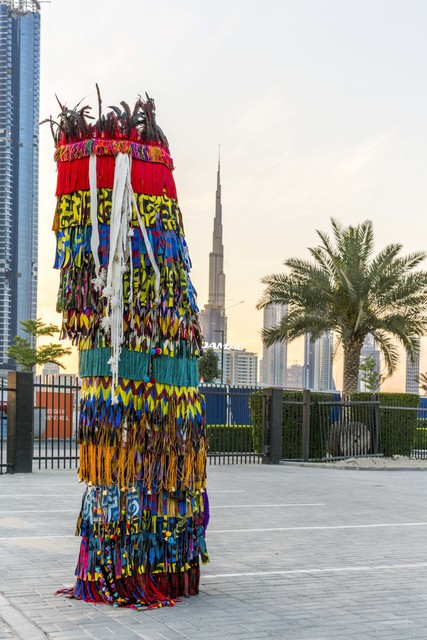 The Metamorphosis of a Tall Dream, 2018
Since gaining his Bachelor of Arts in English and Literature from Ambrose Alli University, Nigeria, in 1991, he has been awarded two Masters degrees from the University of Maryland, USA, in Technology Management (2003) and an MFA (2008). He has received numerous awards for both his writing and art, as well as fellowships from organisations such as the Rockefeller Foundation (USA, 2016), the Nirox Foundation (South Africa, 2016) and the Norman Mailer Centre (USA, 2014).
Solo exhibitions include In the Kingdom of This World at Tyburn Gallery, London, UK (2017); Paperwork: Works on paper at Constant Capital Gallery, Lagos, Nigeria (2015); Chronicles of The Enchanted World at Gallery of African Art, London, UK (2014); Artist Experience at Whitespace, Ikoyi, Lagos (2011); and Invasion of Privacy at Jennings Gallery, Washington, D.C. (2008).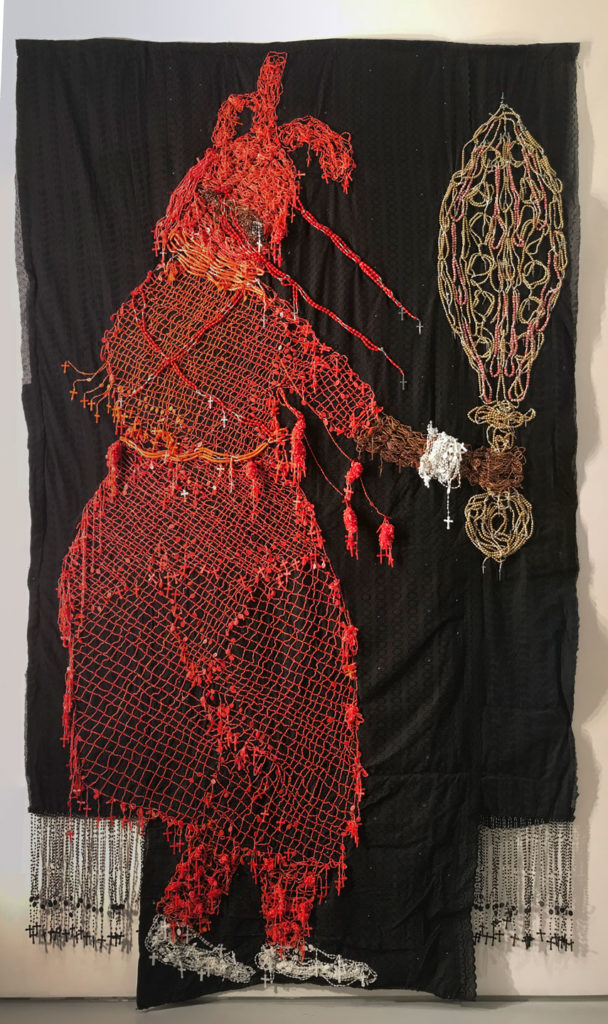 My last dance as King before Sir Harry Rawsons army arrived, 2017
In 2018, Ehikhamenor undertook a four-week residency with Art Dubai Art Fair as part of a solo project entitled Cartographers of Dreams. In 2017, he was one of four artists chosen to exhibit as part of the first Nigerian Pavilion at the 57th Venice Biennale. His work has also been included in numerous group exhibitions and other biennales, including the 5th Mediations Biennale in Poznan, Poland (2016), the 12th Dak'art Biennale in Dakar, Senegal (2016), Biennale Jogja XIII, Indonesia (2015), as well as being shown at the 56th Venice Biennale as part of the German Pavilion (2015).(text and courtesy Tyburn Gallery London)