Eduardo Hernández Santos, 1966, Havana
About:
During the 1990s, a group of Cuban artists burst in and expanded photography in Cuba away from solely documentary value. Born in Havana in 1966, Eduardo Hernández Santos is one of the most controversial members of this generation who has provided a legitimate voice with authenticity, devotion and pain that cannot be feigned. In more than 20 years of photography and printmaking, Eduardo Hernández Santos has challenged Cuba's post-Revolution iconography. His work celebrates male beauty and openly discusses homosexuality and transgenderism.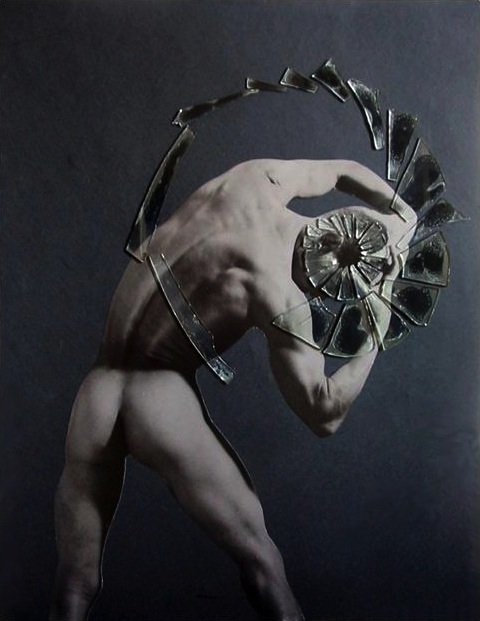 Corpus Frajiles 1.
For Hernández Santos (a graduate of the San Alejandro Art Academy in 1985 and of the Higher Institute of Art in 1990), the fact that he chose photography as the vehicle to express his views does not respond to superficial matters, but is rather the result of having grasped the potential of photography, not only for its capacity to document reality, but also for its immediacy, dealing an accurate blow and creating a stronger and more direct impression, which ultimately involves both the work and the viewer. Santos Hernández is aware that photography, unlike other artistic manifestations, leaves little room for ambiguity. Rather, it is a direct and poignant form of expression, appealing directly to individuals and their institutions.
With the exhibition Homo=Ludens (1993), Eduardo Hernández Santos imposed upon himself an ambitious goal, a thorny and difficult path, but which also heralded a sincere and admirable way of advocating an aesthetic and conceptual future under very difficult circumstances. Thus, the bodies depicted in his photographs entered a state of revelation, wholesome bodies, ready, cut like fruits or vegetables in order to provocatively enhance the most crucial aspects of their beauty.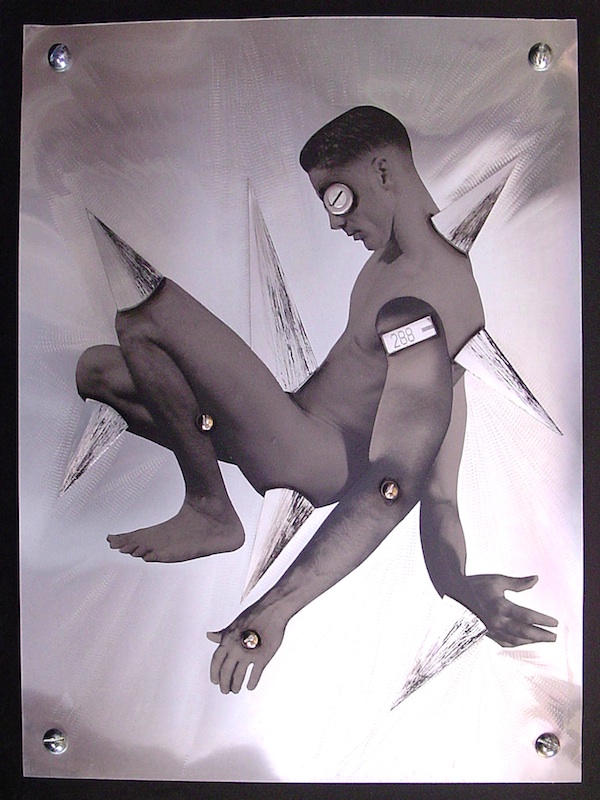 Strong.
Santos at times has resorted to photo-collage, a medium which, according to Santos, gives him access to simultaneity, juxtaposition, overlapping, and particularly deconstruction, which has become a powerful weapon for him. All this is triggered by the seduction of being able to confer new meanings to things, to passionately take them apart only to reconstruct them from an intelligent perspective. Used responsibly by Eduardo during the last decade, photo collage experienced a profound moment for creative intervention in his Fragmentos clásicos [Classic Fragments] (1998), in which the bodies of the models are cut out from their original habitat and relocated-clearly expressed in the title of the series-in classical scenarios that never tire of evoking the splendor of an increasingly distant antiquity.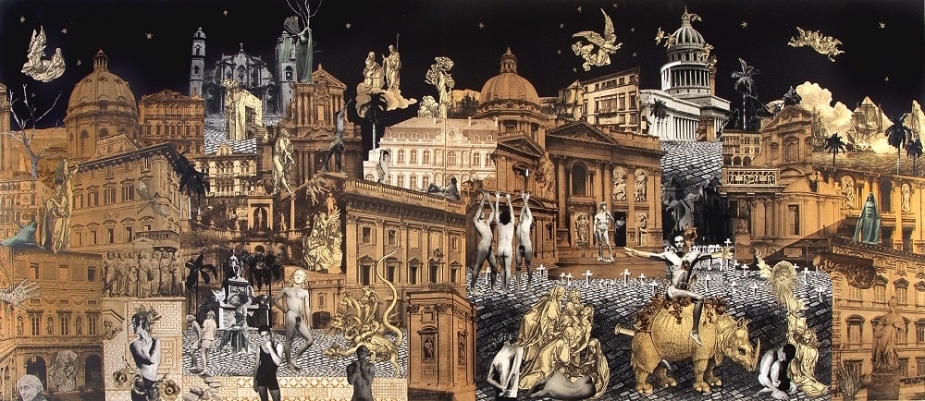 What Is What Is  Not and What Is Without Being, 1999
The 21st century surprised the artist in the process of creating a wonderful series: A propósito, las flores [By the way, flowers] (2000). Each photographic composition reminds me of a written text. Each area of the body and each part of the flower question each other like voices unheard before, now clashing with each other, submerged. The dialogues are sheer friction, energy from the scrapings, interpretations which lie below this preconceptual crust that mutilates our freedom to choose.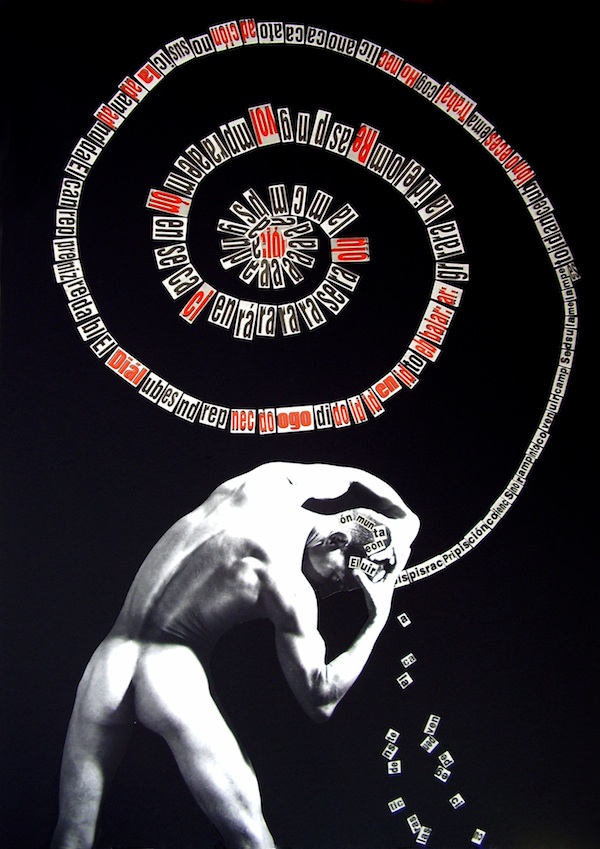 The Profundus.
The year 2002 saw the series Corpus-frágile, in which the body is no longer intact-how could it be when the range of the artist is apparently connected to a society that often breaks or cracks? They are telluric movements, at times painful, which longingly recover in the space of their representation. Consequently, we remain in the presence of bodies which have been intervened, metaphorized, and pursued by fragments of a different nature. At this point, he is harassed, submitted to the pressure of a guilt which is not his, but of his former tormentors who tried to make him vulnerable, to traverse or stigmatize him seeking to break his enormous spirit which he continues to exhibit with pride. In 2004, he exhibited Strong at La Casona gallery. In these photographs, the violence received by these bodies and the violence with which they respond is even greater. Here he exhibits a profound humanity, a tear, an aggression which transcends the conflict of gender and sexual orientation, and shows us a completely alienated world that stalks us.
Turning back the clock a few years, I would also like to highlight Espejismos [Mirages] (1999), an extremely disturbing collection of great semantic wealth. Cohabited by bitterness and humor in total estrangement, it depicts an oneiric atmosphere of tasteful density, initially lavishing silence and later, perhaps, a stream of echoes that were once powerful sounds of languages lost in the environs of dreams and wakefulness.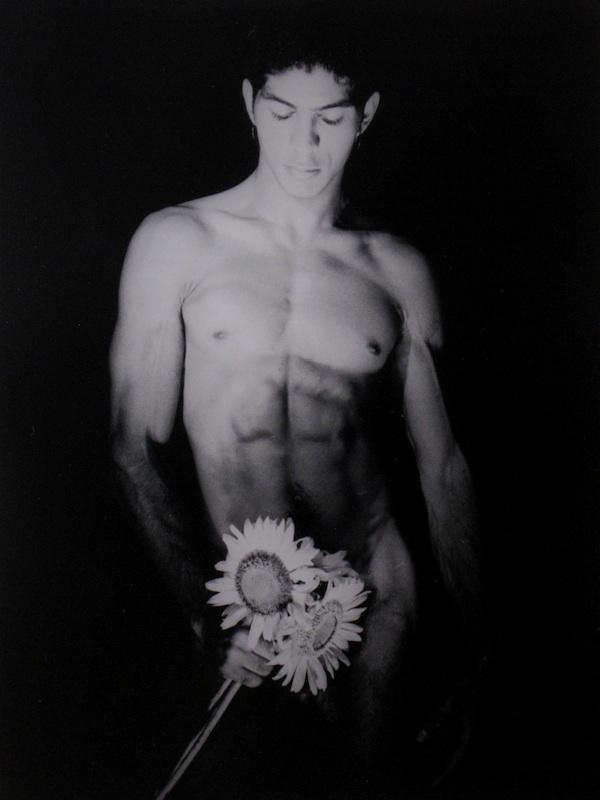 Proposito Los flores.
The project El muro [The Wall] (2005) can be construed as a moment of true splendor in the work of Santos Hernández. Here, the protagonists are clothed, representing characters typical of Havana's nightlife, which has changed as much as the nation. El muro is a chronicle that exposes this conquered territory from the very entrails of the beings inscribed within it; a testimony that adheres to a powerful textuality represented here by relevant excerpts from Virgilio Piñera's poem La isla en peso [The Entire Island].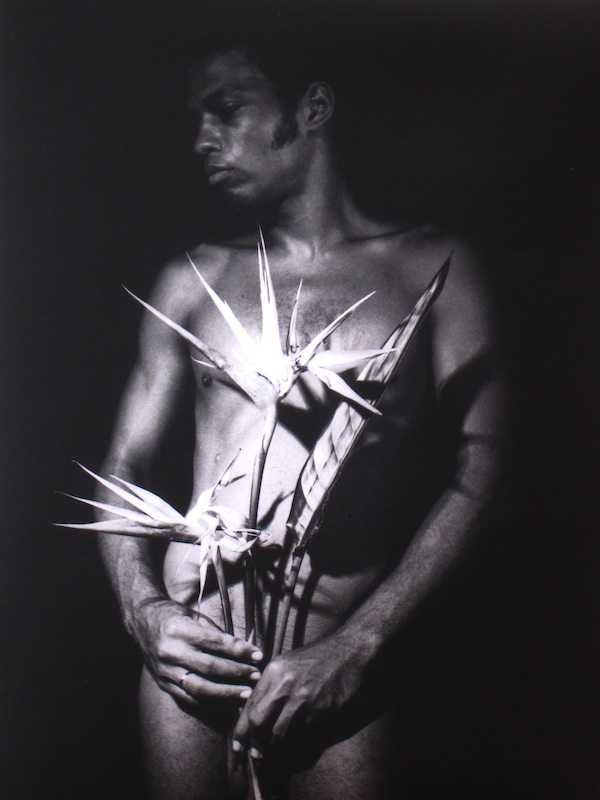 Proposito Los Flores 2.
The discomfort and frustrations that our insularity is capable of generating and the role played by the famous Malecón Wall in all this plot is highlighted in each of Virgilio's verses, corrosive and agile, ready to make the images even more unvarnished. It is said that the Malecón can be used as a barometer to measure life in Cuba, of our most direct contact with the horizon, the stretch in the city where scandal occurs in the form of a simple mutation. In these cubicles recreated from delirium, there is no place for one or another decree, or for dubious institutional tolerance. What persists behind every picture is the "damned circumstance of being surrounded by water."(lahabana.com, no author mentioned)
September 2013