Fahamu Pecou: M E M O R Y
ME M O R Y evidences a conscious, nonlinear step into all periods and styles of Blackness. It is a shift away from Western notions of Blackness towards a decidedly Black aesthetic envisioning a fresh perspective on Black identity past, present and future. With "M E M O R Y," Pecou depicts Blackness unbound – free from the confines and limitations informed by lingering misrepresentations of the Black body and prevailing misconceptions of racial inferiority, poverty and/or corruption.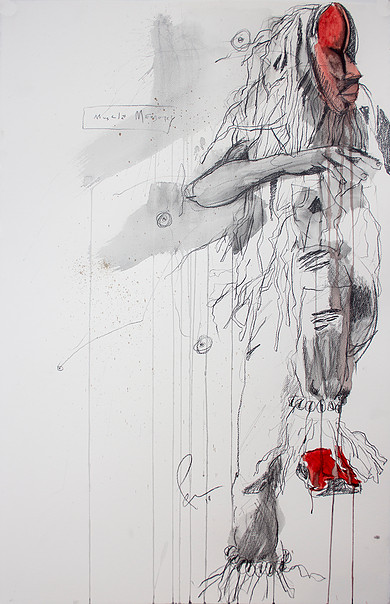 Muscle Memory, 2018
Fahamu Pecou is an interdisciplinary artist and scholar whose works combine observations on hip-hop, fine art and popular culture. Pecou's paintings, performance art, and academic work addresses concerns around contemporary representations of Black masculinity and how these images impact both the reading and performance of Black masculinity.
Fahamu received his BFA at the Atlanta College of Art in 1997 and an MA from EMory University in 2017. Currently a Ph.D. candidate in Emory University's Institute of Liberal Arts (ILA), Pecou maintains an active exhibition schedule as well as public lectures and speaking engagements at colleges and museums nationwide.
Griot, 2018.
In 2017 Pecou was the subject of a retrospective exhibition "Miroirs de l'Homme" in Paris, France. He is a recipient of the 2016 Joan Mitchell Foundation "Painters and Sculptors" Award. His work is featured in noted private and public national and international collections including; Smithsonian National Museum of African American Art and Culture, Societe Generale (Paris), Nasher Museum at Duke University, The High Museum of Art, Crystal Bridges Museum of American Art, Seattle Art Museum, Paul R. Jones Collection, Clark Atlanta University Art Collection and Museum of Contemporary Art Georgia.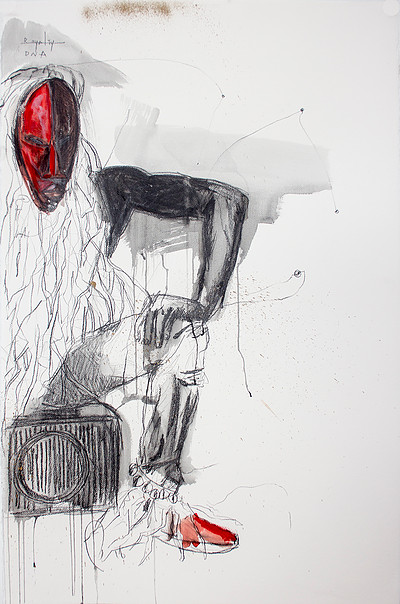 D.N.A., 2018
Artist Statement
My art raises questions about the types of images and representations that come to inform contemporary readings and performances of Black male masculinity. By engaging with various stereotypes and misconceptions about Black men–both those imposed and those assumed–I attempt a critical intervention concerning the visible and invisible threads that make up our collective understandings of Black identity.
Incorporating various expressions of "Blackness," which includes the visual iconography of Yoruba (Ifa) spirituality, the somatic attitude of hip-hop bravado, and philosophy of the négritude movement, I work to re-member the fractured Black body. In mining the Black experience both historically and contemporaneously, I can dynamically engage this theme with work that though rooted in the Black experience, provides meaningful engagement across all walks of life.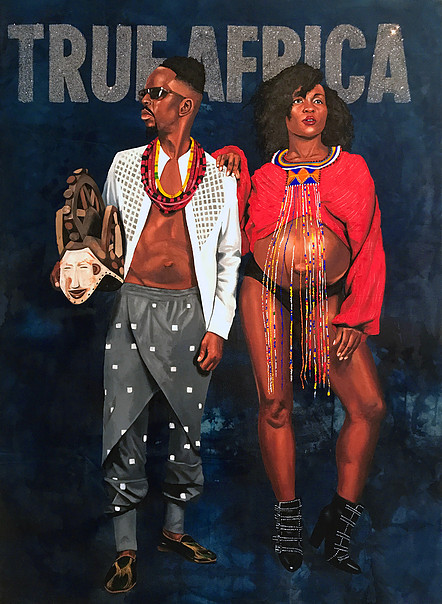 Khupela, 2018
My works take the form of paintings, videos, original music and performance-based projects with each medium allowing me to articulate various nuances around the theme.(texts website artist)