As Fitsum incessantly contemplates the human form and condition, his artwork continues to transcend pre-existing conceptions about African art and it seems his personal capacity to sympathize with the human predicament continues to grow.
Zihan Kassam on Fitsum Berhe Woldelibanos
That Raw Sentiment
A Preview of Fitsum Berhe Woldelibanos's Debut Exhibition, Traces of Identity, in North America: Toronto, Canada
The first time that Fitsum painted the ocean, he had never seen it. As a child, he only heard stories about the cosmic blue expanse of water that fades in to the sky. He envisioned the ocean all the time, taking this apparition and manifesting it in paint. For all he knew, the sea might not be real but what did that matter, his imagination was.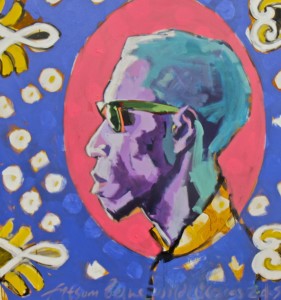 Untitled. 2015.
Perhaps this is where the pattern begins; of translating visions in to visible form; images partially rooted in reality but mostly derived from the mind's eye. Living in Kenya since 2003, Fitsum has painted landscapes, female facades and religious iconography, but it is his protracted series of black male figures, either head or head and torso, that has tugged at the hearts of art buffs across the globe in the last few years. Speaking with him about his latest paintings, set to fly out for his solo exhibition at the artagallery in the Distillery District, Toronto, he divulges the impetus behind his portraits, which have been continually evolving.
Again, we bear witness to the workings of an artist's imagination; how they absorb real-life images that resonate with them and fuse these with their fancies. Particular scenes from Danish drama film Manderlay, written and directed by Lars von Trier struck a chord with Fitsum. Based in rural Alabama, almost seventy years after the American Civil War and the Emancipation Proclamation, the film is set on a plantation where slavery persists and brawny workers toil the fields under a blazing sun. These images triggered Fitsum to ask questions about identity; how do migration, historical background and DNA play in to our disposition?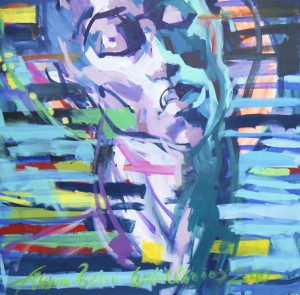 Untitled, 2015.
'Traces of Identity' looks at the relationship between man and his environment. It is an exploration in to the social, political and geographical influences in the construction of identity and the self. And more than just the scenes from Manderlay, it seems that Fitsum's own experiences have influenced his work. Born and raised in Ethiopia, he later moved to Eritrea, his parents' country of origin. And although the exquisite culture and architecture of Eritrea was a feast for his senses, Fitsum felt that the fracture between Ethiopians and Eritreans was trivial, unnecessary. Still, he understood the struggle by people, to find their sense of individuality and a place to belong.
This idea, "to be or not to be," this or that type of person is reflected in the backgrounds of Fitsum's latest portraits. Once simpler, his more recent backdrops are now busier, with the gentlemen in the paintings trying on different personalities. "I wanted to introduce textile to explore identity," says Fitsum, who has used Kanga patterns and other configurations. Considered quintessentially African, he tells us that one of the designs originated in the Netherlands and travelled to West Africa. The question now becomes, "Is who we think we are really who we are?" Wearing Western attire in an African milieu, a man, half nude in blazer and sunglasses, poses in front of banana trees. As in most of Fitsum's portraits, the fellow appears to be superimposed on the background; being both a part of his surroundings, and not.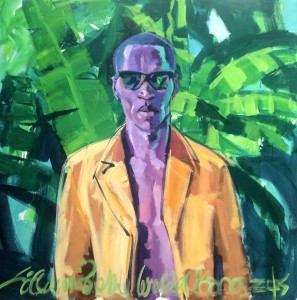 Untitled, 2015.
In a painting reminiscent of a passport, Fitsum has painted a face set in a rectangle, like an ID photo, but spilling out of the lines of the boundaries it has been drawn in. Talking with Fitsum about what it means, we learn that this will be the first time that the artist will travel to Canada, where incidentally the majority of his family has lived for years. Applying for his visa made him contemplate the idea of identity from a different angle. He thought about how documents operate as a governmental depiction of who we are. The face escaping the borders of the photograph implies that there is much more to us than papers can ever define.
Naturally you will catch a taste of something familiar at 'Traces of Identity' with Fitsum's hypnotizing palette, including the distinctive skin colour of his subjects that he gets away with painting in varying shades of purple. Applying generous strokes of acrylic colour, he shapes the facial features and physiques of real and imagined subjects. The people in his paintings always express intense emotion; raw sentiments that resonate with the observer. His unusual use of colour and contrast, light and shadow, emphasize his subject's expressions and gestures, capturing the vigour of the human spirit and the potency of the life in us.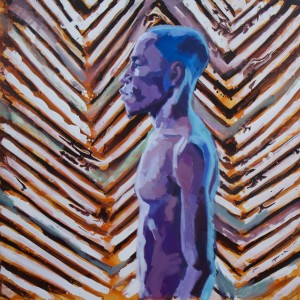 Untitled, 2015.
What you will also recognize are portrait backgrounds with horizontal lines of alternating colour. Fitsum tells us that his striped backgrounds were inspired by the flat lines of the ocean, which he has now visited too many times to count. He describes how the parallel lines juxtapose the vertical force of the portrait in a way that is settling to the eye. And speaking of the ocean again, Fitsum spends a lot of time painting in Lamu, an island off the Kenyan coast where he says, "By the time you get there, like time travel, you are completely transported to another type of home, a special place where time stands still and where the colours and textures inspire you." In 2013, Fitsum participated in the first Lamu Painter's Festival in Kenya.
When Fitsum completed his studies in painting, sculpture and print making at the Asmara School in 2000, he couldn't know just how far and his paintings would travel. Today, his work has been exhibited at prominent venues across Kenya including RaMoMa and Talisman and it has travelled to prestigious international venues including the Kunstwelten exhibition in Salzburg in 2006, the Alexander Cadain Gallery in Paris in 2008 and the Gallery Tongkeun in Seoul in 2011, to name a few. Fitsum has exhibited at Gallery 23 in Amsterdam, Gallery Luisa in Belgium, Gazzambo Gallery in Madrid and the Capital Club in Dubai.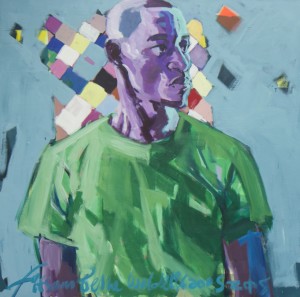 Untitled, 2015.
In 2013, Fitsum's Blue is Another Red exhibition at Hotel D'Lindustrie, St.Germain in Paris was a high-status affair, bringing further attention to the transforming contemporary art landscape in East Africa. Last year through the Gafra Gallery in collaboration with Billionaire Couture, one of his male portraits was featured at the new and popular 1:54 contemporary African art fair in London. And next on the agenda, after Toronto that is, will perhaps be one of his largest exhibitions in Kenya to date. Organized by esteemed art-furniture designer Mark Rampelberg, a mentor and friend to Fitsum, the artist will exhibit at a monster warehouse off the Thika highway in Nairobi (November 2015).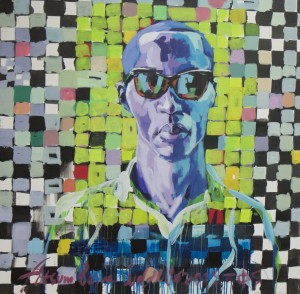 Untitled, 2015.
Whether dreaming, disquieted or roused with desire, the men from Traces of Identity portray reactions that vocabulary fails to describe but that the subconscious absolutely recognizes. It is as if, in a cathartic daydream, the artist's mind has connected with his hands, his paintbrushes with his psyche, in a sublime moment where he can paint those subterranean emotions we are so good at hiding. As Fitsum incessantly contemplates the human form and condition, his artwork continues to transcend pre-existing conceptions about African art and it seems his personal capacity to sympathize with the human predicament continues to grow.
A combination of real and illusion, Fitsum's gentlemen continue to speak to his audience and it seems the more he practices using his imagination, the better he is able relay those sensual, poignant emotions that language can often miscarry .
The exhibition 'Traces of Identity', curated by Jason Jabbour, will take place at artagallery, 14 Distillery Lane, 27-29 August 2015. For more information visit www.fitsumberhe.com by Magicbox.
Zihan Kassam is an artist and art writer living and working in Nairobi, Kenya. Her writing focuses on Kenyan contemporary painters and the evolving art landscape in Nairobi.