"I want to create awareness about the fact that there is also a black perspective of history. That's why I fight against stereotypes in order for black people to regain dignity. To understand yourself is to understand your history. It is very important to know where you come from and what happened to your ancestors. "
Rosalie van Deursen portraits Patricia Kaersenhout.
Mantle of Love (detail), 2014.
Patricia Kaersenhout: Uncovering and Healing Wounds
Visual artist Patricia Kaersenhout was born and raised in the Netherlands of Surinamese parents. As a black woman from the African diaspora who grew up in Western Europe she is passionate about knowing her own history and that of her ancestors. In her work she is particularly interested in exploring the position of black women and how it relates to feminism, sexuality, slavery, colonialism and racism. Through her storytelling she combats contemporary ignorance of forgotten and invisible histories of black women and examines the effect of growing up in the Western European diaspora on women's sense of identity. Her starting point is personal stories but she aims to express universal themes which can be accessible to a wide audience. She paints, draws, takes photographs creates textile collages and makes short films and performances.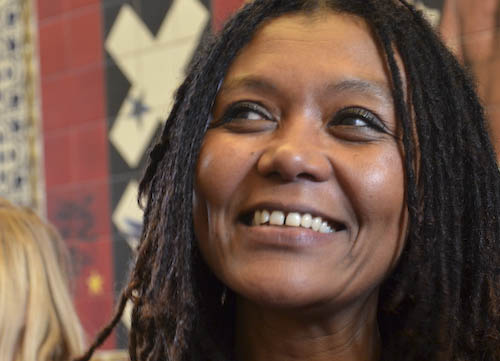 SEX OBJECTS
Patricia makes collages of fabrics and photos of pornographic images of black women portrayed as sex objects. She mixes this stereotype of the eroticized and sexualized black woman body with extract from history books. She explains: "I want to show that in history women are often either not present or are portrayed in a stereotypical way. It does not tell us anything about who those women really are. Black females are historically ignored and neglected." These collages are a starting point which she follows up with work on the black female body militancy and sexuality.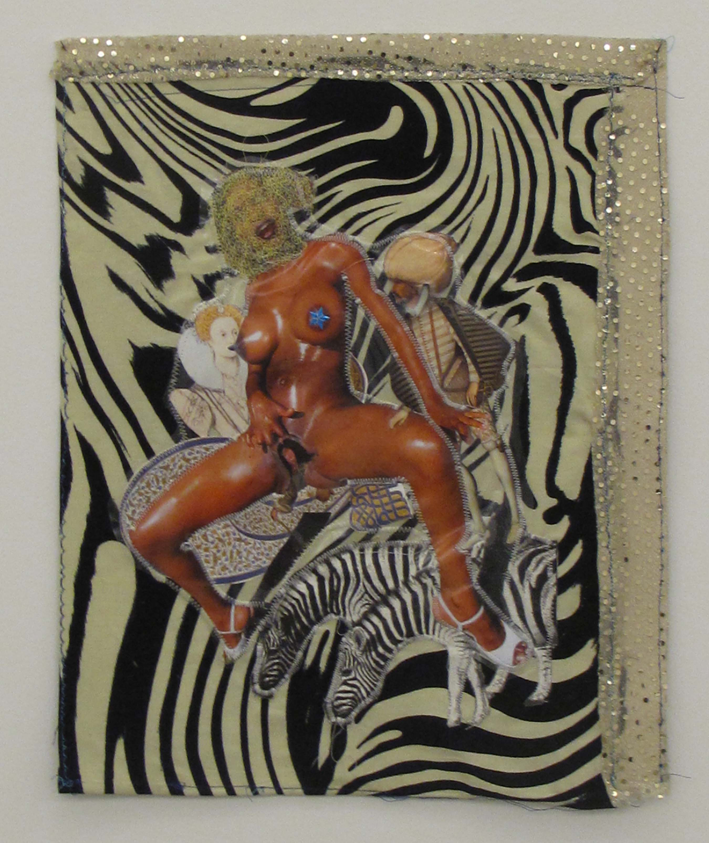 The History makes me so horny, 2011.
MODERN SLAVERY
For project 'Handle with Care' at the Amsterdam Tropical Museum, Patricia worked with women who had been forced into prostitution. She spoke with them while they sewed a carpet she named 'Mantle of Love'. The 100m2 carpet is made of women's red clothing, underwear and lingerie. It refers to female sexuality and repression and to the fact that women's bodies are trampled upon by prostitution. Patricia examines the ways in which the existence of historical and modern slavery is denied and glossed over. She experienced how the subject of slavery is ignored in schools and recognized a pattern in which slavery and oppression are covered up by myths and the mantle of love.

Mantle of Love, 2014.
For the 'Handle with Care' project Patricia worked together with the artist Jimini Hignett. They examined the link between historical slavery and the prostitution of women as a modern form of slavery. Regarding the collaboration with the prostitutes Patricia explains: "The fact that these oppressed women collaborated gave more emotional depth to the work and I could support them financially, to 'empower' them. That project was the turning-point; I only want to work on projects with other people now!" According to Patricia her physical work gains extra layers of richness by connecting and collaborating with others. She finds working alone in a studio no longer satisfies her; with such chaos in the world she now feels a strong need to be more socially engaged.
PROUD REBELS
In Patricia's fight against stereotyping black women as sex objects she shifted the focus of exaggerated pornographic images to intellectual black women who have performed heroic deeds and risked their lives for others. She employed girls in Senegal to embroider with beads portraits of 'forgotten' black feminists who were active in the 1980s in the Netherlands. Patricia: "I paid the girls and told them these forgotten histories. In this manner I empower them and my art becomes more a social practice or community art." Patricia is inspired by African portrait paintings, made for important events. The portraits are part of a project named 'Proud Rebels'.
Like all her work, 'Proud Rebels' is based on her personal emotional history. She 'accidentally' came across the black feminist wave of the 1980s in the Netherlands, which she found very moving. She explains: "It took me back to the eighties, when I was a 18-year-old newbie in Amsterdam from a provincial town. I was very shy and went to the women's house on the Herengracht in Amsterdam. However, I didn't feel welcome or at home amongst the white intellectual women that I met there. Now, 25 years later, it appears that black feminist women also held meetings in that same house. I just missed them! I think it has not been for nothing that the story of these black feminist women crossed my path."
Patricia's intuitive and associative way of working is based on what she calls an inner need to create and tell stories. She always investigates her stories carefully. Patricia: "Storytelling is important to me, I also come from an oral tradition. My mother always told stories about Suriname, about our family and her childhood. That made me aware of my Surinamese background, but I also belong in the Dutch tradition and culture." One of her intuitive quests for historical events led to the discovery of Christina, a black woman who worked as a servant in Amsterdam in the mid-17th century and resisted her oppressors and was therefore imprisoned.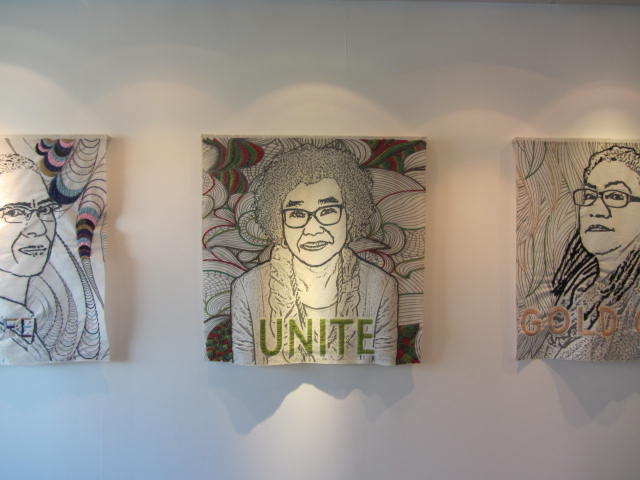 Proud Rebels (detail installation), 2014.
BLACK FEMINISM
Christina plays the main character in 'Proud Rebels'. Patricia brings her to life by combining her story with that of the women who were part of the black feminist movement in the 1980s in the Netherlands. Patricia asked these feminists about personal topics and mixed these stories with the story of Christina. She made a short film in which fact and fiction cannot be distinguished. It consists of a monologue recited by a black actress. She also embroidered a woman's body in an image of a rebellious woman. Patricia: "My artworks are not about aesthetics but about connecting. Embroidery is for instance something meditative but it also has a political meaning. When you embroider a rebellious woman, you penetrate that body with a needle. On one hand it symbolizes the filling of emptiness but on the other, you are also mending wounds." In addition she will also produce a publication in which she asks both black and white women to provide a written contribution on personal memories of the black feminist wave in the 1980s.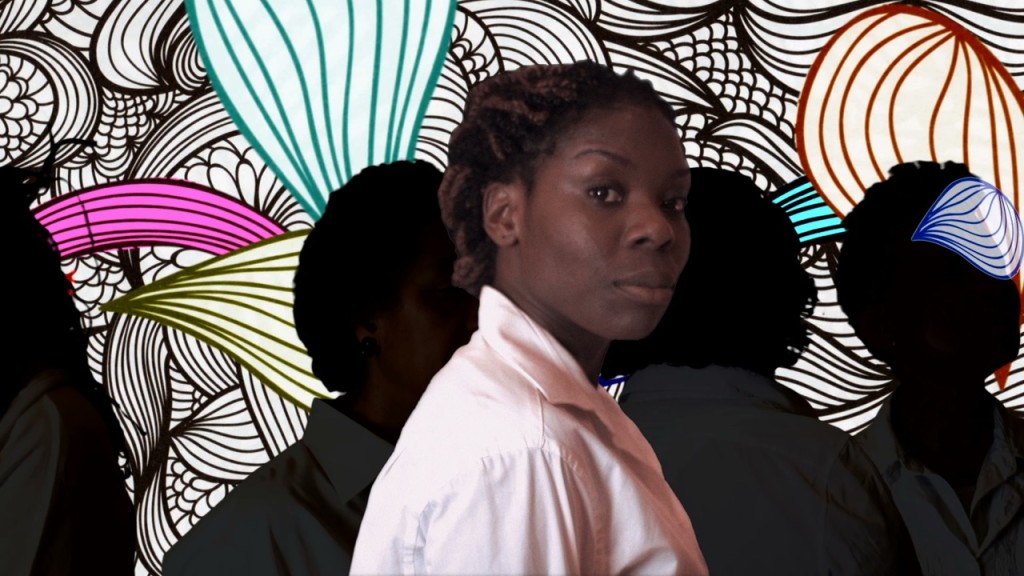 Proud Rebels (video still), 2014.
SHARING IS CARING
Despite the fact that Patricia's physical work does not directly show the layering of the creative process, she would not want to present her work in a different way. She explains: "I know I've touched the women who have helped me with my projects simply by working with them. Whether they are prostitutes, feminists or the girls in Senegal, the content is shared and "sharing is caring." That this layering is not 'read' by the audience is of secondary importance. "Everyone may read and interpret it as s/he wants." According to Patricia art is about the unnameable: "If it raises questions and questions assumptions it is good."
INVISIBILITY
The layering of the hidden stories in Patricia's works has a strong link with the theme of invisibility. She explains: "I really like to operate from a kind of liminal space, a twilight zone or a no man's land. When you're invisible, you can observe the outside world very well." Patricia's inspiration is African American scientist, W.E. Burghardt Du Bois, who used the veil as a metaphor for the dual reality in which black people live. Patricia clarifies: "Reality is behind the veil and has to do with being black. It's hard to define what it means to be black but that is a reality that I'm in. Through the veil I look at the outside world. But the outside world does not see the reality behind the veil. And that is actually the invisibility. Like the hidden messages and stories in my work."
The layering and hidden stories of Patricia's creative process are also reflected in the media that she uses. The medium and the message are always related. When it comes to her love of textiles for example, the tactile quality plays an important role as the cloth has already gone through so many hands. Cotton pickers, spinners, weavers, seamstresses and others have touched it and cared for it. In addition, each type of fabric has a different historical baggage for example Vlisco textiles.
BARON SAMEDI
Currently Patricia is working on an ancestor project. She came across the tomb of one of her ancestors in the Oude Kerk in Amsterdam. The only black man who is buried there appears to be an 18th century freed slave who has the same surname as Patricia's mother: Matroos. "He was a mixture of a white father and black mother. I'm going to make an installation at the grave. I want to make him a 'Baron Samedi'. The term comes from Haitian culture and refers to aSon intermediary between the upper world and the underworld. You become one when you are the first and only black person buried at a certain place. This person helps the dead to the other world. I'm going to make a kind of altar on his grave."
Patricia constantly explores the relationship between the personal and historical by uncovering and then healing wounds in a controversial way. Patricia concludes: "My mission is to create awareness about forgotten black histories, to take responsibility and empower people. In other words: to rise by lifting others."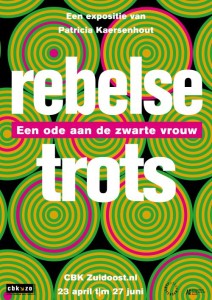 Rosalie van Deursen, Art Historian
www.urbanafricans.com & www.rosalievandeursen.nl
Text edited by Philippa Collin