Glenn Hardy Jr. I Remember When, Charlie James Gallery Los Angeles, until February 12, 2022
Cherry Blossoms in DC, 2021
About:
Charlie James Gallery is delighted to present a solo show of Maryland-based artist Glenn Hardy Jr. titled I Remember When ____, opening January 8th at the gallery from 6-9pm. In this new body of work, Hardy composes scenes and portraits of black figures at play, at work, and in moments of contemplation. Many of the scenes, particularly those of the young at play have an almost Rockwellian innocence and optimism, and Hardy's style openly references the work of Kerry James Marshall. The show's centerpiece, "Cherry Blossoms in DC" references KJM's iconic painting "Past Times" (1997). Marshall is a key touchstone for Hardy – where Marshall interrogates Western art history, seeking to correct the omission of black figures throughout the canon, Hardy also seeks to repopulate our image bank with relatable images of black figures engaged in summertime idylls, archetypal scenes of innocence recognizable to all viewers, but seldom depicted with black figures. The show's array of childhood scenes functions as a compendium of archetypal moments from an American childhood: kids playing ball in the park, catching fireflies, playing duck duck goose, gathering around the ice cream truck in the summertime, etc. This is intentional, as Hardy seeks to generate empathy through universality, and thus achieve a rewiring of our collective visual language away from stereotypical and often negative depictions of black life towards a space free from prejudgment and conducive to joy. Hardy expands his use of materials in this show – paintings are presented stretched and unstretched, and Hardy introduces a new mixed media series titled Combs, Fros and Flowers, as well as a new series of works executed on found Telfar bags. This is Glenn Hardy, Jr.'s first solo show with the gallery.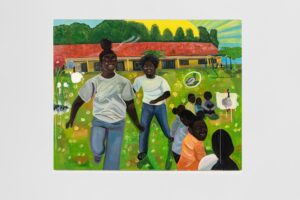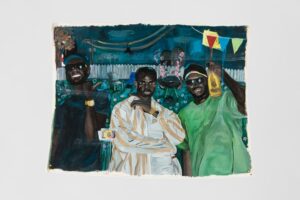 Duck, Dhuck, Goose, 2021/Bruvas, 2021
Words from the artist about the show:
"The works in this show are a representation of the good times we all remember at some point in our lives. The works range back from moments with friends as young adults, to some of our favorite childhood memories. Black people seen in a good light, being happy, and having fun is always the goal. When people view these works, I want them to be able to think back to a time where they can recall doing something like what they see in each piece. We've all had a time where we celebrated wins with friends, we've all had a favorite ice cream at the ice-cream truck, and most of us have played games with friends and strangers during recess or at the park. Experiences are important and being seen as human is important to having those positive experiences."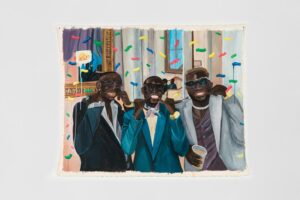 Karats & Cheesseeee, 2021
Glenn Hardy Jr (b. 1995) is a self-taught artist born in Washington, DC, and raised in Waldorf, Maryland. He is a graduate of Towson University in Baltimore, MD. He is known for paintings of black life liberated from the burdens of racial stereotypes and conflict. Figures and scenes are idealized, as Hardy depicts a world of black figures existing in comfort, in moments of relaxation, enjoyment, even triumph, free from the realities of existence as a marginalized minority in America. Hardy's works are chronicles of lives lived black – black talents, black comfort, and black voice. In a style influenced by Kerry James Marshall and Ernie Barnes, Hardy's work seeks to subvert, transcend, and ultimately replace stereotypical, negative depictions of American black life. Hardy is based in Waldorf, MD and is represented by Charlie James Gallery.