In 2015 the artist Hamid El Kanbouhi became the so called 'City Drawer' (Stadstekenaar) of Amsterdam. A great honor and a nice amount. In return was expected of him to make a series of drawings that characterize the city. He asked Rob Perrée to add short texts.
Here a selection from this Intimate Street Art project.
Untitled, 2015
INTIMATE STREET ART
1.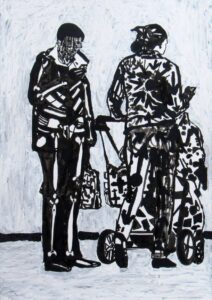 My first association with this drawing is "Scenes from a Marriage"
That was a television movie in 10 parts by the Swedish director Ingmar Bergman
This image could be one of the scenes
Translated to the present
Of course
The man stares at his smartphone with some amazement, the woman's gaze is captured by hers
Mutual contact is missing
The pushchair indicates the presence of a third family member
The parents do not look at it and the viewer does not get to see the child
It has been sentenced to a supporting role
In the man's clothing a skeleton appears to shine through, in the woman's the patterns are more mobile, perhaps even more explosive
Does the viewer have to guess the type of relationship through these clues?
Hamid el Kanbouhi seeks communication with the viewer in his work
This drawing provides an appealing explanation for this.
2.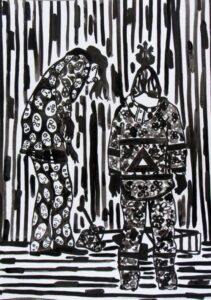 Everyone has them at some point
Days that don't want to become a normal day
You oversleep, nothing works, everything is suddenly slightly different, every action feels like a huge project, you seem to bear the weight of your own body
Then your child gets wild and slams his street step
The warning triangle on his back advises you not to oppose him and to pick up the street step yourself
Against your will, with the greatest effort, because exhausted
Everything hangs down in this drawing, the woman, the woman's hair, the hands of the child, even the stripes of the background lack the energy to stretch
A recognizable moment that you would rather not have recognized
3.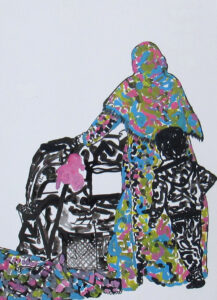 It seems like an everyday image
A woman behind a pram in, say, Amsterdam-West
So you see them every day, in the afternoon, around 3:00 pm
When the weather clears
And the house is cleaned.
But
So elaborately dressed
You see that much less often
She has wrapped herself in joy
Unlike her son
He seems lost
His view is her back
He no longer counts
The mother's attention has shifted
He does not know how and where to walk
What his role is
That insecurity makes him sad
He still has to get color
Envy is dressed in black
But, the color is there for the taking
But he doesn't see it
Not yet.
4.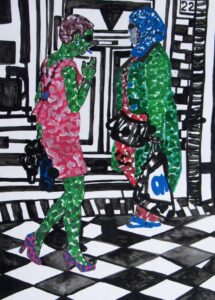 Two women, two worlds
22
One hides her body in dead tired clothes
The other one is dressed in her body
The one shuffles to her three-floors-up in Amsterdam-West
The other rushes to her assignment on the Keizersgracht
For one, shopping in the supermarket is the only outing
The other has never fried an egg
Slippers from Walmart versus high heels from Prada
They pass each other, but do not see each other
They have no interest in each other
It is like that every day
Once Amsterdam women hung out of the window to talk to the neighbor across the street
Now the city has no idea who the neighbor is across the street
Would they ever come together?
22
5.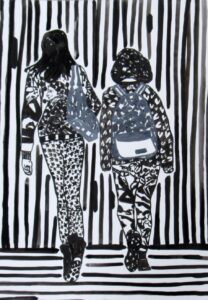 Till now
They pick up each other every day to go to school
Out of habit?
They don't talk, it's too early for that
They wake themselves up
By walking
They are still children, dear children
School is more important than life
It will remain so for the smallest girl
She is still protected by her last layers of baby fat
She doesn't know yet that she has to say goodbye to her goody backpack
She still lets her shoulders hang
She still has her gaze down
Too insecure to want to be seen
Her friend is no longer bothered by that
She is fast becoming a woman
She faces the world
Her backpack has been exchanged for a cool shoulder bag
Her jacket was bought because she likes it, not because it fits
Despite the differences, they seem to have at least one thing in common
They are walking towards a future that has not yet been fulfilled
That still refuses to show her true face
They still need each other.
6.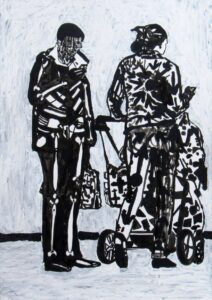 Territory, that's what it's all about
All three have their own terrain
They must be kept on a leash within the lines
That is not as easy as it seems
All three hold back
They look anything but relaxed
For now, the man seems to be the winner
The crowned king
He seems to radiate pride, but his clothes show
that he is prepared for every unexpected bite
The military pattern is self-evident
Isn't walking the dog meant to be a fun activity?
The dogs can escape the cramped interior space for a while
The boss can escape from the oppressive roommate(s) or for a while
Just get themselves some healthy, refreshing exercise
This scene looks more like a truce than a leisurely getaway
Are there no other ways to communicate with your pets?
How dangerous is letting go of each other?
Is every contact about power?
7.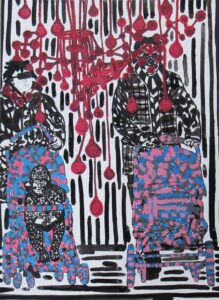 Glee hangs in the foreground
A dancing chandelier that enjoys life
A decoration that is as lively as it is expectant
Appearances are deceptive
Behind that lies real life
There the joy is hard to find
That is where the grind reigns
Straight faces that barely look
Let alone talk
They push their offspring
As a mandatory number
Because it should
Like you should walk a dog
Only the colors of the prams are a reminder of better times
Love was still colored then
Expectations still prevailed
Am I mistaken, or does the oldest look old?
The seriousness already has a grip on his young face
That is what you can expect with such parents
8.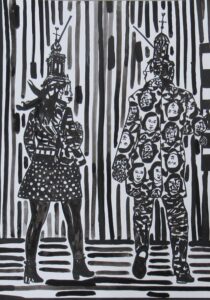 Two people seeking contact?
Cautious, hesitant, with reservations.
Taking a quick look, nothing more?
They send out different signals
The man is literally concerned about the fate of Anne Frank
The woman carries the tower of the Westerkerk on her head
That could indicate kinship
Anne and her views are connected
But his tower has an unclear identity
While her clothing is less pronounced
That indicates a difference
That explains the hesitation
Or
Do we see two carnival characters on their way to a party?
Dressed out ridiculously while they are on the road
Like everyone else when they dance the polonaise
Sometimes differences are canceled out by the environment
By bringing them together in one location
Is integration easier than you think?
Rob Perrée is art historian, independent writer and curater, founder of Africanah.org, lives and works in Amsterdam and Brooklyn.