Rwanda's art scene is young and booming. Multiple art galleries were established in recent years, and visual artists are becoming more exposed to the region, and globe, exhibiting and experiencing residences. Article presents works of two Rwanda's young artists Iirumva and Dusabe that are leading in shaping the dynamic art scene of Kigali.
Ilija Gubic writes about the Rwanda's young generation of artists.
Introducing Bright Future of Rwanda's Art Scene
Iirumva and Dusabe
We would remember last year for coping with the challenges that pandemic brought to us. Despite suddenly facing unknown, the art and culture sector managed to remain active by quickly shifting its activities online, while activities on-site remained with several limitations including reduced number of participants and the audience. Financial losses for art and culture sector are evident, yet, the sector keeps producing and should bounce back better. While for the most of people, being at home, with movement restrictions, meant less dynamic life, visual artists used that time to produce more work – many of them reflecting on "new realities". Relatively new and young art scene in Kigali, Rwanda, kept growing even during the challenging times. Two artists from Kigali: Isaac Iirumva (1998) and Christian King Dusabe (1996) managed in 2020 to have highlights of their young careers.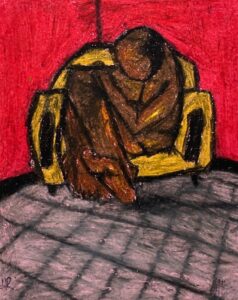 Isaac Iirumva, Sofa, 2020. Pastel on paper, 20 x 15 cm.
Isaac Iirumva finds his art to be repository of society's collective memories. His paintings show a dynamic combination of his perspectives on life and relationships and societal collectives; such as cultural dialogues, identities, characters and memories. He is also influenced by global culture and technological advancement and in addition to his work in oil on canvas and paper, he creates in digital format including animation.
In October last year, in Kigali, Iirumva had his first solo exhibition "Female Artistic Maturity" at the Indiba Art Space where he presented large format paintings. He showcased portraits of women being without arms or legs, trying to raise awareness on mental and physical health issues that many women are facing while trying to manage their livelihood in these challenging times. He also shown his work at the "November Numerique" at the L'ESPACE gallery curated by Maison Beaulier and participated at the Hamwe Festival in November where he spoke about his experience in art, connecting his mental states to what he is showing with his drawings and paintings. Iirumva is also known for his murals – and he did several of them in Kigali in 2020 mostly to raise awareness on measures that we should all take to reduce the virus spread: using face mask, social distancing and hand washing, among others. At the end of last year, his oil painting on paper "Expression" made it through the juried international competition and was exhibited at the International Art Biennial in Serbia.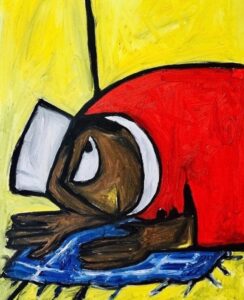 Isaac Iirumva, "The Blue Janamaz", 2020, 60 x 40 cm (left)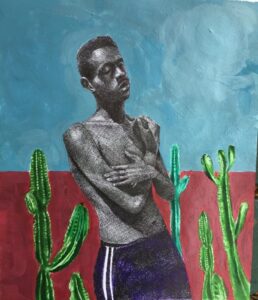 Christian King Dusabe, "Melancholy", 2020, acrylic and oil on paper, 34 x 29,5 cm
Christian King Dusabe graduated from the Ecole d'art de Nyundo in Rwanda, and started studying digital media production at the Integrated Polytechnic Regional College in Kigali. He usually paints portraits of people in his surrounding or those he meets in the city. Portraits are rather "exploratory" than realistic and he makes them to further communicate his ideas or even provoke discussions on some contemporary issues in the society. He paints with oil, acrylic and watercolor on canvas and paper, and draws as well with ink on paper. Komeza Art in Kigali and Bandombe Gallery in Kinshasa, Democratic Republic of the Congo are representing him.
In 2020, works by Dusabe were shown at the exhibition "A Snippet of Local Artists Journey" curated by Isi Art Community in Kigali, and then when the most of the art activities moved online, in an online exhibition "Mind and Space" curated by Kuuru Art Space. Same as with the work of Iirumva, at the end of the year Dusabe's painting "Bond" was exhibited at the International Art Biennial in Serbia.
The International Art Biennial where Iirumva's and Dusabe's paintings were exhibited had entries from Austria, Belgium, Bulgaria, France, Germany, Italy, Mexico, Montenegro, Norway, Russia, Rwanda, Serbia, Slovenia, and others. Exhibition was held in several venues in the city of Kragujevac in Serbia. Paintings by both Rwandans were exhibited at the National Art Museum.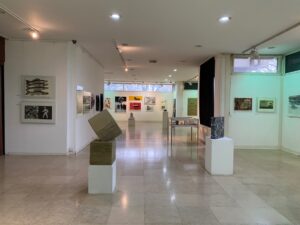 International Art Biennial in Kragujevac, 2020 © Ilija Gubic
Art historian Katarina Babic, senior curator at the National Art Museum was part of the Arts Council for the International Art Biennial in Kragujevac. Her impression was that Iirumva and Dusabe are translating impulses from the Rwanda's realities into authentic artistic expressions of figural paintings of intense color.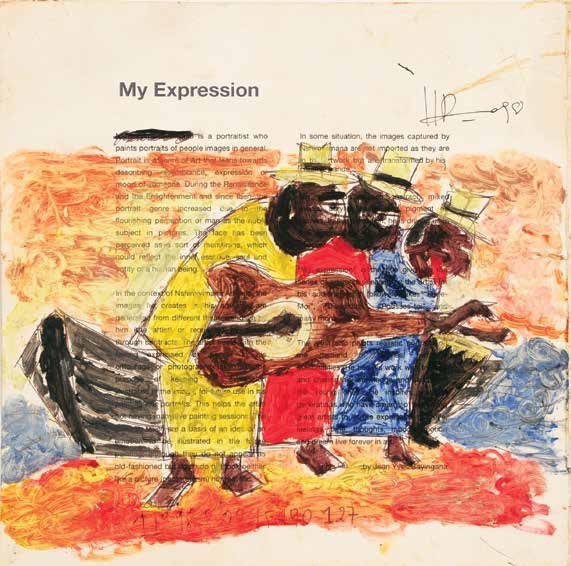 Isaac Iirumva, "Expression", 2019, ink and oil on paper, 23 x 23 cm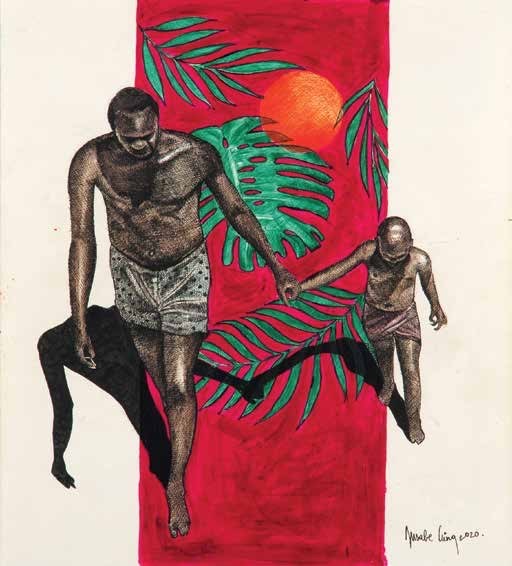 Christian King Dusabe, "Bond", 2020, ink and acrylic on paper, 33 x 30 cm (right).
"Iirumva transferred his experience as a muralist to his painting "Expression" sarcastically evoking human nature by presenting a depersonalized, disproportionate and oversized human figure in the foreground. The expressiveness of the strokes and colors creates a counterbalance to the reduced forms of accentuated contour lines," says art historian Babic, and continues: "The sophisticated, recognizable, Dusabe's work is based on meticulous modeling of human figures, precise drawing, and a pure compositional solution of scenes from family life. With usual painting methods, he combines a bird's and coloristic perspective in an unusual way."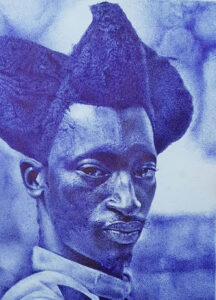 Christian King Dusabe, Portrait (untitled)
Both in their twenties, Iirumva and Dusabe are also working in media other than works on paper and canvas. They are also producing digital prints, experimenting with animation, doing photography, and are continuously contributing in shaping the contemporary art scene in Rwanda. Both are well represented in local media presenting their art but also encouraging younger artists to actively work on their careers. Both Iirumva and Dusabe are active on social media where they are engaging with new audience and present their work.
Ilija Gubic is an architect, artist and architecture & art critic and curator residing in Kigali, Rwanda.