Heidi Sincuba has not abandoned her original commitment; she has added a dimension to it. This is evident in the works on paper she is showing at Gallery 23 in Amsterdam.
Rob Perrée on new work of Heidi Sincuba
Touki Bouki 1, 2023
NEW WORK BY HEIDI SINCUBA
BLACK ABSTRACTION?
Twelve years ago ago, I first wrote about the work of South African Heidi Sincuba. At the time, just out of the academy in Arnhem, she had a presentation at the Museum Arnhem. A surprising presentation. A presentation I will not forget.
I wrote then:
Her drawings and paintings seem to conform to the often somewhat well-behaved tradition of figurative portraiture, and they seem to use the clear, fresh, and superficial language of the mass media, but these influences are only a cover, a means to entice the viewer to come closer, to enter her world, to figure in her story. Once inside, he/ she is confronted with the backside of this innocent reality. The touching black, pious girls in white dresses, encased in slick frames, turn out to be victims of sexual violence. Rosary and halo curse cursed with blood stains. Behind the distinguished dressed "Fathers" lurks the colonizer who, from his position, allows himself all sorts of liberties. The Victorian shell must hide his racist-fueled cruelty from view.
Heidi Sincuba (1987, Kwa Zulu Natal) returns to the Netherlands with an exhibition at Galerie 23 in Amsterdam. That makes one curious. Has her work changed? Less violent, less activist? Has her artistry changed?
She has explicitly chosen to educate herself more extensively academically. After ArtezArnhem, she moved to London to get her masters degree at Goldsmiths. Then she returned to South Africa. There she is working on her PhD at Cap Town University. Meanwhile, she has also taught at two universities and done several research projects.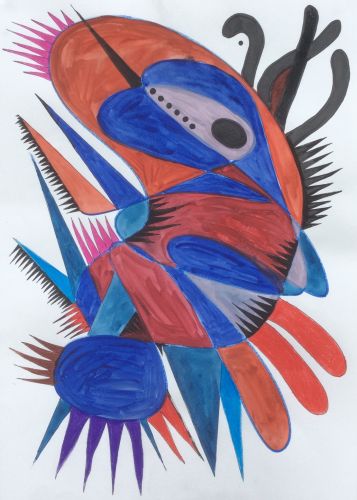 Touki Bouki2, 2023
Her work still has many manifestations: painting, drawing, photography, video, performance, text, textile, and installation. She now refers to herself as a non-binary, feminist, black artist, and scholar who challenges dominant narratives in the art world. In doing so, she indicates that her activism is still her guiding principle. Her work had always been about violence against women, that has sharpened to gender-based violence and to the view that sex is exclusively positive, has no negative connotations.
The biggest change seems to be the "look" of her work. Her imagery has changed. There are a number of reasons for this. Her academic training plays a role in this. In the work, not only queer and feminist theories (Aude Lorde) were extensively discussed, but also research into her African origins, African religious rituals and African mythology. The latter aspect she describes as a study in African ancestral knowledge systems to disrupt colonial and patriarchal ways of being and knowing.
Touki Bouki, 3
Recognizable, often raw figuration has given way to vivid, graphic, almost aesthetic abstraction in which the colors red, white, blue, and black dominate. Sincuba has become fascinated with black abstraction, particularly that in the U.S. (1) For a long time, black American artists there dominated figuration, because that was the best way to represent the black experience. That has changed. Now there is also attention for abstract artists. Their work can also reflect meaning and emotion.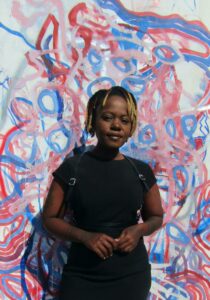 There is another reason that explains her development. Sincuba has also recently become a trained traditional healer and spiritual practitioner. She says of this: Because of my roots in African spirituality, the obvious place to start was abstraction. I was fascinated by the abstract markings I saw all around me and connected them to the 73,000-year-old cross-hatched pattern abstract drawing found at Blombos Cave, South Africa.
Heidi Sincuba has not abandoned her original commitment; she has added a dimension to it. This is evident in the works on paper she is showing at Gallery 23.
July 2023
1. Not insignificant in this process was her meeting with South African artist Lefifi Tladi. She met him in Stockholm and they worked together on an abstract painting. An artistic manifesto, in Sicuba's words. She also saw the abstract work of Sweden's Hilma af Klint for the first time then. At the Moderna Museet, in Stockholm.
Until October 2023 to be seen at Galerie 23, Amsterdam