Emmanuel Iduma is a writer of fiction and non-fiction. Born and raised in Nigeria, he has contributed essays and stories to journals, magazines (Africanah.org among others), artists' books, and exhibition catalogues. In 2017, he was associate curator of the Nigerian pavilion at the Venice Biennale.
He is the author, most recently, of A Stranger's Pose. He also published the novel The Sound of Things to Come and Gambit: Newer African Writing.His writing style could be characterized as literary and personal non-fiction.
This article was first published on Africanah.org December 6, 2016.
Portrait of the writer.
If I Could See Your Face
Homosexuals in Nigeria
As I write now I recall a memory, a memory of being in my late teens and thinking I'd contracted HIV. I couldn't tell—and I still can't tell—why the dread persisted for longer than a year, for I felt it until I was about 20. I do remember what triggered my dread, and that was getting a haircut in a rundown barbing salon; the kind of barbing salon that thrived on student patronage, reckless with its tools, and hardly, if ever, sterilizing them. This was Karshi, the suburban Abuja town where I'd attended secondary school. In the years I assumed I'd contracted HIV from barbing utensils, I walked about—if I can say this without cheapening the implications of the metaphor—as an infected man on vacation. Any moment I might succumb to the virus.
*
Another memory: seeing a dead friend's body for the last time. He'd died days earlier, and we went into the morgue, some of us who were his classmates and would serve as undertakers, with an empty casket. His body lay on a slab. The morgue attendant asked us to leave the room. When we returned a quarter of an hour later, the body had been placed in the casket. Look at it for the final time, we were told. Later, after the burial, comforting each other, we spoke of that moment of finality. She spoke, a friend I shared with the dead, she spoke of everything else but his face. His blue-striped tie, his favorite, which he often wore to classes; his glasses, askew for the first time ever. I wouldn't tell her the only thing I remembered was his unmoving face. And now as I write, perhaps because I didn't recall it when I should've, my friend's face in death eludes me.
*
I remember these memories as an afterthought. My initial thoughts—that is, what prompted me to write about my memories in the first place—were framed around two photographs. I present them in the sequence of encounter.
*
In Eric Gottesman's "Beletu," from the series If I Could See Your Face, I Would Not Need Food, Beletu has her back to a wall. Although she faces frontwards, hands, stretching out of the frame, covers most of her face. Beletu is one of many HIV positive people photographed by Gottesman in Addis Ababa between 1999 and 2004. Given the stigmatization they faced, they wouldn't let him make pictures where they could be identified. They would only show their faces obscured by hands or mist or drapes, or stand with their backs to the camera. And when two people allowed him to show their faces (one of them, Meqdes, said, "There is nothing I lose if I talk to you or if you photograph me…I want to speak out so I can give successful messages to the community,") he realized the project had reached its end.
*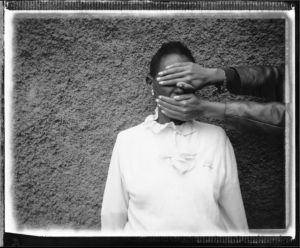 I found the second photograph in a newspaper sometime in May of this year, a photograph by Alexander Okere. It shows six men with their backs to the camera, five with bowed heads, and one with an unbowed head. "Police arrest six suspected homosexuals in Edo," the headline reads. What the photograph depicts, what the writer through his caption allows the photograph to readily depict, are men arrested for a crime, and paraded soon afterwards. What I noticed immediately I looked at that page in the newspaper, what I noticed with an urgency that hasn't abated as I write many months later, is that the photograph is put at the service of shame.
*
All photographic portraits might be looked at as portraits of desire. The eye glanced-at, the eye glancing-back, is the organ that reflects the hidden (sometimes revealed) recesses of desire. This desire is doubled. And so, to hide or obscure the eye is to allow for a mystery that asks, "What would my desire look like if it were to be seen?"
*
Desire doubled is love and love doubled is madness," Anne Carson wrote in The Beauty of the Husband. If I were to seek a corollary, an accessory to "love doubled is madness," I would tell the story of Wondimu, whose story Eric Gottesman tells in If I Could See Your Face, I Would Not Need Food…
I met her in a bar. She was working and thought she knew my type at first glance: laughing and yelling and pinching women with my friends but fierce when I was alone. But she was wrong. I wanted to hold her more than anything else. She told me later that she felt something when she looked in my eyes.
When I came back during the next day, she disregarded me as a "repeat customer." But she must have known there was something more to it. We began to take walks down the dusty streets together, we would share a papaya or an orange, and then go back to her place. After a few weeks, I knew I was falling in love.
I had never really told anyone what I hoped for in life. It was to live in a small town like the one I grew up in, to have a family with a father and a mother, to love my wife. My friends in the army would have laughed. My brothers, still with my mother, would never have believed me. My mother may have believed me but I did not tell her because those were her same, unfulfilled hopes and I hated to see her cry.
*
Homosexual men in Nigeria, as far as I can surmise, are constrained to practice double lives. They are men who, for the sake of survival, despite their real desires, that of being in love with fellow men, sometimes have to flirt with women, show facetious attraction to women. This duplicity is similar to facing the camera with one's back; of being shamed by law and morality; shamed to the extent that the camera bears the reflection of something monstrous, not to be seen.
("If I could see your face, I would not need food." If I could see your face it would be as if my joy were complete, all duplicity gone.)
*
Desire doubled, love doubled. To be many selves, to be at least two selves; to be the self that is paraded as a sexual/moral offender; to be the self that seeks utmost satisfaction in the arms of a selves is acknowledgeable? Which makes us the happiest?
*
Once in a small bookstore Jamaica Kincaid read from a book she had just written. But only recently, before that reading at the small bookstore in Chicago, her brother, Devon, was buried in a cemetery in Antigua. He'd died of AIDS. At that reading, she saw a woman she recognized, not knowing from where. She said a tentative and unsure hello to the woman, and realized they'd met at an AIDS support group in Antigua three years earlier. Then she proceeded to tell her—a woman she barely knew—the very words she'd found hard saying. "My brother died." "I know," the woman responded, with a similar stark simplicity.
*
The woman knew a version of Devon's life unknown until that moment to Jamaica Kincaid. "On Sundays men who were homosexuals came to her house, a safe place to be with each other, and my brother who had just died was often at her house, not as a spectator of homosexual life but as a participant in homosexual life." Kincaid writes further:
*
A great sadness overcame me, and the source of the sadness was the deep feeling I had always had about him: that he had died without ever understanding or knowing, or being able to let the world in which he lived know, who he was; that who he really was—not a single sense of identity but all the complexities of who he was—he could not express fully: his fear of being laughed at, his fear of meeting the scorn of the people he knew best were overwhelming and he could not live with all of it openly.
*
The reversed faces of the Nigerian men, paraded for the crime of homosexuality, indicate in their obscurity identities complex, unexpressed, and mystified. This is the simplest way to put it. To put it less simply, consider a sentence in John Updike's "Museums and Women," proposing a possibility so startling: "Who she was was a mystery so deep it never formed into a question." In Nigerian law, where homosexuals and their alibis are criminalized, the mystery of homosexuality doesn't form as a question to be resolved.
*
Although their faces are held anonymous, the names of the six men are given. It would be far easier for the law to identify them by name than by face. The reason for their anonymous faces is arguably to keep them safe from the marauding, begrudged court of jungle justice (there are valid concerns for the safety of same-sex lovers in Nigeria). The real reason for their anonymity, I perceive, is to keep onlookers aware of a monster that mustn't be stared at, a Gorgon of sexual desire. It is the intention of the law that no Nigerian stares homosexuality in the face. Only if that were possible.
________________________________________
Image Credits:
• "Beletu" courtesy Eric Gottesman, from If I Could See Your Face, I Would Not Need Food
• Newspaper image courtesy the author.
This article was first published on the website of The Trans-African, November 2016.
Emmanuel Iduma is a Nigerian writer and art critic. He lives and works in New York now.
This article was first published on Africanah.org: December 6, 2016