Jacob Lawrence: The Life of Toussaint L'Ouverture
About:
The prints are derived from 41 tempera paintings completed in 1938 comprising The Life of Toussaint L'Ouverture, which is now in the collection of the Amistad Research Center at Tulane University in New Orleans. Lawrence translated 15 of these paintings into silk screen prints, all included in this exhibition. Lawrence's strong angular figuration as well as his bold use of color expressively depict the life of L'Ouverture and his struggle against slavery and oppression as leader of the Haitian Revolution.
Born a slave in 1743, L'Ouverture participated in the rebellion from its beginnings and rose to become commander-in-chief of the revolutionary army. He led the campaign in 1800 to draft Haiti's first democratic constitution. In 1802 Toussaint was arrested by Napoléon Bonaparte's troops and sent to Paris, where he was imprisoned and died a year later, only shortly before Haiti became the first black Western republic in 1804.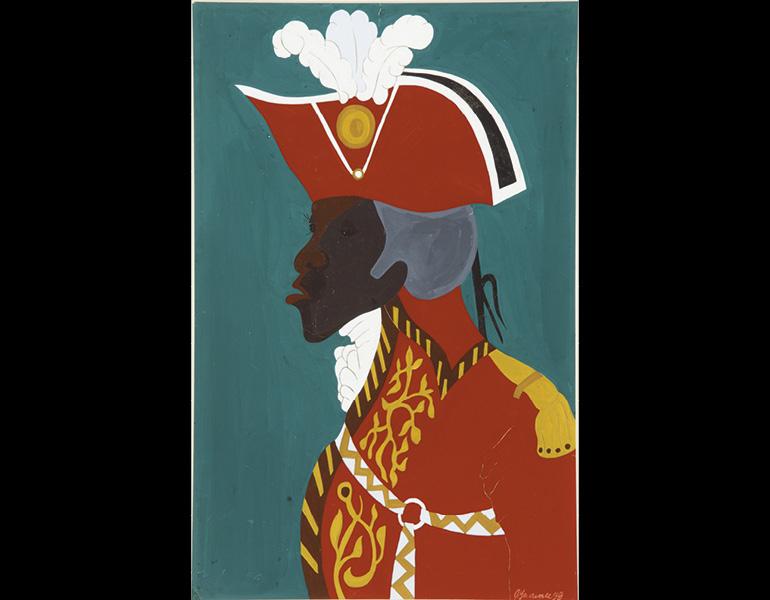 The Life of Toussaint L'Ouverture, 1936–38, was the artist's first narrative series and predates such other well-known early series as The Life of Frederick Douglass, 1939; The Life of Harriet Tubman, 1940 (both Hampton University Museum); and The Migration Series, 1941 (MoMA and The Phillips Collection). By retelling a Haitian narrative from more than a century earlier, Lawrence was able to advance his unique exploration of black cultural expression and pride. Lawrence's choice to revisit the story of L'Ouverture five decades later proves how deeply the series' themes resonated for the artist.
While Lawrence frequently chose to treat Black historical subject matter, his aesthetic was always resolutely modern. Whether drawing attention to leaders of the past or depicting the everyday challenges of African-American life in his day, Lawrence saw his art as a means to underscore the universality of shared experience. His work is direct and forceful, in keeping with his lasting conviction that art can affect social change. Patricia Hills, author of Painting Harlem Modern: The Art of Jacob Lawrence, writes, "although the work is often specific in its references to historical figures, such as Toussaint L'Ouverture, Frederick Douglass, John Brown, or Harriet Tubman, the ethical message addresses the aspirations of all humankind."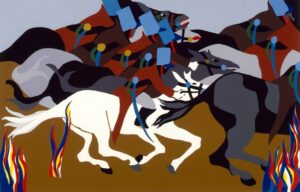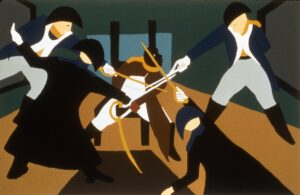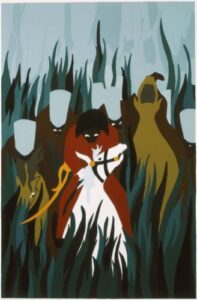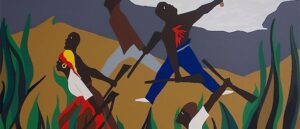 Jacob Lawrence (1917–2000) is one of the most prominent American painters of the twentieth century, and his work is held in public collections throughout the country. Other major traveling exhibitions of Lawrence's work have been presented in museums across the country, including The Seattle Museum of Art, The Hampton University Museum in Virginia, The Phillips Collection in Washington, DC. Recent exhibitions include One Way Ticket: Jacob Lawrence's Migration Series at The Museum of Modern Art in New York (2015) and Between Form and Content: Perspectives on Jacob Lawrence and Black Mountain College at The Black Mountain College Museum and Arts Center in Asheville, NC (2018–19). In 2017, The Phillips Collection (Washington, DC) and The Amistad Research Center (Tulane University, LA) presented exhibitions of the Toussaint L'Ouverture prints.(text DCMoore Gallery, NYC)