Jacques Gabriel's Colors
About:
Jacques Gabriel once told Radio Haiti Inter in 1979, at the time Haiti's premiere radio station for cultural criticism, that with his colors he "cultivated adventure." His colors are described as psychedelic in the interview.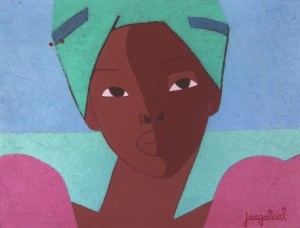 Jacques Gabriel was born in 1938. It means that he was 20 in 1958, the year after that Dr. Francois Duvalier, the dictator, had become President of Haiti in 1957. He came of age during the Duvalier dictatorships of Francois Duvalier and Jean Claude Duvalier. Before becoming President, Dr. Francois Duvalier was a wellknown cultural anthropologist who co-wrote an essay with Lorimer Denis named "Pour un humanisme totalitaire" or "For a totalitarian humanism", in the journal Les Griots, that foreshadowed what his dictatorship claimed to be doing: producing a new, more valid, Haitian, submitted to the authoritarian rule of 'conscious' intellectuals, through a totalitarian regime. Gabriel painted his works in a society wherein children were obliged to recite the speeches of Dr. Francois Duvalier, and "authentic-ism," the supposed product of Duvalier's totalitarian humanism, was strived for.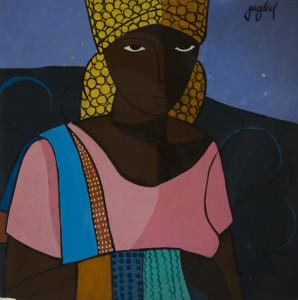 His paintings present a colorful subject in order to jolt the viewer, and cause in the viewer what he describes in the interview as "adventure." Gabriel died in 1988, 2 years after the "grand adventure" that forced Jean Claude Duvalier into exile on the 7th of February 1986. Though Duvalier's regime did not stop painters from producing, their paintings were censured, Gabriel's included. Gabriel's colors seem to beat the regime at its own game, cultivating the human spirit to seek what it naturally strives for: freedom.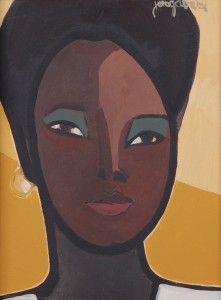 Text: Adolf Alzuphar