Jean David Nkot Douala, Cameroon, b. 1989
PO. Box. Labyrinthe.com, 2018.
About:
Nkot builds up layers of cartographic information around portraits of young workers attempting trans-Africa migration. While many will perish in deserts and seas, the fate of their journeys remains unknown to those they have left behind. These paintings function foremost as remembrance, to identify where there is now no trace, but also as a warning to other migrants.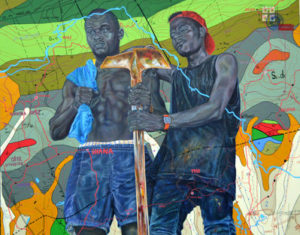 www.together.com.fc, 2018
Gardaia, Bobigny, Melila, Nanterre, Paris. Autant de lieux qui se bousculent dans la tête d'un migrant. Sur de grandes toiles, des noms couvrent des cartographies comme dans un cimetière. Du coté de ceux qui entendent au loin les échos du désert, les vagues de la mer nous parviennent en disant qu'il y a des visages, des corps qui seront à jamais figés sur les murs des maisons. Par absence de signes, l'on ne fera pas de deuil. De présence et d'absences, les cartographies se déploient.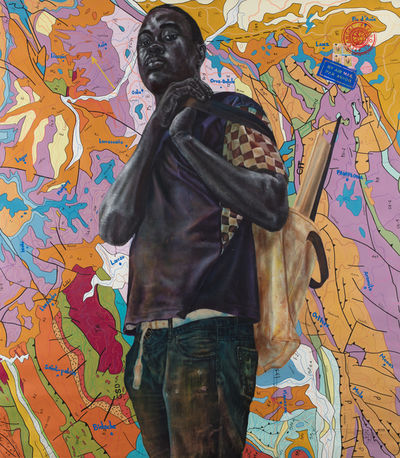 C'est avec les noms de jeunes gens qui ont quitté leur famille pour l'aventure, c'est en ayant écouté les histoires de ses frères du « Kwatt » qui ont échoué pour la première fois à la traversée et qui s'entêtent toujours à défier les barbelés des frontières que Jean David peaufine énergiquement des corps tendus de frustrations. Les regards de ces jeunes qu'il nous montre ont des voix :
« De la ou t'es, reçois dans tes yeux
Ma soif profonde soif
Je creuse mes désirs déçus
Et mon ombre croise parfois
La tienne »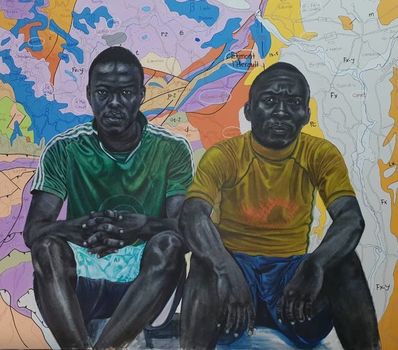 Armys brothers@agadez.com, 2019.
Au-delà des noms de villes parcoures par les migrants, Jean David Nkot sort les corps de l'ombre de leurs paroles blessées pour faire que l'acte même de peindre exprime la manière de prendre à bras le corps la chair souffrante du monde, de coller nos regards sur les muscles, sur les positions de bras lourds, sur des lèvres ouvertes à graver d'autres horizons, de nous introduire dans les tentations des espaces de survie.
– Jean David Nkot
Courtesy: Jack Bell london