John T. Scott Born: 1940, New Orleans, Louisiana, Died: 2007, Houston, Texas
Education: Xavier University, Louisiana and Michigan State University, Michigan
Urban Placemat, Crossroads, 1998
About:
Born in 1940 in New Orleans, John T. Scott may be the city's most prolific sculptor. Inspired by New Orleans' unique Afro-Caribbean cultural fusion, Scott's famous kinetic sculptures move, as Scott, himself, once said, "with the rhythm of the city." The sheer scale of his works combined with motion and dazzling color or polished steel to produce a spectacular display. The free, melodic movement of his pieces reminds one of jazz and another of the city's famous exports. Scott's many pieces reflect the history of African Americans in New Orleans.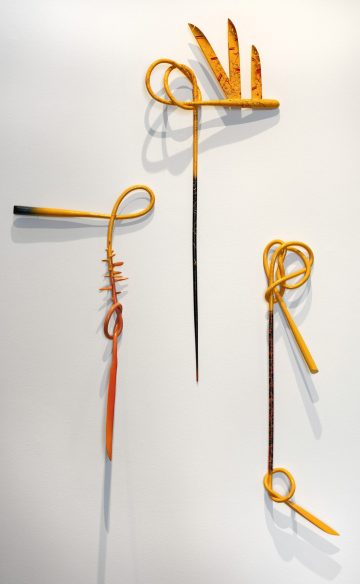 Butterfly Pin-Up, 1978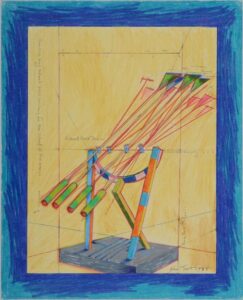 Ritual Gate Dancing, 1985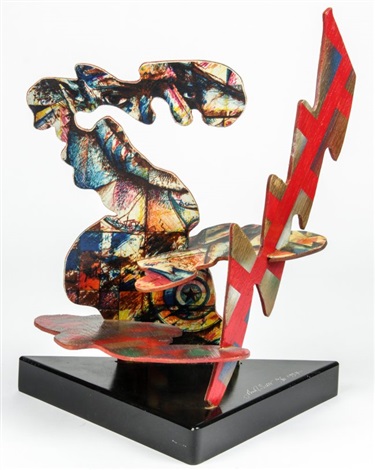 The Storm is Coming, 1997
Border Crossing, 1985
John T. Scott was raised in the city's Lower Ninth Ward. He said that his art training began at home, when he learned embroidery from his mother; his father was a chauffeur and restaurant cook. He attended Xavier University, a Roman Catholic and historically black college, and then Michigan State University, where he studied with the painter Charles Pollock, Jackson Pollock's brother. After completing his Master of Fine Arts degree in 1965, he returned to Xavier, where he taught for forty years.
Always a dynamic artist, Scott's style evolved throughout his career. In the 1980s Scott added kinetic elements to his sculptures. Not relegated to any one field, Scott produced many woodprints and mixed-media collages along with his sculptures. His prints from the early 1990s reflect urban violence. After winning a MacArthur Foundation Fellowship in 1992, Scott expanded his studio and began to create various site-specific monumental works throughout New Orleans, including pieces at the New Orleans Museum of Art and Xavier University's campus. Hurricane Katrina forced Scott from the city he loved and failing health kept him away. John Scott died in Houston, Texas in 2007.