The theme – Get Up Stand Up – is so strong and would have been explored to its depth. Owing to the fact that the host country Uganda is going through a political conundrum with a president who's been leading for the last 35 years, suffocating a lot of freedoms, manipulating state institutions to his favor and spearheading a shameless corrupt government. It was timely and on spot to have such a theme for such a biennale where we should have seen Ugandan artists tackle the appalling political situation in their country.
Matt Kayem on the Kampala Art Biennale
Logo Kampala Art Biennale 2020
The Kampala Biennale Online!
You probably missed the Kampala Biennale 2020 thinking that it was cancelled due to covid like any other events globally. Nonetheless, the bi-annual event weathered the storm and managed to transform into a virtual experience we can all enjoy on our computers or phones. The show, which is perhaps the first of its kind on the African continent adapted in several ways to fit in with the precarious nature of the times and location. For example, they still maintained the controversial master-apprentice setting but this time had a Ugandan artist on the line-up of established artists. Also odd was that the biennale was launched early this year instead of the would-be 2020 but it's still named the Kampala Biennale 2020. When I had an interview with Daudi Karungi, it's director, he expressed the hurdles they had to jump over that led to their late opening. There was the much-heated presidential election season in Uganda early this year where the internet and social media was off for some weeks. However, all this did not deter the art from being served to us and on February 4th, we were receiving links to the do on our emails and social media.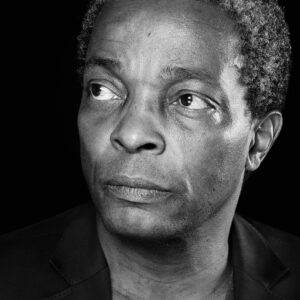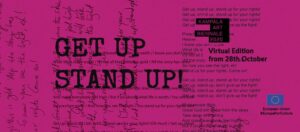 Simon Njami/Theme of biennial
Simon Njami still pulls the strings above of this edition as curator like in the previous one. He is manning a team of 8 master artists and 30 apprentices. The reputable artists the curator has brought to add flavor to the Ugandan art scene this time include Tracey Rose, Arnaud Cohen, Laurence Bonvin, Lavar Munroe, Lillian Nabulime, Maurice Pefura, Andrew Tshabangu and Dana Whabira. This line up is gender balanced leaving no room for one to raise that card at the curator. It also has more of African/Black artists, satisfying those of us who are sensitive about the imperialist undertones of such international affairs. The master artists also are a fair mix of multi-disciplinary practitioners working in mostly contemporary fields of expression like video, performance, photography and filmmaking.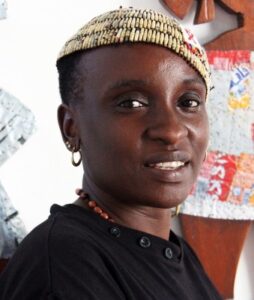 Dr. Lillian Nabulime is the Ugandan master on the team of foreigners. Source: cedat.mak.ac.ug
You would think that the event was going to be like other virtual exhibitions out there, interactive and user controlled but with works like video and film showing, maybe that would be tricky. However, everything was merged into one and presented together as a film. The introduction bit opens with a male voice that disputes the show being an exhibition and brands it an initiation. The Pan-African in me cleans my ears to listen to more as the voice relays to Africans to decolonize, to go back and examine or remember the glory of their ancestors. With the neo-colonialism, mass mental slavery and cultural imperialism happening on the continent, it's a befitting manner to start a show that is intending to have us "Get Up Stand Up!". The theme of this edition is drawn from Bob Marley's 1973 song off his Burnin' album that calls on the oppressed to take action. The first studio headed by the Zimbabwean, Dana Whabira therefore does not disappoint and explores the theme widely. Hold Up Half The Sky is their video collaborative focusing on the lives and experiences of African women; their activism, resistance, agency and labor. Miriam Makeba, my darling Stella Nyanzi, Wangari Mathaai and Shahenda Maklad take center stage in the compilation that pays the much-needed homage to their bravery. You can't escape the chills when you watch the Kenyan Wanjira yell out, "When we lose our fear, they lose their power". This was at a protest march against police brutality in 2020 in the Kenyan capital. The video compilation feels like there was a balanced contribution and sharing of knowledge between the participants. The women heroes in the video hail from the country origins of the apprentices. The young artists Anna Karima Wane, Amina Kadous, Jim Joel Nyakana and Roseline Olang' Odhiambo end the compilation with segments of reflections on what each has taken in during the studio. Some are more poetic than others in the case of Kenyans Roseline and Anna. For the Egyptian Amina and my Ugandan brother Jim Joel, it is a dissection and recap of whys, hows and whats of the research.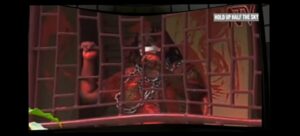 A still from Hold Up Half The Sky showing Stella Nyanzi's protest.
The next studio, Returning To What Is Flowing Away directed the filmmaker Laurence Bonvin begins on an environmental note as the voice touches in the changing global climatic patterns. We are led around a graphically developed glacier scenery which seems foreign to my African eye. But later on, this feeds into the phenomenon at Mt. Kirimanjaro, which keeps being mentioned in some of the studios. The highest free standing mountain in the world used to host dozens of glaciers but by 2020, only fragments are remaining and glaciologists expect all the ice to have vanished by the end of the decade. Laurence connects the glaciers to the then period of lockdowns and them being incapable of meeting physically. They are both static and in movement, they are markers of a changing world. So, in we are led into the structures in the glacial environment that house each of the three video/film works by the apprentices who are Jorge Buscunan, Lesole Tauatswala and Babili Maseko. The Brazilian Jorge came up with the 'Welcome' series which consisted of three short films; The Best Viewing Point, If Iam Here Today and The Visitor. It's interesting to see an outsider approach post-colonial Africa as he plays around with videos of school going Ugandan kids singing to white people and gullible Pentecostal goers attending prayers. He mixes this archived footage with self-recorded performances and leaves the interpretation job to the viewer. On Hugh's Train and Trajectory, two films by Lesole, in which he explores routes and paths of labor and their relationship to colonial histories in Johannesburg. Babili picks inspiration from the ritual slaughtering of cows in his Swazi tradition for his submission.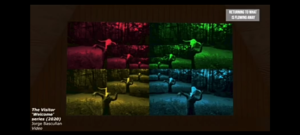 A still from Jorge Buscunan's The Visitor 'Welcome' series (2020) as part of Laurence Bonvin's studio.
The third studio, titled The Lost House is in the hands of the award-winning Cameroonian architect Maurice Pefura. As we are led through a semi-arid looking environment, the voice preaches freedom this time. We descend down tunnels akin to those built under the Pyramids of Giza, at least that's the aura that I feel, I expected to land on one of the sarcophagi but we get to Zachariah Rutindangyezi's Living in the Heart of Nature at the end of the tunnel. Of all the studios so far, this one seems not to be favored by the virtual shift. Reading through Zachariah's text for his work, I can't shake off the idea that his submission would have been much better presented to us physically. His idea revolves around an indigenous homestead, mud houses and untampered natural environments. I can imagine if we had to go to a village somewhere down in Rakai (remote central Uganda) to experience his work. I feel the same for Alison Nadunga's three-dimensional virtual installation Pie Ma Kwo which does not have much impact behind our screens. Alison's work interestingly replicates the human anatomy employing the toilet piping system. It forms an interesting mix of physics and biology. It would have been costly and tedious for her to construct this installation but it would have been a spectacle. Natasha Bezuidenhout, the last of the apprentices in this studio thinks of ceramic kidney beans which would have been more rewarding to see physically too. To Eat Your Own Words is a simple but yet complex piece from Natasha that hints on cannibalism, maybe the mental kind. The work might remind you of a Salvador Dali painting, it's that powerful. The rest of the works floating around are installations from the master artist which I would have preferred to walk into or touch.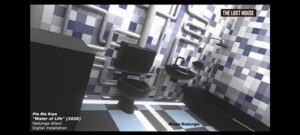 A still showing Alison Nadunga's Pie Ma Kwo which part of Maurice Pefura's studio.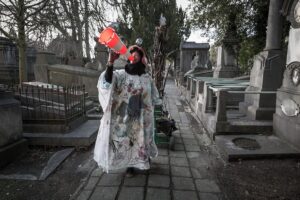 Tracy Rose
Tracey Rose's studio includes a blend of art fields including video art, audio, painting, photography and mixed media works. Dialogue of A Shifting Nomad is an exciting video by which includes epileptic inducing moving images but you got to love the classical music towards the end. Martin Tokolu's A Gaze Of Time has no sound and we are mind-blogged by someone lying in what looks like a pit with ants. And then, there is an audio installation by Imaan Latif where she recorded a case of harassment towards her in a public place. This studio also has more apprentices than any other. Aicha Mtemba's naïve looking mixed media paintings are worth noting as well as Fazil OnYu's black and white graphically enhanced film Revolution or Evolution. It includes footage from the streets of Kampala, slum areas and traditional dances layered with Nelson Mandela's famous speech, "An Ideal For Which I'm Prepared To Die". The annoying bit about the studio comes inform of numerous slides from various young artists' work which includes amateurish drawings similar to school work. The master artist must have had a whole art school to tutor in her studio.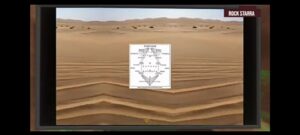 A still from Adrian Fortuin's Dialogue Of A Shifting Nomad.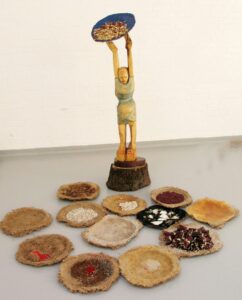 Lilian Nabuline, Winnowing
Lilian Nabulime, the only Ugandan master on the line-up named her studio Fanya Kazi which comes from Swahili meaning 'do work'. In there, we are led to Olivia Mary Nantongo's Pregnant In This Pandemic which is a figurine of a pregnant woman, it is a mixed media two-dimensional sculptural work. Nantongo's work springs out of the wounding effects of the covid-19 lockdown in the county. She's seen the expectant mothers who've gone through trouble to access the health centers due to the public transport systems halted and she's responding to the touching issue. Joshua Victor Semaganda is the other apprentice in Nabulime's studio and he has some metal sculptures for you that raise the need to rethink masculinity regardless of expectations dictated by society. Maybe the other bit the masters could equip their students with is how to title their works whose headings I find boring and flat at times. And lastly, Lillian shows us a sculptural triptych called Reflective. In the pieces, she thinks about her place in the art world as a woman and also grateful for having gone this far during these unprecedented times we live in. South African celebrated photographer Andrew Tshabangu's studio "History Is The Home Address" is modeled around a 'shebeen', an informal bar commonly known in townships from his country. It is complete with South African music playing in the background and occasional sound from pool balls and cue sticks meeting each other and drinks pouring down a glass. I only imagine how beautiful this would have been if this bar was set up somewhere in Kampala and the whole South African vibe captured in it. Anyways, we are shown around apprentices' work who include Winfred Luena, Tshepo Moloi, Trevor Mukholi, Tehan Ketema, Ahmed Hamis, Kasangati Godelive, Ethel Aanyu and Chris Dennis Rosenberg who explore personal, social and political issues in their photographs on the wall.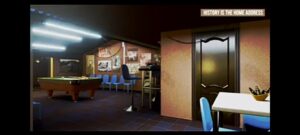 A still showing an installation shot in Andrew Tshabangu's digitally created shebeen.
Lavar Munroe's studio presents their outcomes in a church seeking to critique the centuries old institution. Two apprentices who include Jacqueline Katesi Kalange and Wakianda Virginia work with the Bahamian master and came up with some video work, sculpture and mixed media paintings. Lavar Munroe says in the studio's statement that he is disturbed by the hypocrisy in the church where its leaders don't practice the same values they preach. It's the same old story and would have loved to see one of the Ugandan artists in the studio strongly critique the phenomenon in our society. I mean, we have Pentecostal pastors that sell ordinary rice 10 times its market value purporting it to be "holy rice". For the last studio, Arnaud Cohen chooses an unusual venue for the apprentices he's working with which is a giant outdoor disco in touristic Spain. In his studio, my eyes are opened to Mpumelelo Buthelezi's photographs which are honestly worth marveling at. Produced in black and white, they capture scenes from Nance Field Hostel in Soweto which was one of the apartheid government's labor dormitories. It was marred by political violence in the 1990s but is now home to poverty-stricken young men and women. In the photos, he captures their daily on-goings, at the barber, drinking beer at the corner of the house and so forth. Fidelis Nabukenya is another apprentice in the studio and presents to us a collection she calls Reflections that includes fridge markets that remind her of post-lockdown.

A still showing a photograph by Mpumelelo Buthelezi as part of Arnaud Cohen's studio.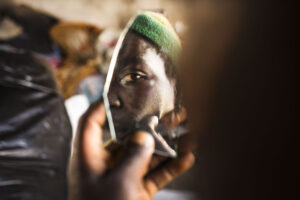 Wastepickers and Recyclers Series, Soweto
You have to give a big thumbs up for the organizers for attempting to create something new and braving the wave that was the pandemic that swept all activity. They created something that will be up there for a long time and will be accessed by everyone on this planet. However, I don't like that some studios slightly veered away from the main theme of the show, 'Get Up Stand Up'. The theme is so strong and would have been explored to its depth. Owing to the fact that the host country Uganda is going through a political conundrum with a president who's been leading for the last 35 years, suffocating a lot of freedoms, manipulating state institutions to his favor and spearheading a shameless corrupt government. It was timely and on spot to have such a theme for such a biennale where we should have seen Ugandan artists tackle the appalling political situation in their country.
Go and experience the Kampala Biennale through here: http://kampalabiennale.org/
Matt Kayem is a contemporary artist, art critic and writer. He currently lives and works in Kampala, Uganda. Reach him on mattkayem@gmail.com