Museum of the African Diaspora
685 Mission St (at 3rd), San Francisco, CA 94105
Ground floor of the St. Regis
Through Apr 03, 2016
Who Among Us…
Kenyatta A.C. Hinkle
The Transfiguration, 2015.
About:
"Who among us can imagine ourselves unimagined?
Who among us can speak with so fragile tongue and remain proud?"
– Lucille Clifton, "Here Yet Be Dragons" The Book of Light, 1993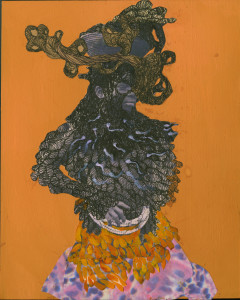 The Bastion, 2015.
These words from esteemed poet, Lucille Clifton, provide the conceptual framework for Kenyatta A.C. Hinkle's first solo show in San Francisco. As a Los Angeles based interdisciplinary visual artist, writer and performer, Hinkle presents her work as a tool to undo the imaginings placed onto the colonized body and its movements throughout space and time. Hinkle's work remixes and re-imagines these perceptions and seeks to invent new possibilities of engaging visually with the black female body respectively.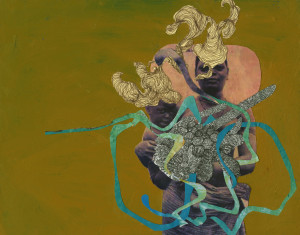 The Sower, 2015.
Concerned with the 'historical present,' Hinkle's research based practice is a collision of mediums. The exhibition will feature works from three projects that Hinkle has been working on concurrently for the past 6 years. Works on paper from The Uninvited Series, The Tituba Series, and artifacts from The Kentifrica Project will be in conversation with each other in the newly renovated Dignity Health Gallery and the Dr. Ernest Bates Gallery.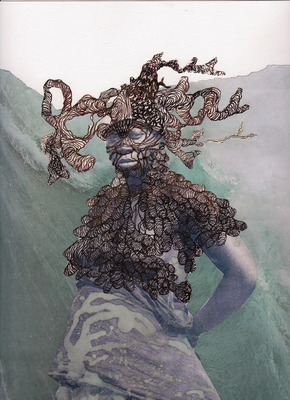 Welcome, 2014.
Hinkle's work with West African colonial era photography, the story of Tituba the Black Witch of Salem and her interest in a contested geography named Kentifrica creates a dynamic push and pull between the past, present and future in which she oscillates between the real and the imagined, collapsing the two into an elusive space of time and being.(text museum)