Yah, the present day African is still suffering from the effects of the Berlin Conference and they still need to be reminded that they were great before that happened, that they are beautiful in their skin and that their lands are precious. So I borrow from African history, Buganda traditional culture, black nationalistic teachings and African-American culture/pop-culture.
Thadde Tewa interviews Ugandan artist Matt Kayam
SOMETHING BIG IN NAIROBI
An interview with the Ugandan artist Matt Kayem
I first met Ugandan artist Matt Kayem at an exhibition opening at Circle Art Gallery earlier this year and the first thing he said to me was "I want to do something big in Nairobi". Well words have power, finally Matt has done something big in Nairobi and I was privileged to be involved.
In June this year I stayed in Matt's home, also his studio, while on a short Kampala visit. Matt Kayem is a collector of precious items that connect to his ancestor's past traditions and culture. A messy studio in another corner is another proof that he is hooked to his art practice and a shrine in the other corner is another proof that Kayem is not an ordinary artist, but one who is rooted to his beliefs. Having grown up in Kampala consuming western culture, Matt Kayem celebrates his newfound identity as a conscious African/Muganda after questioning and examining the colonial era that brainwashed and erased the ways of his ancestors. Kayem revisits pre-colonial Buganda/Africa and picks out elements like clothing and things in daily use and adds them to those in modern day use or those gotten from the western world. With this, he builds his own aesthetic, that not only hints on decolonization of his kind but also a conscious integration of cultures and identity for the present day Africans.
Kayem just launched a successful third solo show dubbed Cool Afrika Vol.2 at Kioko Mwitiki Gallery located in the heart of Lavington, an uptown side of Nairobi. In this unique show Matt presents 5 artworks and 7 photography prints to the public. The colorful Kampala themed exhibition makes you forget that you still in Nairobi. The opening was very exciting, attracting an audience of almost 60 art lovers who enjoyed posing for pictures with Matt Kayem's largest piece and my favorite, Young People of Color, it has the following description:
Uganda where I come from has one of the youngest populations in the world. A big lot of these energetic fellows that are quite neglected by the authorities. This is the same story in most African countries. But these are the building blocks of the continent. It is estimated that beginning in 2035, the number of young people reaching working age in Africa will exceed that of the rest of the world combined, and will continue every year for the rest of the century. By 2050, one in every four humans will be African. At the end of the century, nearly 40 percent of the world's population will be African. These vibrant energetic souls are the future of this continent.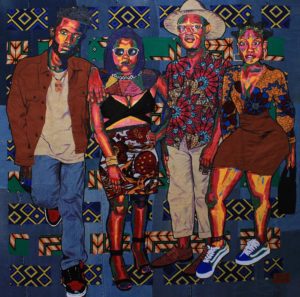 Young People of Colour, Matt Kayem, 2019.
A few days after the opening, I met with Matt Kayem at the gallery for this interview.
TT: Congratulations on your third solo show! In a paragraph describe the group of people you represent when creating?
MK: When I'm working, I represent black people, everywhere on this planet. I want to attach myself to a bigger label to have a wider audience. I think I'm an African before being a Muganda which is the people I come from. So I want my work to appeal mostly to Baganda, then Africans and then black people around the world.
TT: How has being born and living in Uganda shaped your art practice?
MK: I was born in Mityana, 60 kilometers from Kampala, my parents had this book store in the heart of the town, probably the only book store around then. Before I went to school, I used to go to this bookstore because it was just at the front of our house, grab pencils and pens, draw and write, open random books, look at the alphabet. So the mere factor of being handed a blank paper and writing tools at a young age was very important, it opened up my mind to create and freely express. So by the time I get to nursery school, I'm already good at drawing and writing which gave me an upper hand among my peers, something that continues like that to all levels of my education. After my formative education, I joined Michelangelo College of Creative Arts, Kisubi. After 3 years at the art school, I obtained a certificate and diploma in art and design in October 2015. Since then I have been applying my skills in painting, sculpture, installation, performance, graffiti and photography. The narratives in my current body of work came about after exploring my past, my environment and reading material that gave me a deeper meaning of what it meant to be a Muganda or a black person. It is me questioning simple things like why do my family members and Ugandan friends go to church while my white foreigner friends in the arts don't.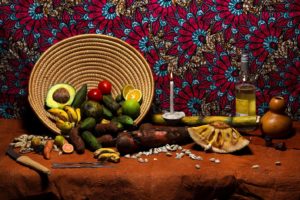 Items, Matt Kayem, 2019.
TT: Which part of your art career curve has been more challenging?
MK: When I was starting out as an artist things were a little bit easier because all I needed were materials and the knowledge. But the more I advance my practice I have been facing some challenges, for example this Nairobi show was the most challenging when it came to planning and logistics. For instance shipping the works from Kampala to Kenya and in general promotion of the show.
TT: Let's talk a bit about your choice of medium, why denim? Do you have any background in photography, film or story telling?
MK: I chose denim as a medium because I like it as a material since childhood, when growing up the cool kids always wore jeans and if you wore jeans you were respected among your peers. I remember one time in my late years in primary school, I met with some of my school mates and I had these old fashioned and outdated pair of jeans and these kids laughed at me because they were old. So to me the more these old memories come back, the more I treasure denim as a medium. But also I have experimented a lot with canvas before sticking with denim. To be honest I just find it obvious working on canvas and boring. About my photography work all I can say is I've grown to become a storyteller over the past few months after seeking for information and knowledge. I have always liked taking photos of myself and loved being in front of the camera and I think the camera loves me too. I don't like calling myself a photographer because I don't even know how to operate a camera.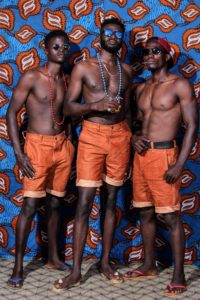 Sons of the Sun, Matt Kayem, 2019.
TT: Oh really? And on that note, I have heard someone comment about the authorship of your photographs. I understand you collaborate with a photographer to create the photography, does this make them your photographs?
MK: I work with a team to realize my photography work which usually includes models, a make-up artist and photographer. I'm the brain behind the work, without me, this art cannot exist but if one of the members of those on the team are absent, I can easily replace them and the work will be produced. Someone said the idea is king and I believe so much in this. Some of the big players in the art scene use the same procedure; it's not new what I'm doing. From El Anatsui to Jeff Koons, all these guys use assistants to realize their projects and that doesn't mean the work is not their own. If El Anatsui was to work alone, he would probably do two or one piece a year! So why not spread out the work to increase production?
TT: So "Cool Afrika", why did you opt for the "k" instead of the "c"?
MK: The use of the "k" in Africa is a symbolic rejection of colonial usurpation of the continent. Afrika with the k is seen as the original name of the continent because most linguists here originally used the 'k' to stand for the 'c' sound. So it's like "Africanizing" the name, if I can say that.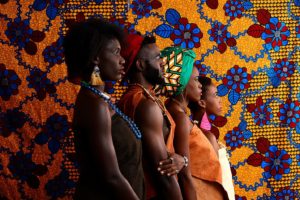 Highly Melanated, Matt Kayem, 2019.
TT: Your work seems to have a lot of concepts and messages…
MK: Yah, my work takes on a maximalist approach most times. Think of it like if Kendrick Lamar, Marcus Garvey or Malcolm X were given a brush to paint, what would they paint. So I echo their teachings and concepts in my work. I have taken old tired philosophies like Pan-Africanism and packaged them for a young urban African audience. Yah, the present day African is still suffering from the effects of the Berlin Conference and they still need to be reminded that they were great before that happened, that they are beautiful in their skin and that their lands are precious. So I borrow from African history, Buganda traditional culture, black nationalistic teachings and African-American culture/pop-culture.
TT: First solo show in Nairobi. How did you get into the Nairobi Contemporary Art Scene, would you stand a chance here?
MK: The Nairobi art scene is more vibrant than Kampala. I first came here earlier this year, visited galleries and met different artists in openings and found it to be a great scene to explore and be part of or invade haha. There are more artists here compared to Kampala, also not forgetting the few but vibrant galleries. I also find the Nairobi vibrant culture, matatus and aggressiveness within the people very exciting for me as an artist because my work revolves around urban cultures and spaces.
I believe I would stand a chance as an artist in the Nairobi Art Scene because I find it competitive and everyone involved is aggressive just like me haha. To be honest I don't experience this kind of energy and drive back home but I believe will also get there. Apart from that I think I'm someone who's up for challenges.
TT: From your point of view, who is a successful artist, according to you?
MK: A successful artist to me is one who has a spot in the international art scene, who has shown in most of the big platforms like top galleries, art fairs, museums and art biennales. And of course most importantly is earning some good money from their work. You can paint better than Picasso or Da Vinci but if no one knows about you, you are a nobody haha. So to me being a successful artist is the recognition from the top industry players and of course the valuation of your work.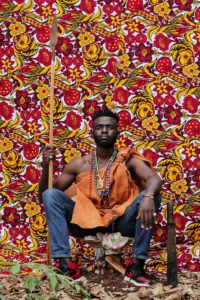 Royal Guard, Matt Kayem, 2019.
TT: What's your general opinion on art mentorship? Do you have a mentor yourself?
MK: Mentorship is very vital for an artist's growth and if one has a chance to have someone sit down and show them how they should go about, and then they should count themselves as lucky. I do have mentors myself and they are many. I talk to many people and I'm always ready to listen to what one has to say about my work. After that, that's when I sieve out what to take or what to leave.
TT: Lastly do you think art auctions play an important role in an artist's career?
MK: Of Course art auctions are very important platforms for an artist. Before an artist's work appears at an auction, it really doesn't have a verified value. So auctions help value an artist's work. Artists usually dislike auctions because they are places where their work is resold for high prices and they don't get part of that money. But the thing is that, when your work sells for price X at an auction, then the next work you will do at your studio will be at that price. However auctions or the art market is no pretty place for an artist and one should be careful as it can take you in and throw you out the next day.
Tewa Thaddeus M Wamukoya best known as Thadde Tewa in the Nairobi visual art community is an emerging artist, art writer, curator and art dealer. He is a founding director of Tewasart & Patrons an arts consultation platform focused on sharing East African art information through monthly newsletters and catalogues. Also he organizes pop up exhibitions with an aim to connect contemporary art to both the local and international audience.