"By bringing different views to some of the problems in society art can challenge us to see if it is done like this or like that is it really that different. On the other hand, viewing art is a bit like listening to a church sermon, you might take in some of the message but you can't take it in all at once. And I suppose it's what you do with that message that ultimately counts."
Candice Allison in conversation with Mavis Tauzeni.
Child Bride, 2016.
An interview with Mavis Tauzeni
I want to show women that we have a strong spirit
Mavis Tauzeni's studio is tiny. When I first entered the intimacy of this space in 2014, on a hot and sticky afternoon heavy with the promise of rain, I felt a bit like Alice after she has eaten the cake labelled 'EAT ME' and finds herself growing to such a tremendous size that her head hits the ceiling. Pots of different coloured inks, brushes and sponges crammed onto a small bookshelf against one wall; sheets of paper, sketches, and cardboard stencils swollen with different colours, rolled up prints and a small table with a music player occupied another. The floor space was just big enough to accommodate Mavis and myself sitting cross-legged on the floor with some of her completed prints between us. And yet it was from this angle that I fully appreciated how influential this small space has been on Tauzeni's characteristically loose and expressive figurative style. The distortion of her figures begins with the stencils she draws and roughly cuts by hand from thick, unforgiving cardboard. On her hands and knees, she builds layers of colour one at a time, rubbing ink onto paper, going over the stencils using her palms, fists and forearms. This uneven application of pressure results in the charming imperfections, the smudges and smears of her prints.
Working predominantly in print and mixed media, Tauzeni's work reflects a personal honesty on the female experience, while engaging with broader social and cultural issues in Zimbabwe where she lives and works. She was born in 1982, part of the generation of Zimbabwe's born-frees who are now questioning the status quo and the extent of their 'freedom' in the current climate they live in. For Mavis this translates to questioning the freedom of women – to speak out, to express themselves, and to make their own choices about their bodies – in what remains a predominantly conservative, patriarchal society. Her restrained talent is in moving one to meditate and reflect on one's inner self in the same way as Tauzeni herself reflects on her inner world. It is an intimacy that she is engaged with, an intimacy with the feminine and with the self; an intimacy that her studio space echoes, as we sat with our knees almost touching while she quietly told me about her work.
This interview took place in September 2016 via email exchanges.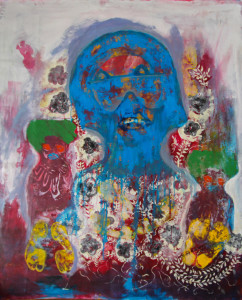 The Visionary, Part 1, 2016.
CA: Your artistic practise is to a great extent auto-biographical, drawing specifically from your personal experiences as a woman, a black woman, a Zimbabwean woman. How does this inform your relationship with your medium and process?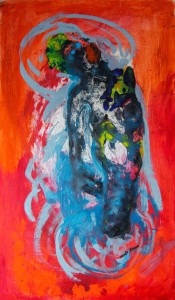 Twilight Dream, Part 1, 2016.
MT: Yes, it is partly drawn from experience, sometimes from interaction and sometimes from observation or reading. The process is also drawn from the idea of motion, using elements like tea and dripping to express different feelings and emotions. To me the dripping and running of tea, ink and paint expresses the struggles of women who are working so hard, as well as elements of the female body, like menstruation. I liken the tea to the female spirit in that the more you boil it the stronger it gets, which goes to show that you never know how strong you can be until you are faced with challenges.
*
CA: The group exhibition Women Speak Out, curated by Christine Eyene in 2014, presented the results of a residency at Wemah Art Centre in Bonendalè, Cameroon. How did this experience of engaging with the 'other' in a foreign land affect your artistic development?
MT: This was a very welcome opportunity. It gave me the space to work without the disturbances of the day to day. Through working and interacting with fellow female artists I was exposed to a different cultural view which helped me grow as an artist. Something which was also very important to me was the support I was given in terms of materials to work with. This really gave me a boost to focus on getting more materials and working more on my practise when I returned home.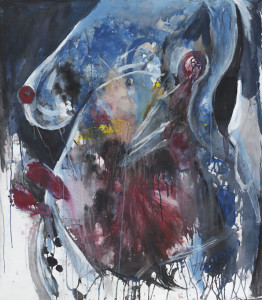 Eve's Diaries, 2015.
CA: What strikes me about your printmaking in particular is the act of repetition. You make numerous prints by hand from the same cardboard stencil, which eventually begins to lose form so that with each print the figures you have rendered become more and more distorted. This degradation of the image seems to defy the notion of printmaking as a medium for producing multiple, identical copies of the same image. Is this process intentional and how does it inform the meaning derived from your work?
MT: Yes it is intentional in that I like to take the idea of repetition and then give each one a different identity. In so doing I am saying that although we all start from the same foundation of set rules, culture and tradition, we still end up with our own unique identities. Change and difference do not have to be seen as something negative. How might we carry some of our traditions to the next generation while also changing and absorbing new ones? I am also trying to make the viewer look deep within and more closely to what they can see and what they interpret from the form.
*
CA: Your first solo show in 2015, entitled Eve's Diaries was presented at First Floor Gallery Harare. I find the title interesting, especially with its reference to the personal and intimate suggestion of peeking into someone's diary, but also connotations of knowledge and shame that we so often associate with Eve. Do you think your (female) peers associate with these themes? Did this body of work open dialogue about broader matters often considered taboo – things like sex, contraception, marriage, body image, self-confidence?
MT: Firstly I chose Eve because biblically she was the first woman created, making her the foundation of womanhood. As for my female peers, they associated with issues like conception, birth and the female body. These are things they have been through themselves, or someone close to them has been through.  In one of the pieces in the exhibition I talked about giving birth and how it is always blamed on the woman if she cannot conceive. When she does conceive, there is always a preference for a boy child over girl, though they might not really say it out loud. It is like the issue of the pink elephant in the room in some households. Another issue I explored was becoming a woman, going through menstruation and the body changes associated with the process. My work attempts to break down these taboos by embracing the natural processes of our bodies.
*
CA: How did local Zimbabwean audiences (men and women) engage with the ideas presented in your show?
MT: Initially there was an air of spectacle about it, but when the public came to see the show and engage with the work, some were more appreciative. In particular l liked the different views and opinions that came from the different sexes and how they viewed each piece. This added to my delight in that it created and opened the floor for dialogue and different opinions about each issue highlighted in the pieces.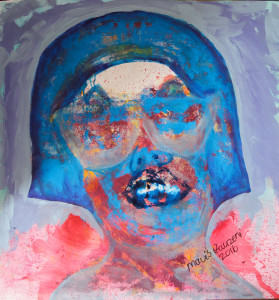 Untitled, 2016.
CA: Do you think art has the capacity to challenge traditional, cultural and historical representations of women?
MT: Yes and no. I do because it can help to bring focus to some important issues with the intention of transforming how we think about those issues. By bringing different views to some of the problems in society art can challenge us to see if it is done like this or like that is it really that different. On the other hand, viewing art is a bit like listening to a church sermon, you might take in some of the message but you can't take it in all at once. And I suppose it's what you do with that message that ultimately counts.
CA: You will be participating in a female-only group show at Hazard Gallery in Johannesburg later this year. Do you think it is important for institutions to provide platforms like this for engaging with the work of female artists who, for the most part, remain marginalised in the contemporary art scene? How have you navigated the extreme competitiveness that comes with the territory of being an artist?
MT: Yes, I think it gives female artists more confidence to work harder and express ourselves knowing we have a platform and support to show our work. Such opportunities also give us the chance to show what we are capable of and that we can transform our livelihood in one way or the other. As far as navigating the extreme competition that comes with the territory of being an artist, I am privileged enough to have the support of my family, my father, mother and siblings and fellow artists which has made it more bearable.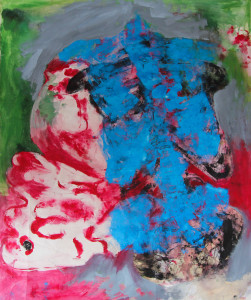 Elements of Freedom, Part 3, 2016.
CA: What are you working on now?
MT: At the moment I am creating a body of work for the group show. It is an exploration of different chapters, as a follow-up to bring focus to each recording of Eve's Diaries. I want to highlight and show that if we look past the physical appearance of women, and the assumption that women are 'weak', we will find that woman have other hidden abilities and possibilities to offer. I want to show women that we have a strong spirit, and with the right options and support we can evolve and become as successful as we want to be.
Candice Allison is a curator at The New Church Museum in Cape Town. She holds a Masters in Curating Contemporary Design with Distinction from Kingston University, London. Recent exhibitions include No Fixed Abode (2014), It Begins with Battiss (2015) and Our Lady, a curatorial collaboration between The New Church Museum and Iziko South African Gallery opening in November 2016.
All images courtesy of the artist and First Floor Gallery Harare.