Medard Bizimana is considered one of the most important Rwandan sculptors, who exhibited widely. His sculptures are part of permanent Museum collections in Rwanda, Nepal, Gabon and in public spaces in China's cities. Article presents his progress from his early works during the challenging times in Rwanda up to now when the Rwanda Art Museum in Kigali hosted his solo exhibition curated by Vivaldi Ngenzi and Ilija Gubic.
Ilija Gubic writes about the Rwandan sculptor Medard Bizimana.
Medard Bizimana
First Solo Exhibition at the Rwanda Art Museum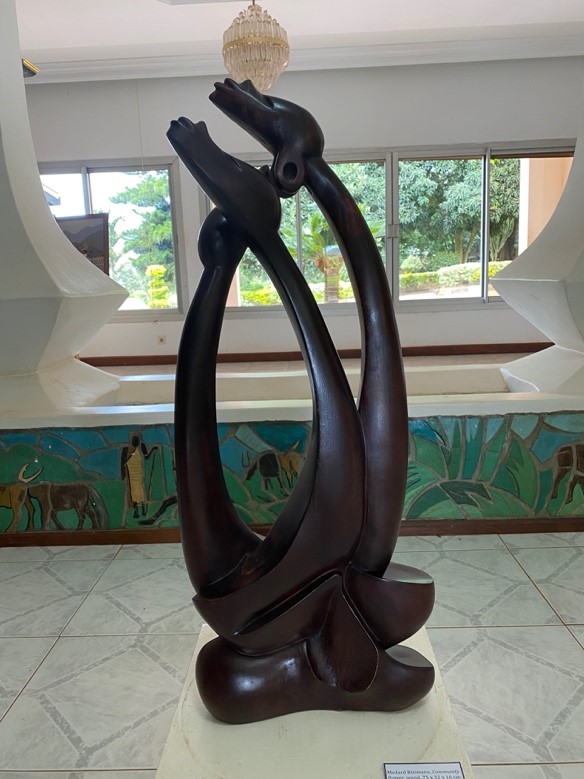 Community Prayer, wood, 75 x 32 x 16 cm.
Art pieces from the National Art Gallery of Rwanda, that was opened in 2006 in Rwesero, Nyanza, were moved to Kigali in 2018 in the process to establish the Rwanda Art Museum. What used to be a residence of two former presidents of Rwanda, Juvenal Habyaimana and Pasteur Bzimungu, now hosts Rwanda Art Museum a collection of more than 120 paintings and sculptures made during the last 3 decades. In the Rwanda Art Museum's collection, 5 sculptures are by Medard Bizimana.
The ground floor of the Rwanda Art Museum hosts the permanent exhibition "Art for Peace" with two of Bizimana's sculptures being part of the exhibition. In 2019, when Rwanda commemorated 25 years since the Genocide against the Tutsis, the Rwanda Art Museum decided to expand its permanent collection with 10 art pieces created to commemorate the 1994 event. One of the art works was "After", another "Vision of Rwanda 2025", both done in 2019 by Medrad Bizimana. Earlier, for the Second International Art Exhibition in 2013 in Rwanda, curator Lia Gieling invited Dr. Lilian Mary Nabulime of Uganda, Peterson Kamwathi of Kenya and Medrad Bizimana of Rwanda to be part of the International Sculpture Workshop and to create sculptures inspired by the last three kings of Rwanda: Yuhi V Musinga and his two sons, Mutara III Rudahingwa and Kigeli V. The sculptures were presented at the exhibition "Kingship and Kinship", and are now part of the Rwanda Art Museum collection, although not exhibited.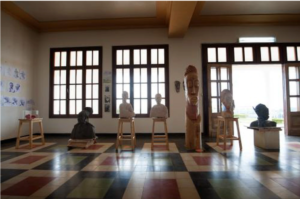 Exhibition "Kingship and Kinship", Rwanda National Art Gallery, Nyanza, 2013 © Will Boase
Rwanda Art Museum this year hosted Medard Bizimana's solo exhibition, presenting more than 40 of his works from its permanent collection and from private collections in Rwanda and abroad made in the last 30 years of his career. Exhibition is curated by Vivaldi Ngenzi and Ilija Gubic, who also wrote a text for the exhibition catalogue based on discussions with artist over the last 3 years.
It is the first solo exhibition hosted by the Rwanda Art Museum.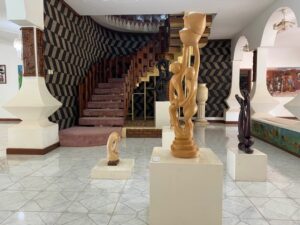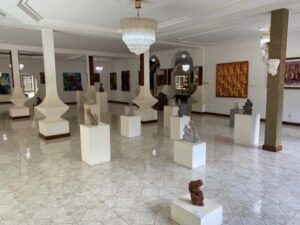 Exhibition "Making Stones Talk: Sculptures by Medard Bizimana", Rwanda Art Museum, Kigali, 2021. © Ilija Gubic
Born in Gisenyi, today's Rubavu, in 1967, Medard Bizimana is one of the most prominent contemporary sculptors in Rwanda. After graduating from the Nyundo Art School in Rwanda, and teaching drawing at the primary school, he later left his job to dedicate all of his time to sculpting. Throughout his more than 30-year carrier, Medard Bizimana made sculptures in volcanic and mineral stones, wood, bronze and clay. When interviewed at his studio in 2019, Bizimana stated: "At the beginning of my career I was making clay sculptures, yet during and after the Genocide against the Tutsi in 1994, sculptures got broken or lost while being moved from one place to another".
Bizimana, as a young sculptor used scissors to carve the wood, and wax for the finishing after polishing. From works at the beginning of his career to later works when he became one of the most successful contemporary sculptor in Rwanda, he approached carving differently and in different materials, and articulated what carving meant to him and his practice differently at times, but carving was always there. Carving was unquestionably central to Bizimana's practice and identity as a sculptor. Bizimana's dedication to carving can be traced across the span of his career, from his very first commission in 1988 for the Pastor of Protestant Church when Bizimana carved in wood a "Bird", to his latest commissions by the Rwanda Art Museum where Bizimana carved "After", sculpture in volcanic stone. His sculptures are part of the collections of numerous art museums around the world, including in Rwanda, Gabon and Nepal. His sculptures can also be seen in public spaces in China's cities.
Bizimana's themes remain similar throughout his career: he mostly portrays women, mothers, and dancers, yet the aesthetics of the pieces differ, as he explained: "Each of the materials requires different treatment and subsequently aesthetic changes. I work with quartz, volcanic rock, wood, and other materials", he explained during the interview and continued: "I collect stones from the city's surrounding, not going further than 10 kilometers from my house. I store stones at home and use them when I feel inspired". He further elaborated: "The stone is very fragile, and I am trying to avoid creating aesthetics of complicated movement, as stone can easily break. Wood is much easier to work with, although it can take up to two weeks of constant work to make a sculpture. I use "Jakalanda" wood from Rwanda and "Ribuyu" and "Muvura" that could be found in the neighboring Democratic Republic of the Congo". When sculpting, Bizimana uses equipment he got in China during his work there: "For my sculptures I prefer not using mechanical equipment, perhaps only chainsaw, and relying mostly on manual treatment of material".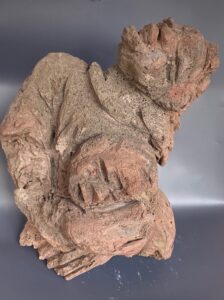 Worried, 2020, volcano rock, 37 X 28 cm, private collection Kigali, Rwanda
At the Medard Bizimana's solo exhibition at the Rwanda Art Museum this April and May, most of the sculptures presented mostly represent mother and child. The figure of a mother and child is an icon of art in Africa, including Rwanda. It is not just a simple genre or theme, but a statement of the power supporting society and the promise of future generations. Many sculptures of women done by Medard Bizimana show also their children, marking the physical and emotional maturity of women. Sculptures made by Medard Bizimana are often represented seated or with their legs crossed, atop a small base. This pose also conveys the prestige of social status and respect in the community. Other attributes of his sculptures are associated also with beauty, despite the raw nature of stones he uses. While themes of women, mother with child are constant in Bizimana's work, stylistic differences exist among his sculptures that are usually dictated by the type of the material he uses.
Bizimana willingly discusses art with fellow artists, journalists, and citizens communicating how he conceived of a role for the sculptor, and especially the modern sculptor-carver, in the twentieth century. "What I create is not a craft. The craft is an industrial reproduction, while the artistic work is a unique work, production of every pieces is unique", says Medard Bizimana and continues "We have many ways to express our feelings, for me sculpting is a way to express my thoughts and feelings. Sculpture is the "deep-self" of an artist, and sculptor is a philosopher and an illustrator who teaches people through art".
Ilija Gubic is an architect, artist and architecture & art critic and curator residing in Kigali, Rwanda.