What does it mean to live a full life? What does it mean to have beauty in the world? What does it mean to live in a society that in many ways can be quite repressive as well? But we don't have avenues to address that and art is one of those few places we do, although sometimes we have to self-censor and not be so obvious, but it's an outlet. On an individual level, people being able to deal with their mental health, their emotions, all of these things, that's one thing.
Matt Kayem in conversation with Teesa Bahana, director of 32° East Ugandan Arts Trust
A New Dawn For The Ugandan Contemporary Art Scene
Teesa Bahana is the Thelma Golden of the Kampala art scene in the making. She is the director of 32° East Ugandan Arts Trust, a not-for-profit organization that promotes the creation and exploration of contemporary art in Uganda. The center is a darling to the art scene in the dusty capital and has baby-sitted a number of artists through its programs, some acclaimed names like Xenson, Eria 'Sane' Nsubuga, Immy Mali, Stacey Gillian Abe, Ian Mwesiga, oh and me. As a director, Teesa has supported the development and execution of projects such as KLA ART Labs for research and critical thinking through public practice, the third edition of KLA ART, Kampala's public art festival, and residency exchanges with partners such as Arts Collaboratory, Triangle Network, and The Project Space. But perhaps, Bahana's most important feat has been to raise funds for an ambitious building project to revamp the infrastructure at the new plot owned by the center. As I type, just about Usd. 425,000 of the Usd. 800,000 needed has been collected in campaigns both online and physical. The building will include a suite of artists' studios, rooms, a library, and an exhibition space, enabling the trust to continue and scale its programs in a better environment. The trust moved to a permanent home in the neighborhood of Kabalagala, south of the capital which is known for its nightlife and it's East African inhabitants. Ethiopians, Eritreans, Sudanese, Kenyans, Congolese and even Nigerians have moved there in the last ten years forming an integrated African community of sorts.
Well, I caught up with Teesa at the center on a Tuesday afternoon and she sat down with me to discuss her time at the institution which is at the helm of shaping the contemporary art scene in not only Uganda but the region and in Africa.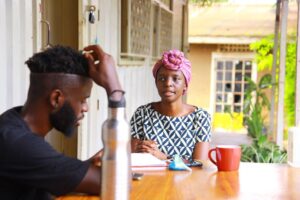 Teesa Bahana & MattKayem
MK: I have always wanted to ask what your educational background is and how did you got placed to head this center?
TB: Haaa, you could have asked. I studied sociology and anthropology, and peace and conflict studies at Colgate University and my involvement with 32 was random I guess. So I knew Rocca Holly-Nambi, kind of socially but at the time, a little bit before I worked at the first Nyege Nyege and I think she had been thinking about who would replace her and so she invited me to interview for the position. But I didn't know much about art at the time, I wasn't coming from an art background. I wasn't sure if I was the right fit but in the interview process and getting to know the team, one of the things they kept mentioning is that 'you could learn about art but the most important thing is that you care about artists and the cultural eco-system'. And this is why I also got involved in the Nyege Nyege festival, wanting to see more of these things happening.
MK: So when was that?
TB: 2015.
MK: For the last ten years this center has been operating, do you think it has impacted on the contemporary art scene here positively?
TB: I would want to ask you that to be honest, I think you are best placed to answer this. But I believe so, otherwise why would it still be around. Hmm, for sure, there is lots of different matrix you can use to answer this question, one, if you look at artists being represented commercially, being featured in art fairs, galleries, things like that, a lot of them have been through 32 and the residency program and will talk about the residency program being very impactful for their careers. If you look at artists who are working public art, different festivals, who travel for residencies, talk to them, they will think back again to their time at 32. If you asked a lot of different artists, let's say someone just moved to Kampala from Nairobi and someone asks where they should go, they will mention 32. I think the fact that we are still hosting Kla Art which is almost the only festival in Kampala, the KCCA festival is no longer happening and then Bayimba moved to an island. So even just to have an art festival and being able to keep it going is also proof of positive impact. Even I think on a more personal level when you talk to people about what 32 means to them. It's a place to come and research, find other artists and they all say that 32 was influential in building their careers.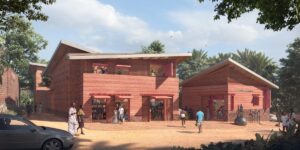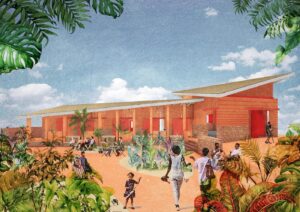 Design Impressions New Building
MK: Yah, at least I can also say that this place has added a lot to my practice being a member, having done a residency here and been part of a number of other programs and projects that were run from here. What would you say that you are most proud of during your tenure of six years here as the director?
TB: Just over five actually because I started in January, so it's now five years and five months. Hmm, a lot of things I guess because even when I had started, I couldn't imagine we would be where we are now. So literally, now that we are on our own plot is exciting and that we are embarking on building a site that is purpose built, and that we have raised enough to start building. It seemed like a dream for so long. And the fact that we were able to pull of Kla Art Labs. So the actual festival hasn't happened yet but out of the eleven artists, we were able to send ten of them to international residency programs, I'm super proud of that. And you know, it's still a place that artists will refer to and find meaningful, maybe it isn't that tangible. You know, sometimes somebody can take over and the thing just dies.
MK: I have to say you have really done something with this place. Actually, you time here is as old as my career because I finished art school in 2015 and in 2016 I picked up my brush professionally. So I never saw no Rocca but at least I've seen this place grow and change artist's lives, their practices and the art scene. You talked of being proud of the upcoming construction project. We as artists are excited to see the new purposely built art space. Please tell us why we should be more enthusiastic of what will be put here.
TB: Over the past few years, we've rented our space but now we own it. So we have three studios which are these shipping containers and as you know, you have worked in one before. Yah, they work, but right now, literally, part of it is falling apart, sometimes we deal with leaking, when it's a super-hot day, it's not the most comfortable space to work in. And so, to be able to have a space that is properly designed with artists' input in mind. So you are thinking about lighting, space and the height of the ceilings. That hasn't been the case in a lot of art centers, I think that's super exciting and also the increase in capacity where we had three studios, now we will have seven when the building is done. This means that in terms of our offering, we are able to reach more artists, we will be able to accommodate artists in the space. Before, most of our programing has been localized, we haven't been able to work with regional artists. We can't accommodate them on site, we've had to scramble to find a budget and somewhere to house them but we will be able to house them here and even for international artists, same story, we will have more of them around which means more opportunity for exchange and cross-cultural learning. And also the fact that we will have an art gallery that won't focus on the commerce, it will allow us to showcase more experimental work. First of all, they aren't many galleries in the city so having an additional exhibition space is really exciting. And then we will also have a garden that the gallery leads out into so we will be able to showcase really large-scale work. There won't be a ceiling so one can go as high as they can. We going to have a workshop space that we haven't had so if you want TO do sculpture and large scale machinery impacted work can be done. I keep going, we have a café for people who wouldn't ordinarily come to an art center but would like go to a café and all of a sudden they are like hey, what's this cool place and what I'm I looking at and then yah, you are into the world of art. And also what that means for artists on site have so many people in and out of the space exposed to your work. And an art shop as well.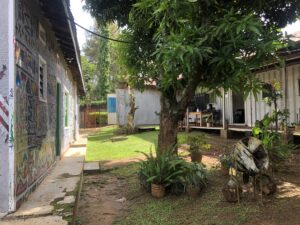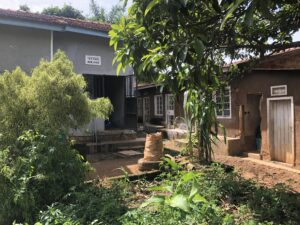 The Old Building
MK: Oh wow, it sounds like Disneyland for the artist. Yah, I'm pretty sure the new place will change this art scene. So the construction here will take on a delicate process – the science of curing rammed earth. Why did you choose to go with this complicated new method? New in the sense that it's not been used before in Uganda.
TB: Yah it's interesting because it's a super old way of constructing, like thousands and thousands of years old but has been phased out because typically a lot of construction is about it being quick and easy involving a lot of concrete. To be honest, when we first talked about this, we wanted it to be sustainable but didn't know anything about architecture. So it is really James Hampton, the design architect on the project who proposed the rammed earth method. So it will use rammed earth and also compressed earth blocks. Basically, both of those mean that you are using earth directly from the site which means that in terms of its embodied carbon which is how much of the building is producing carbon emissions which is almost zero. So you don't have to worry about transport. Concrete is also really bad for the environment so we were really excited when we learnt more about the material and what it meant. And then to add to that, I think the fact, as you are saying, none of the other places do this and we are in a unique position and we can experiment and are open to try different ways of building and it is imbedded in who we are as an organization. And then, we are a public space and it means that all kinds of people who wouldn't know about rammed earth or compressed earth blocks all of a sudden are like oh, this is so cool and doable. So it's also a kind of way of shifting perspectives and perceptions about architecture and building. So it's exciting for us to hopefully have influence in that space as well.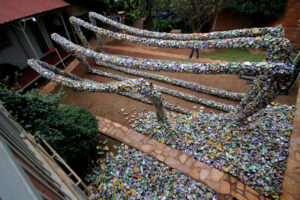 Installation of Xenson, artist in residence
MK: Awesome! A James Hampton is the architect on this project, wasn't it possible to have a local architect take on this project?
TB: Sure but how it happened was that James at the time was really good friends with the previous director, Rocca and has been doing it pro-bono. And when we talked to some architects here, they were like that's a great project but we are not in a position where we can provide pro-bono services. When this project started, we had no money, the only reason we started fundraising is because we had design images that we were able to show people that this is what's going to happen. So it ended up being important to have that kind of help to be honest. We would love to work with local architects and luckily also through Local Works since they are advising on the designing and the building but that's how it happened. It could have been different but to have pro-bono services meant that we have a chance at pulling this off. So yah, usually for every building project here, you have to have a local architect if you have a foreigner as the head. So we have Local Works who will be supervising and also building which is really a nice thing that they are able to do both.
MK: The pandemic is puncturing different sectors, industries and institutions worldwide. Have you been an exception as 32 degrees East?
TB: No, we've been impacted as well and the biggest one was Kla Art that was supposed to happen last year and we pushed it to this year and we hope that it will happen this August. Yah, that was a big thing and then we closed the center for a few months last year, we weren't operating or working from home, not being able to have artists in residence. And then, last year, there was supposed to be a heavy fundraising campaign which meant a lot of travelling, speaking at different occasions, so I wasn't able to do that. We are fortunate in that we had the crowd-funding campaign that did well, it might have done better if it wasn't for the pandemic because we had a lot of people saying that they loved it but money is tight. So even construction, materials are more expensive now. The artists we used to work with are not making art anymore, decided to do farming or something else because finances are hard these days. So then it meant that we adjust the way we work and start things like an artist's SACCO. And then last year, we were able to get Newcastle University to offer a materials budget and internet package to artists. And then Arts Collaboratory doing the emergency fund, so yah, obviously, if it wasn't for covid we wouldn't have done all this.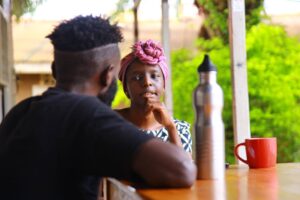 MK: Okay, we have to go back a little now, in a recent article you wrote for the Guardian, you argue that there is a need for Africa to invest in art. Who is funding this construction project?
TB: A lot of different people but we are not getting much help locally in terms of larger corporate structures of foundation. So a big part of the funding has come from a bunch of few trusted foundations from the U.K, Norway, the Netherlands but nothing much in terms of local foundations. And then individuals as well contributed and for example some of the studios will be dedicated to people who were able to fund for them. So it's a wide range of people but as I mentioned, we don't have a Ministry of Culture where in other places it could chip in for a considerable percentage of the funds. But I think partly what I was saying in the article is that it's not only Africa that needs to invest in the arts, I think a lot of governments in general everywhere don't value the arts. It's just the spectrum that differs because here arts investment is really low. When they are looking for budget cuts, it's always the arts yet that's where a lot of experimentation, ideas of organizing societies are made.
MK: I was going to go into that. Why should Ugandans invest in art?
TB: . I think they are just few places where your assumptions are critiqued, you get challenged on your assumptions. If you look at parliament and some of the bills that have been passing, there are so many times where they are like 'everyone thinks this way'. How many places exist that you are confronted with somebody who thinks differently and you are forced to engage with them and not just being dismissive. And you are not thinking they are lower than me, or a woman or younger. So there are not a lot of places that allow you to engage with your emotions, and be human with others. So many times we are thinking about 'get a good education, get a good job, have kids' and perpetuate the cycle again and they are not so many places that say why. What does it mean to live a full life? What does it mean to have beauty in the world? What does it mean to live in a society that in many ways can be quite repressive as well? But we don't have avenues to address that and art is one of those few places we do, although sometimes we have to self-censor and not be so obvious, but it's an outlet. On an individual level, people being able to deal with their mental health, their emotions, all of these things, that's one thing.
MK: Do you collect art yourself?
TB: Not really, no. Well, I mean, sometimes the art that I want I just can't afford it. And then if I had a space where more people could see the work that I have, then sure but then I also don't want to have work that's just for me.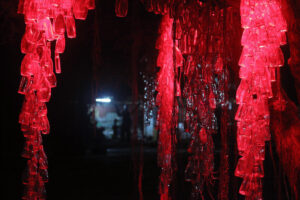 Stacey Gillian, Strang Fruit II, artist in residence
MK: So if you had the money, who would you collect? Three Ugandan artists…
TB: So I don't really do that because I work with so many different artists, it always feels like I have favorites…I can't do it Matt. So I'm running around my mind and there is this one and I might message you to add somebody else. Okay, it's Waswad, Stacey Gillian Abe and Ian Mwesiga. That was by force, hehe.
MK: Haha, I'm not surprised with your choices, at least I knew Stacey couldn't miss. The infrastructure of the new center is up its and running stronger. What do you think would be the missing piece on the puzzle that is the Uganda contemporary art scene?
TB: Hmm, arts institutions, others. I mean, when you compare ourselves to other places regionally, we have quite a few of them. One thing we've noticed is that you won't get students from these places who are interested or know that we exist. And when artists who are well established go to these institutions and ask them, okay, name an African artist or a Ugandan artist or a contemporary artist, they won't be able to. I think there is a lot of growth needed in the art education. This is something I can point out quick. So if you are an artist going through art school, you have to be super motivated and self-driven to seek out these spaces because the institution is not telling you about them and is not showing you how it will be like when you graduate, what the life of an artist is like.
MK: So this goes to show that the artists working right now here are passionate, self-driven and therefore real artists, they are the cream beating all odds to stay on top of their game.
TB: When you think about it, given the few institutions we have, if all of them were operating in that way, the number of artists coming out equipped to take this on would be huge. But also, as much as I have issues with our government, if we are thinking about gaps in the contemporary art space, if there are things that are funding infrastructure for the artists, what is the longevity of that as well. If Nommo National gallery was like, if you remember your first experience with a work of art that made you go wow, this is what I wanna do or what I'm I thinking or feeling? And how many kids here never have that experience, but just imagine, it's a normal part of life, just like you go to the national museum, like a school trip where you go once and can't easily go back again because you are not funded. But to have some kind of a national gallery, maybe it will in the future. But to have more publically funded places that are about highlighting great art. You think of works from the 50s, 60s or 70s, we don't see it, it was taken out of the country sadly. We don't have archives or a database, so to be able to have spaces that maintain this information and take care of it, because you think of the Makerere art gallery and what happened to all the work that was there. I think this is a big gap.
Image courtesy: From 32° East Ugandan Arts Trust and Alvin Visuals
Matt Kayem is a contemporary artist, art critic, and writer. He currently lives and works in Kampala, Uganda. Reach him at mattkayem@gmail.com