We should start talking about black people as creators of their own knowledge instead of mere subjects. We should not only speak about different kinds of knowledge productions but also about different kinds of experiences. We are still in the moment that we haven't achieved it.
Lih-Lan Wong in conversation with curators Tatenda Magaisa and Katleho Shoro and participant Matshelane Xhakaza
Overtime: representations, values and imagined futures of 'classical African art'
A conversation with curators Tatenda Magaisa and Katleho Shoro and participating artist Matshelane Xhakaza
In today's discourse we witness a growing debate and undertaking in decolonizing the institutions: museums attempt to re-think their collections and universities their curricula. The important question in such efforts is: from which or better said whose perspective are these collections and curricula re-thought?
A couple of weeks ago I visited the exhibition Overtime in Wits Art Museum (WAM), Johannesburg. The collaborative exhibition curated by the young research associates Tatenda Magaisa and Katleho Shoro includes the work of both present and former WAM student staff. The participants were encouraged to engage with the museum's 'classical African art' collection from which they created new work that questions the value of the classical African object and the making of meaning. I was inspired by the contributions of the participants taking back power by choosing what to present, how to represent it and thereby offering a more personal and human narrative surrounding the objects of WAM's collection.
Overtime explores "various ways that African cultural material has been, is and can be represented, valued and imagined in the future. It considers the ideologies that have influenced archaic visions of the African cultural material, art and Africa itself. Thus, critical to the exhibition is the idea of the cultural material having relevance and meaning over time." – I invited curators Tatenda Magaisa and Katleho Shoro and participant Matshelane Xhakaza to talk about these ideas in the following conversation.
Overtime, installation shot, Wits Art Museum, Johannesburg
Lih-Lan:
When I visited the Overtime I had the feeling this is part of something larger, part of a critical movement within this museum and towards its collection.
Katleho:
It's a short exhibition and one of the things we have been thinking about is not have it just be this ephemeral moment.
Tatenda:
There is a large process that doesn't follow through in the exhibition, and that is thinking about the multiple layers of problematics in looking at an African collection in a museum such as WAM. Some of the questions posed were: where do these objects belong, are they meant to be artworks, who are looking at them and who is making the decisions about them? The majority of the participants in the exhibition were people that could identify with these objects, not in the context of the museum space but rather outside of it, in their own domestic environments. Some objects are in their houses for generations long and not looked at as desirable objects of beauty or valuable for collections but part of everyday life.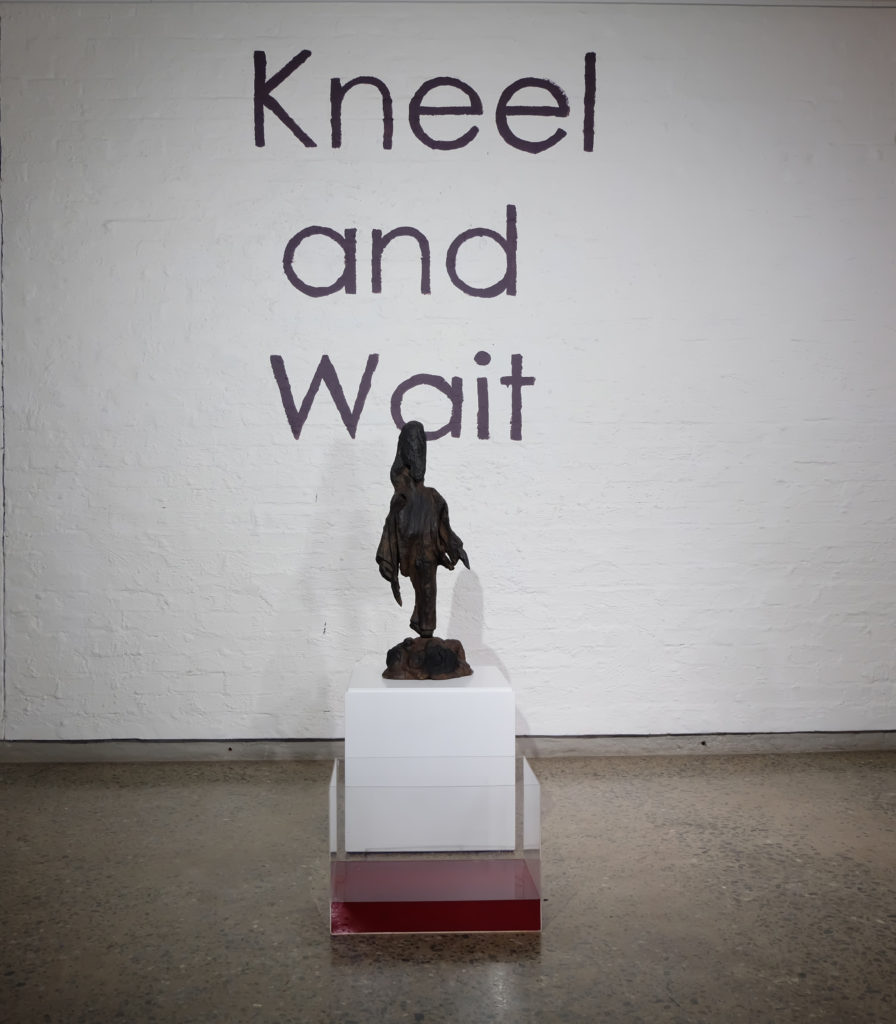 Matshelane Xhakaza, Kneel and Wait, 2017
Lih-Lan:
Matshelane, you made one of the works in the exhibition. Can you explain your approach to Overtime, from choosing the object to making a new work with it?
Matshelane:
Reading the curatorial proposal my first reference was Da sweet blood of Jesus (2014) a film by Spike Lee. There is a line in the film when the actor says: "It's less of a sacrilegious to drink blood than to spill it." That was a starting point for me and I went into the collection looking for what was visually appealing to me. I chose the figured sculpture by Nelson Makhuba. Overtime was a great start to think critically about African collections in Africa. It allowed me to look at the collection in a different way by really engaging with the object and thinking about what we have actually learned so far. Who are the collectors and who is the collected? I wanted to make a work around that question. As a human being and a spiritual being, one can sense these energies when going into the storeroom with all these re-placed objects and their histories. The object I worked with had this inexplicable energy that was very powerful and so "Kneel and Wait" just came to me, without any religious connotation I just needed a powerful command. Later I discovered that Nelson Makhuba killed his wife and two children and set his house on fire with a lot of his sculptures in it. He escaped and hung himself. It had this dramatic history and when you learn about it and look at his sculpture within my installation you experience this mysticism. At least I hope that all these complexities will come out.
Tatenda:
The mere fact that the sculpture of Nelson Makhuba in Matshelane's work comes from a tragic and violent end of the artist's life and now is in the collection and is part of this exhibition gives a completely different perspective on the objects. The tragic event happened in the mid 80s and by 1996 it became part of the museum's collection because the artist's son collected the remainders of the fire and gave it to WAM.
Lih-Lan:
You both as curators also made works for the show that reflect on the exhibition as a whole, Katleho can you maybe start with telling us more about your sound piece work?
Katleho:
My work is called Seriti, which is Sesotho and means 'shadow' but also 'dignity' if I loosely translate it. The idea of shadow and dignity came from all the stories of the black African humans that were – as Matshelane mentioned – the collected. Whose culture and lives are in a lot of the material we have in this museum's collection. It was very important to me to constantly speak about the humanity, the humans and not just see them as objects or artworks. I wanted to think about the people behind it. For me this is important because it ties in with the idea of who is an African intellectual and how do we as black Africans get to speak about ourselves and what are the things that are left out.
The cultural material is always spoken of as a thing of the past but by stating that we fail to see how it connects to the present. For me as a black African child going into a space and encountering a lot of this material it is not as easy for me to look at it as artworks. There is a spirituality, there is a knowledge, and a heartache of the violent pasts that come with it. These objects themselves become a shadow of all that has gone by and a shadow of people that had very intimate and personal relations with these objects.
Kaleho Shoro, Seriti, 2017.
Furthermore, I thought of how we can speak of what we have in the collection with dignity. Which does not mean not complicating it or understanding the aesthetics but reading it with those really hard histories and acknowledging that. So, how can we represent them in ways that are dignified for the humans who have made them?
The other layer was that the whole sound piece had to be in Sesotho and it named the things that surround it: the objects and the persons. Having Sesotho there for me was important, without translating it. Often when you read from WAM's database you will primarily read English and sometimes it's miswritten. So if you are presenting these objects, can we also have the languages and names that the people have given to it in the space? Its of course tricky because as Sotho I can't speak of what a mask is if it's not from my culture. These power relations are interesting, because what happens when you call something that is generally described in English by a Sesotho name? I wanted to play around with that.
Lih-Lan:
And also taking back the power in a way, as for example I did not know what was spoken about in the sound piece. I wanted to understand but it was not translated anywhere in the exhibition. Than I thought about this as a reality for many people in this country where so many languages are spoken but still English or Afrikaans are used in formal contexts. Also in your work you use language, Tatenda. Can you tell us about it?
Tatenda:
It was instigated by a response. We have a space for the public to respond to the exhibition. A person wrote: "This is why we can't have nice things." So I started thinking about this. The idea of collecting objects from people who can't take after them themselves. It is only your hand in destabilizing and disturbing and taking away that we could not look after our own things. Who names these objects? Who has the power? If you look behind the scenes of a museum, the researchers, collectors, they are all western names. The artists – unless it's after 1990 – are mostly unknown, or "unrecorded artist" or a designation of a language group. I proposed it as a neglect, but it is not: it is a conscious choice to make a person insignificant as you are only interested in them as a collection of things.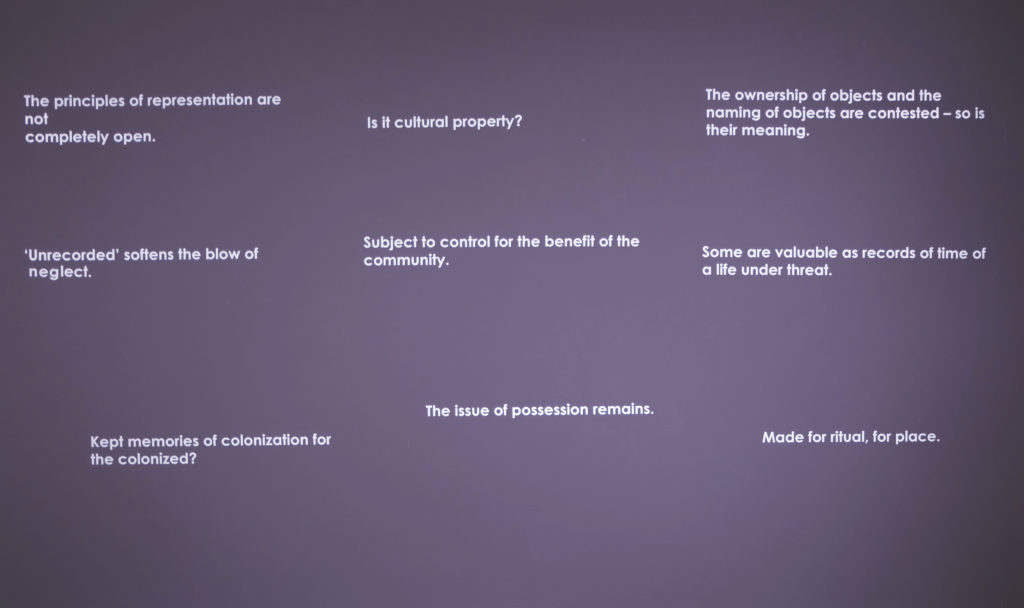 Tatenda Magaisa, This is why we can't have nice things, 2017
A lot of these materials do not belong in storerooms of collections but are made for a particular ritual or to be worn by a particular person. Some beadwork in the collection is made for when a daughter or son is going through a period of their growth, as part of initiation. You will find that some of these beadworks were collected after the fact of forced removal. So during apartheid, black people were removed from their spaces leaving behind their possessions. In that aftereffect a collector, historian, anthropologist, etymologist comes and collects these remainders and it ends up in a collection or museum. So what it represents is the destabilization of the life of others.
That has been a continuous process and to some degree, whether we want to acknowledge it or not, the museum still practices the same way. There is a removal and ignorance of the people of which the objects come from, the museum's information remains as fact and is stated as fact.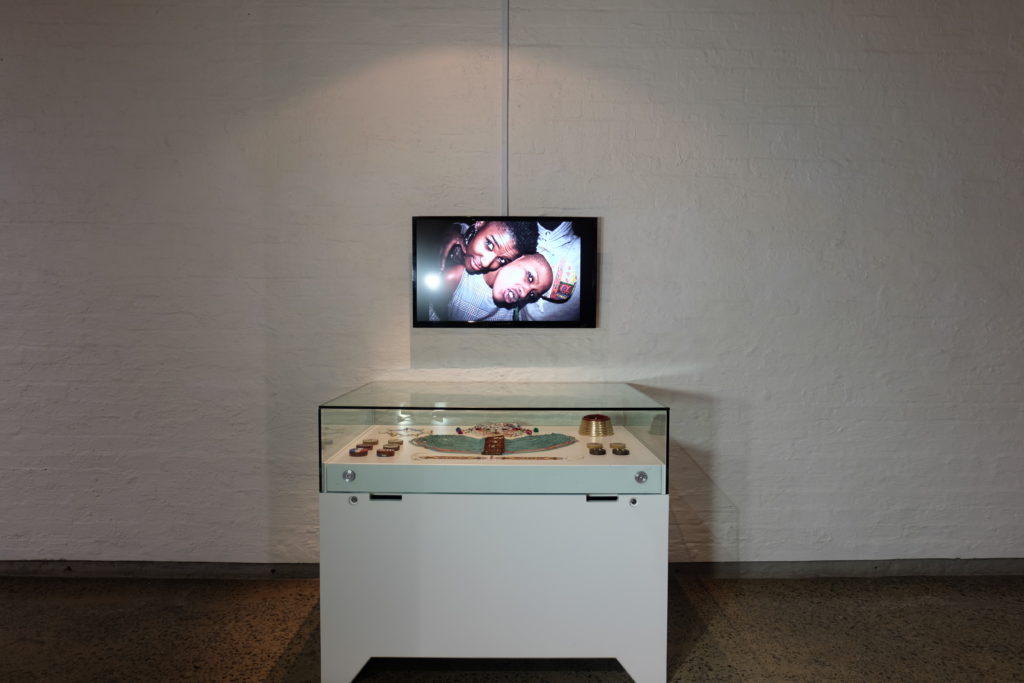 Maxine Thomik, Reiterations, 2017
There is also the belief that we are no longer interested in this material because we are part of this new age. We are not given a choice of what we value. So if there is a balance in power, or in the way exhibitions are created, than there will be a slight difference. You can't change what has happened, but you can make it less imbalanced.
Lih-Lan:
No you Katleho and Tatenda are both part of this museum. You are part of the generation that gained access to this institution. What are your objectives within this museum, what do you want to change or accomplish?
Katleho:
There is an official term for what we are: research associate. What we actually do is facilitate.
Tatenda:
Mostly we help and provide information. This is the second time that researchers are taking the position of curators. The first exhibition that we did was in June 2016 titled From the heart – personal perspectives. Which came about because an exhibition got cancelled, so it was kind of filler and we had a few weeks to organize it. The approach in the From the heart exhibition was about having individuals – so everyone of the staff from curators, front desk employees, members of security to housekeeping – engage with WAM's collection. All of them could engage with the object in their respected languages. The questions raised were similar to Overtime but it was a different generation and without speaking of the object over time but more about how the staff identified with the objects they chose. It was a reaction to the historicizing of the object and its presentation, which tend to be very linear and therefore leaving out personal experiences as a form of knowledge.
Katleho:
In From the heart people could start thinking about their own relationship with 'classical African art' from a personal experience. It showed how the objects still have a place in people's lives right now. You could not neglect the personal relationships people have with similar cultural material in their daily spaces. The reality of how people experience objects differently was carried from From the heart to Overtime.
Lih-Lan:
Being all former Wits students, how is 'classical African art' taught, how are the problematics of it exposed or questioned in class or in the curriculum?
Matshelane:
I remember I had to write a paper as a Fine Arts student at Wits. So I wrote an object biography about a Zulu weave basket. But in this academic classroom context, with one person teaching you about these objects, you ask yourself: why is someone who is not from here teaching us about these subjects.
Tatenda:
Depending on who teaches we learn about the Renaissance, and somehow come to Picasso and the implementing of African art and than going to classical African history, only covering a selection and soon moving to contemporary art.
Matshelane:
As an artist you need different external stimuli. You need something that will make you think differently about how you fit into this world, or how you are able to create something in order for the world to see things differently. It is difficult to know the South African art historical narrative although there were a lot of artists making and producing. There are missed opportunities in creating a larger understanding of our art history.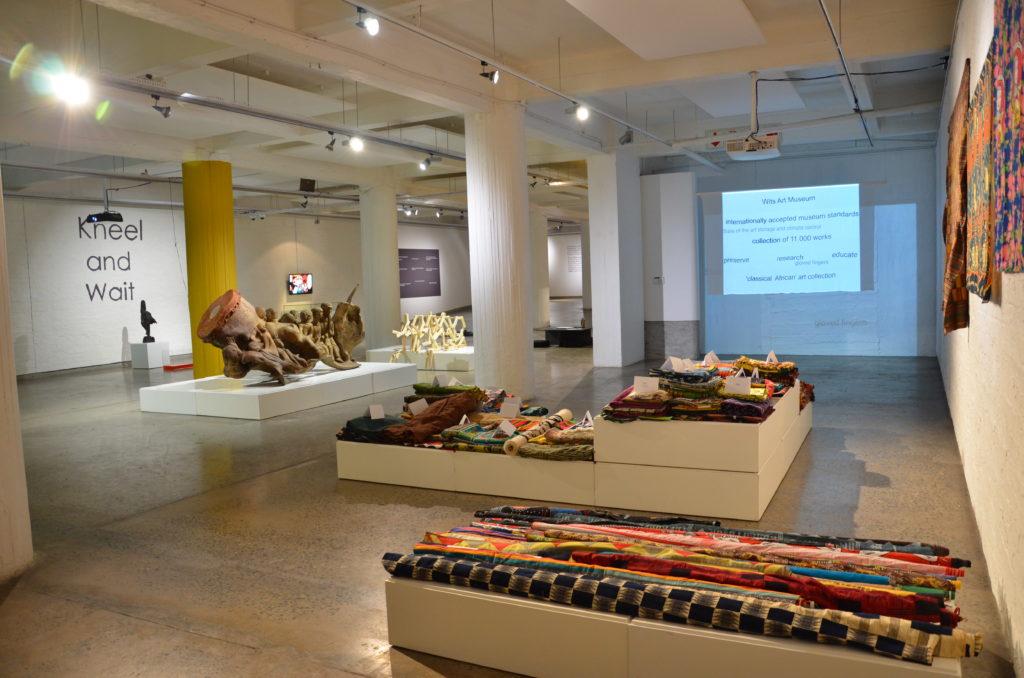 Overtime, installation shot, Wits Art Museum, Johannesburg
Katleho:
We are in a moment where the review of education is happening quite critically, it has been happening, but now the conversation is heard nationally. The call for decolonizing education and the curriculum is louder now but still a lot of the ways subjects are taught is still very problematic. We should start talking about black people as creators of their own knowledge instead of mere subjects. We should not only speak about different kinds of knowledge productions but also about different kinds of experiences. We are still in the moment that we haven't achieved it.
This exhibition is not meant to be a blueprint of our engagement with 'classical African art'. Participants have shown the different ways of engaging, their own personal work in relation to the objects. Not merely rely on facts that come from a database or expert research but peoples imaginations, experiences and knowledge are valid too. We can't rely on the status quo. There is a moment where we can all start looking together to make better representations of this material because we have the capacity to do that.
Tatenda:
Some of the results of Overtime are evident; it was a conversation, collaboration and negotiation. It was not made in a vacuum but made in debate and discussion. Because in the end of the day when we think about it we are participating in the same structures that we are questioning.
Overtime: representations, values and imagined futures of 'classical African Art
Anathi Bukani, Kevyah Cardoso, Michael Cheesman, Rosa Elk, Luke Gibson, Leigh Leyde, Lebogang Mabusela, Gontse Mathabathe, Boitumelo Molalugi, Boitumelo Motau, Maxine Thomik, Matshelane Xhakaza. Curated by Tatenda Magaisa and Katleho Shoro
The exhibition runs until the 23rd of April at Wits Art Museum, Johannesburg.
Lih-Lan Wong is art historian, writer and curator. She lives in Amsterdam.