The artists' journey began in 2011, when they decided to retrieve their grandfathers' cars from Pakistan and Nigeria, and park them side-by-side in the UK. In doing so, they aimed to explore their connections to their families and multi-cultural heritage, while reflecting on the dynamism of the British identity, today.
Raquel Villar-Pérez on a remarkable project of two Britsh artists.
My Granddad's Car: in conversation with Karl Ohiri and Sayed Sattar Hasan
A longing to reconcile the distance between family, cultural heritage and home-space, which migration can often disrupt, inspired Karl Ohiri and Sayed Sattar Hasan to set out on their long-term collaborative project My Granddad's Car.
The artists' journey began in 2011, when they decided to retrieve their grandfathers' cars from Pakistan and Nigeria, and park them side-by-side in the UK. In doing so, they aimed to explore their connections to their families and multi-cultural heritage, while reflecting on the dynamism of the British identity, today. Unfortunately, a combination of corruption, bureaucracy and lack of information frustrated their quest and left the project and the cars in a state of limbo for several years. A shift in circumstances in 2016, however, inspired the artists to reinvent the project. This time, the artists would transform their granddad's car from rusted vehicles and scrap, to artworks and relics.
.
In the run up to the My Granddad's Car exhibition at the Alchemy Festival, London, I meet Karl and Sayed to converse about notions of migration, cultural heritage, cultural intersections, art, and cars.

The Explorer, 2016. Courtesy of Karl Ohiri
Raquel: What were the physical and – most importantly- emotional challenges you faced over the course of the project?
Sayed: A great extent of the physical challenges revolved around how to move the cars from Pakistan and Nigeria, to England. Both cars were unusable and there was a lot of pushing, lifting and deconstructing throughout the project. We also had to document our trips, which often involved taking photographs and shooting video while we were negotiating real life situations. To capture the essence of our experiences while being in the frame was difficult.
One of the biggest emotional challenges was dealing with the sense of failure and uncertainty after our initial attempt (in 2011) to bring the cars' to the UK. It was disappointing to think we may never realize our ambition.
Emotions and thoughts developed over time. I realized that even if my granddad's car made it to England, the reality was, it would be an inconvenience. That's why I decided to take part of the car and let the rest go, when we embarked on part two. I found a newfound freedom in my new approach. I could take something with me, while also letting go.
Melting parts of our cars together in a Sheffield Steel foundry, and the resulting joint sculpture we created from the process, made all of the physical and emotional challenges we faces completely worthwhile.
Karl: I think My Granddad's Car posed a lot of physical and emotional challenges for the both of us. The physical aspect came when trying to attempt to transport the cars to locations. Although the conditions of our cars were very different from one another (mine being the shell of a Volkswagen beetle and Sayed's a bulky old Toyota Corolla) they both were physically awkward objects to move and ended up shaping how we chose to resolve the project, by freeing ourselves from the heavy material matter and looking into different ways the car could be symbolized.
The emotional challenges were equally as difficult and started for me early on when I started to introduce the idea to my family in Nigeria. Nobody could understand why I wanted to take my grandfather's rusty old car back to London. Many struggled to see the historical value or artistic expression of what we were trying to achieve. It was a difficult state to be in, because as artists, you often doubt yourself and your ideas, so when the project became a source of ridicule for many in the village it was very hard to deal with at times.
When it came to shipping the car back to the UK I was told I could not ship it. Although I had all the necessary paper work for clearance, the port controller said that the exportation of scrap metal was contraband and demanded I pay him £2,000 to sign the release papers. I declined his offer so the car was held at ransom and impounded at Onne port in 2011. I had to leave Nigeria having failed in my objective of transporting the car back to the UK. I had to ask myself a lot of questions – Is this the end of the project? I wonder what will happen to the car now.
The car stayed in the port for years forcing me to call the port officer and ask if the car was still there. He would reply 'yes' before promptly asking me if I was ready to make a payment. Years went by and with each one I felt more and more guilty knowing that my grandfather's car was left vulnerable at the port. In 2016, whilst visiting family in Nigeria I decided randomly to call the port. The news they told me was bittersweet: the port controller had died that year. I decided to travel back to the port and plead with the new controller hoping that he would sympathize with my situation. Against all odds, the car was still there at the port, and after lengthy talks and persuasion he decided to release the car. I returned it to the village delighted in the knowledge that my granddad's car would finally have a sequel.

A Shrine to my Granddad's Car, 2016. Courtesy of Sayed Sattar Hasan
R: When watching your video-works at the My Granddad's Car exhibition at Stephen Lawrence Gallery I was struck by how different they were. Karl's video-piece focuses on documenting the deconstruction process of his granddad's car and its rebirth into something else: art, a celebration of renewal. Yet, Sayed's video-work is more intimate; it alludes to Islamic rituals of death, mourning and remembrance. How did you conceptualize the short-films? And, what was it like to collaborate on a project, which is highly intimate to each of you?
S: When Karl and I travelled to Pakistan, my aim was to take a piece of the car and say farewell to the rest. It was important for Karl to join me, as our friendship had become a big part of the project. I thought, 'If I could capture a degree of the experience in a sincere way, I would be happy'.
I'm drawn to the usage and aesthetic of ritual in Islamic and South-Asian culture. I created an unorthodox ritual that used motifs from varying forms of ceremony. My family in Pakistan knew I was doing something unusual, but it was also recognizable to them. I wanted to deal with the 'letting go' of the car in a manner respectful to the spirit of my grandfather, yet also in a non-conformist way.
In terms of our collaboration, our approach has been to listen to and support each other. It's about figuring out what works best for us as individuals and a team. We talk a lot, so we're not afraid to bounce ideas and get a sense of what feels right. We're more like family than friends so sharing such an intimate experience seemed natural to us.
K: The videos were conceptualized to what we artistically thought would work with the footage that we managed to capture in our respective countries. When I got to the editing table first time round I thought I would take a documentary approach as I had loads of small clips that documented a very intimate side of the journey – from me and Sayed eating together, to Sayed meeting all of my family. I even have some rare footage of Sayed dancing Naija-style in a local bar. However it was really hard to edit all of the fragmented moments together and still have a clear narrative. So I decided to focus on the making of What Remains (2016) a sculptural artwork made out of the fragments of my Grandfather's car. I decided to concentrate on the making of the sculpture knowing that the sculpture would be exhibited. I wanted to create a video that would convey a sense of time and the struggle of its creation to the audience.
The collaboration process within a project that was so intimate was not difficult for us as we are very close friends. I think that as artists and friends what attracts us to each other is a level of sensitivity mixed with a genuine desire to explore other cultures. A project like this could only work with such attributes.

Through the ruins, 2016. Courtesy of Sayed Sattar Hasan
R: Karl's photographs focus on the human figure, often placing himself or the two of you in front of the lens, while many of Sayed's photographic works display objects. Can you explain your approaches to your use of photography in the project?
S: I was interested in showing a sense of historical time in my photographic works and saw myself as a passenger. The landscapes and objects tell stories of their own. They allude to human presence, yet no single individual dominates.
K: My approach towards the photography was really set out in part one. In part one I did some documentary shots and some portraits. I really liked how the portraits turned out so I knew I was going to concentrate more on making portraits. Applying an approach that incorporates more stage portraiture allowed me to stop time and express a moment without the pressure of capturing it in real time.
I wanted to capture images that I could look back on and smile at and remember the memories from the project. I think this is achieved in images like Centerpiece where a really special moment is captured. A moment that I never thought I would see Sayed and myself eating native Nigerian soup on my Grandfather's land on Sayed's birthday, while my Grandfather's car becomes a centerpiece we talk about over dinner.
.
R: There is this recurring piece of cloth that can be seen throughout the project, particularly in Karl's photographs. What's the meaning/importance of it?
S: Fabric has been a central motif of the project; both of us are drawn to fabric and use them for different reasons. Covering the car removed the brand identity of the car and allowed it be regarded as something more individual. Bodies are covered in cloth for many reasons from fashion to Islamic burial rituals. Using my grandfather's favorite -silk- fabric to dress the car was a way of giving the object a sense of importance.
K: The piece of fabric I feature in the project is a native piece of fabric my mother gave to me to use for the first part of the project in 2011. I told my mother that I wanted to wrap her father's car as a mark of respect and she gave me fabric to do so with. Like me, she never got the chance to say goodbye to my grandfather.
I used the fabric to create the portrait Patchwork (2011) an image which was about symbolic fragments of the past being intertwined together thus creating a bond between generations. In 2012 my mother passed away due to cancer as a tribute I decided to take the fabric back to Nigeria and reuse it represent her presence throughout the project drawing strength from it and creating new memories and narratives that merge the past with the present.

Aunty Chubo Holding Rear License Plate, 2016. Courtesy of Sayed Sattar Hasan
R: I am very interested in the participation of women in the arts. In Sayed's photography Aunty Chubo Holding Rear License Plate, you chose a woman to hold your granddad's car license plate. Why?
S: I chose my aunty to hold the license plate because she has an important role in the history of the car. When my grandfather died it was passed on to her. I wanted to take it to England when the car was no longer usable, for which I sought her approval before hand.
The license plate was given to her as a gift and I wanted to take her portrait with it. Due to the customs of my family in Pakistan, it is deemed inappropriate for women to show their faces to strangers. The license plate enabled her to be present herself without compromising her sense of tradition. It was an important image for me, as I wanted to acknowledge the contribution of women in the story and the challenges they face in a male dominated society.

Centerpiece, 2016. Courtesy of Karl Ohiri
R: Karl… in your photographic work, your granddad's car changes from an object of high regard and importance, in Centerpiece, to having negative connotations in Carrying the burden. Can you explain the shift on the interpretation of your granddad's car?
K: The car has taken on so many different forms and my attitude towards the car has changed throughout the project. The car has inspired a lot of emotions and one of the most powerful emotions it has bestowed on me is the burden of responsibility. I have often felt responsible for its protection and legacy. The car has come to symbolize a huge part of my family's history, possessing a powerful message that we can all relate to as human beings. That history is worth preserving and is something we all have in common.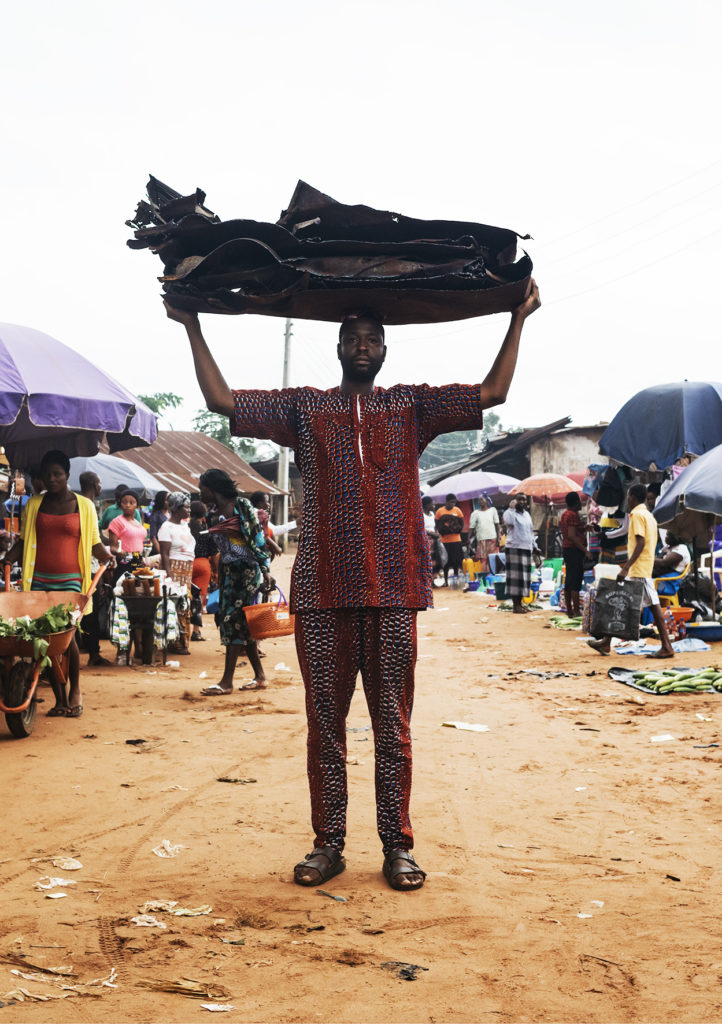 Carrying the Burden, 2016. Courtesy of Karl Ohiri
R: Will there be a third phase of My Granddad's Car?
S: We are happy to have finally gained closure on the project. It's time to let the objects -we have made from the cars- breathe for a while. At the moment Karl and I are taking it in turns to look after the steel wheel we created from both our cars, so there is definitely potential for further reflection.
K: You never know what may arise in the future. New discoveries about the cars could one day force us to revisit the project at any time. For now I am really happy with the way everything has been resolved. The only thing left to do know is to make an artist book about the project, which will further add to the legacy.
.
R: Your granddads' cars tell the story of your respective families, as artists, what's the story you want to tell with My Granddad's Car?
S: I like the idea of showing how the lines between art and everyday life overlap, and feel My Granddad's Car has charted such territory.
.
R: Is there any aspect of your My Granddad's Car which is untold, and would you chose to do anything differently if you had another chance?
S: This is a hard question to answer. The experience was chaotic at times, but it fed into the personality of the work. I suppose you always look back (particularly at the visual aspect) and think it could have been better, but coming to terms with what you produce is part of the artistic process. The project name seemed to stick and I think there were positive and negative aspects of such a direct title. Although we never confined ourselves to it, it did influence a story that could have paid equal tribute to other people.
K: I would like to think that the story is complete. I feel that it would have been nice to know more about my grandfather and apply a little bit more about his life into the narrative. However as the project went on we started to discover that the project wasn't really about our grandfathers, to a certain degree it was about our current lives, what it means to be British today, the consequences of migration and above all our friendship.

Calla, 2016. Courtesy of Karl Ohiri
R: You have personified your family heritage in your granddads' cars. From a gender perspective, it raises issues of sexism and patriarchy. Did you consider these issues when developing the project?
S: I am aware that the project is framed by a bold masculine title and by two young men exploring their histories. The cars happened to be a common point of interest to us, and they belonged to our grandfathers. We didn't intend to reinforce the idea of an unquestionable patriarchal narrative.
K: It is something I have thought about but it isn't something that I feel is exclusive to gender. I would like to think that if my sister wanted to do the same project it would be welcomed in the same way. As my grandfather's car was totally abandoned, the choice to resurrect it is totally devoid of gender for me. I think that we have tried to insert the presence of females where possible. In my case I use my mother's fabric as a constant reminder.
.
R: Finally, do you have a car? If so, what stories do you think do they hold?
S: I only passed my driving test this year and I share a car with my girlfriend. Hopefully, it will take us on some adventures of our own. Ironically, despite the projects title, I'm not a car enthusiast.

Can a name be washed away, 2016. Courtesy of Sayed Sattar Hasan
Karl and Sayed will be in conversation with Raquel Villar-Pérez at the School of Oriental and African Studies, University of London on Monday 15 May (link) and My Granddad's Car will be exhibited in the Alchemy Festival at the Southbank Centre, London from the 19-29 May 2017 (link).
BIOS:
Karl Ohiri
British-Nigerian Artist (b. 1983, Greenwich) The framework of his practice explores The Human Condition. Recurring themes include: family, memory and identity.
This is primarily explored through the use of photography, appropriation and the recontextualisation of everyday objects. The result is a mixture of contemporary works that are based on social commentary and personal works that are often confessional and autobiographical in nature.
Sayed Sattar Hasan
British-born artist currently living in the East-midlands. His artistic practice is multiple-disciplinary, using lens-based media and sculpture to develop visual narratives.
Sayed has an interest in the connections that are shared among people, places and belief systems, and how they affect ones sense of identity and belonging. Projects such as 'My Granddad's Car', deal with the challenges and joys of multiple heritages, while works such as 'NORTHAMPTON IS MY FATE' consider the role of circumstance in everyday life.
Raquel Villar-Pérez
Is a researcher, junior curator, and art writer. Raquel is interested in cross-cultural and intersectional dialogues established between different peoples addressing ideas of translocal identities. She is particularly sensitive to women's experiences and notions of feminisms, and how contemporary art practices, mainly from Africa and the Global South, echo them. Raquel enjoys collaboration and is keen to open up participative processes to generate inclusive and progressive art narratives.