Nengi Omuku
Mum, 2020
About:
Nengi Omuku, was born in 1987 in Nigeria. She has completed both a BA and MA at the Slade School of Fine art, University College London. Omuku's work is inspired by the politics of the body and the complexities that surround identity and difference. With every journey, she considers how human beings position themselves in space in relation to other beings. Foremost on her mind are the ways in which the body needs to adapt in order to belong. It is constantly selecting and gathering its identity, mentally, physically and emotionally. Omuku's work shows colored anthropomorphic forms, which stand in contrast to the scapes they inhabit. They are based on the supposition that the human figure can be transformed from its present reality, with the intention to look beneath its surface.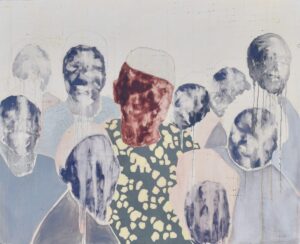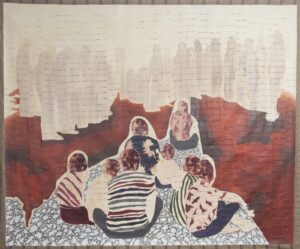 Flower Power, 2020/The Sit Down, 2020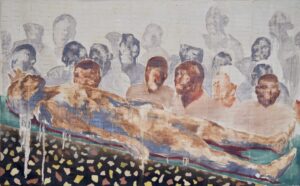 Gathering, 2020
Her artistic practice has won scholarships and awards, including the British Council CHOGM art award presented by HM Queen Elizabeth II. Commissions include arts council England to paint a mural in an intensive care psychiatric ward in Maudsley hospital, London. Solo exhibitions include Gathering, Kristin Hjellegjerde Gallery, London (2020); t a g e s o f C o llapse, September Gray, Atlanta (2017); A State of Mind, The Armory Show, New York (2016); A State of Mind, Omenka Gallery, Lagos (2015); To Figure an Encounter, Open The Gate, London (2011). Selected group exhibitions include All the Days and Nights, Kristin Hjellegjerde Gallery, London (2020); Untitled Art San Francisco, with Kristin Hjellegjerde Gallery, San Francisco (2020); 1-54 Contemporary African Art Fair, London (2019), Hospital Rooms, Griffin Gallery, London (2018); A t W o r k, Arthouse, Lagos (2018); ARTX,Lagos (2017); Commotion, 1:54, London (2017); Mapping Histories, Constructing Realities, ART15, London (2015); The Next 50 Years, Omenka Gallery, Lagos (2014) and Jerwood Drawing Prize Exhibition, Jerwood Gallery, London (2012). Omuku upcoming shows includes (Solo) Kristin Hjellegjerde Gallery, Berlin (2021); (duo show) La Galerie, Contemporary art Center, Noisy-le-Sec (2021) Omuku lives and works in Nigeria.