Matloga's work is political, personal and universal at the same time. Growing up in a deeply troubled, racist society does leave its traces. These are counterbalanced by family life, love, friendship and the joy of living.
Machtel Leij on Neo Matloga
(first published: July 4, 2019)
NEO TO LOVE
Neo Matloga in Fries Museum in Leeuwarden, The Netherlands
Realism is rather fictional in the art works of Neo Matloga ( South Africa, 1993). This fiction is built out of snippets of existing images, photographs of people of color, used in combination with painting in greyish tones. With this collage technique, Matloga pushes the boundaries of the real to its limits and beyond, especially in the depiction of the characters in his paintings. Building from existing portraits, he puts a former left eye in place of a right eye. Hands are twisted, too. Left and right is no longer a given, but switch places seemingly effortless. All too familar aspects of the human kind thus become estranged. At the same time they remain recognisable. In the shadows of his paintings of scenes of human interactions, one finds still-life scenes; plants, a cupboard, a table.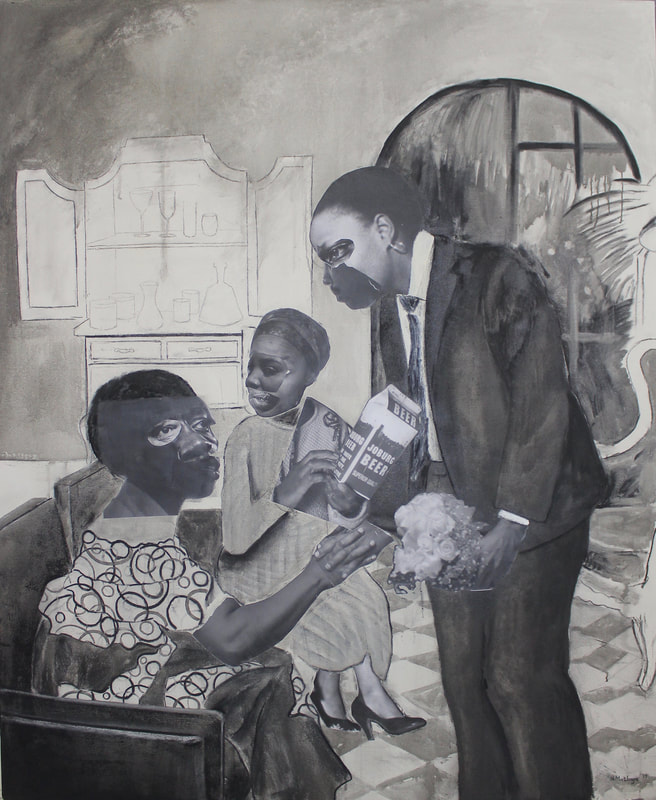 bina le nna, 2019.
Matloga's work radiates painterly enthousiasm in his exhibition Neo to Love in the Fries Museum in Leeuwarden. Therewith Matloga hints at the Dutch seventeen century painting tradition. On the other hand: his use of motives from the days of Dutch colonialism especially that in South Africa, and the way this continues to shape the South African present, could be interpreted as a critique of this influence on South Africa.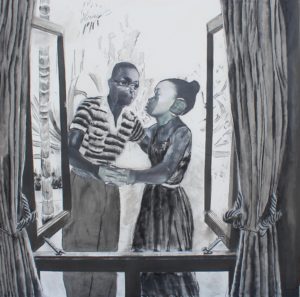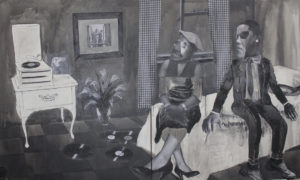 Bula pelo yao I, 2018/Bula pelo yao II, 2019
Matloga studied visual arts at the University of Johannesburg, South Africa. He moved to the Netherlands to become a resident at The Ateliers in Amsterdam. Living and working in the Netherlands does him well: he has won the Koninklijke Prijs voor de Schilderkunst and his work is regularly shown in various exhibitions throughout the Netherlands.
His works are a vision of his youth, of his growing up in South Africa. It was mainly a life indoors, an intimate life. Matloga's collage-portraits are newly built faces with fragments of portraits that are of his family and of well-known South Africans. The distortion of reality in the depiction of memories, induces a sense of fluidity. Memories are, even when captured on canvas, not easily to hold on to.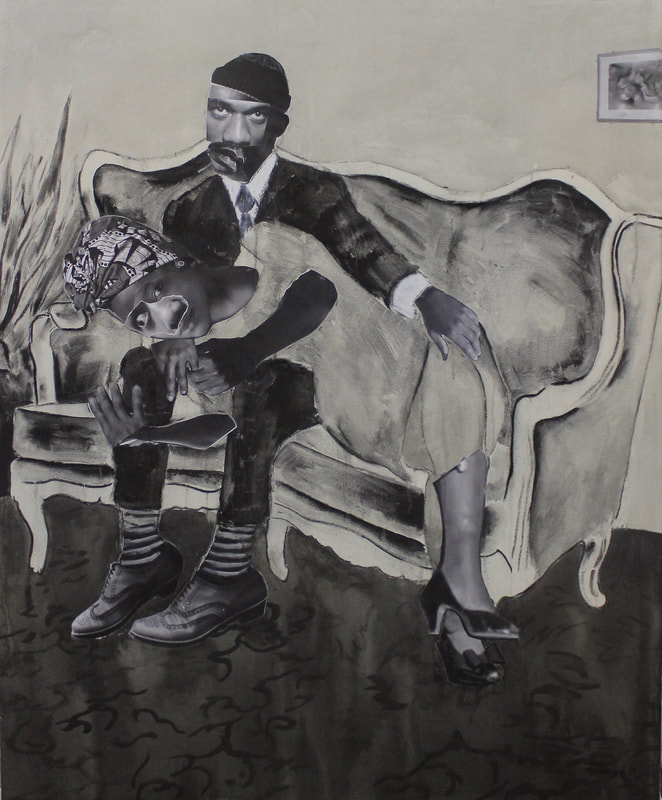 Thabiso le Tshepiso,  2019
In a video playing in the exhibition in the Fries Museum Matloga states that his goal is to paint scenes of everyday life of black people, therewith composing an 'archive of Black Love': 'People do not stop leading their life, despite political landscapes'. All scenes are sprouting from Matloga's imagination: people meeting merrily, hugging, sitting on a couch, eating and drinking. It is, if you recognise the visual codes, filled with references to present-day daily life in South Africa. Fortunately the exhibition text points out some of these codes to those not in the know. For instance the milk carton with the logo of Joburg Beer is a reference to the ban on drinking beer brewed by white people, aimed at people of color in South Africa during apartheid. By cunningly pouring beer into a empty milk carton, people sidestepped this ban effectively and with a touch of humor as well, as milk is as white as white can be.
Matloga's black-greyish palet leaves space for melancholy. It's could be interpreted as a reflection of the longing of the artist for times gone by. And perhaps it is an act of emancipation too: to show that the lives of black people matter, in art as well as in society. While I am writing this down, I think of what Lynette Yiadom-Bokye, nominated for the Turner Prize in 2013, more or less replied when asked by a journalist why she painted portraits of black people. It was not so much a choice as it was plainly her world, her reality that she painted. Her answer makes it all too clear that this question revealed above all the assumption that portraits of people of color are the exeption to the rule, at least in the western art world.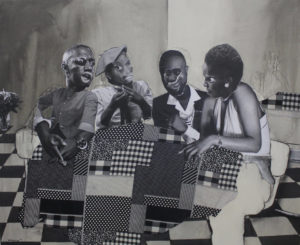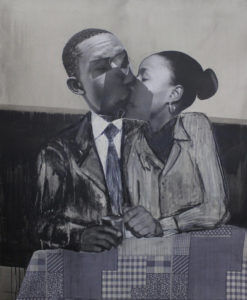 Nka nako go motseba, 2019/Ntsware ka tsoekere, 2019
But the rule has been changing, a change visible in the most recent Venice Biennale for instance. Matloga's work is political, personal and universal at the same time. Growing up in a deeply troubled, racist society does leave its traces. These are counterbalanced by family life, love, friendship and the joy of living. This energy is translated to the canvas, in an elaborate play with painterly techniques and collage. The use of snippets of photographs, blown up, pixelated, firmly places Matloga in the here and now, and still giving way to the self evident nostalgia of black & white photographic images.
Neo Matloga, Neo to Love. Ends on 18th of august, Fries Museum, Leeuwarden, The Netherlands. www.friesmuseum.nl
Machteld Leij is an art historian, an independent art critc. She lives and works in Leiden, The Netherlands