Platform: Barthélémy Toguo: The Beauty of Our Voice
August 5, 2018 to October 14, 2018, Parrish Art Museum, Water Mill,

Road to Exile, 2009
(first published: August 2, 2018)
About:
Join us for a members opening reception on August 4, from 5:30-7:30 pm, with a special program with Barthélémy Toguo and Corinne Erni, Senior Curator of ArtsReach and Special Projects, followed by a Bandjoun Coffee performance by the artist in the galleries and a reception in the Norman and Liliane Peck/The Peter Jay Sharp Foundation lobby.
Barthélémy Toguo's multi-disciplinary work addresses migration, colonialism, race, and the relationship between the global north and south. For his first solo exhibition in an American museum, The Beauty of Our Voice, Toguo is expanding his gaze to the U.S. with new watercolor paintings, installations, photography, performance, and a community art project. He created some of the works during a residency in June at The Watermill Center in a unique new collaboration between the Parrish and Watermill who invited him as their 2018 Inga Maren Otto Fellow.
Road to Exile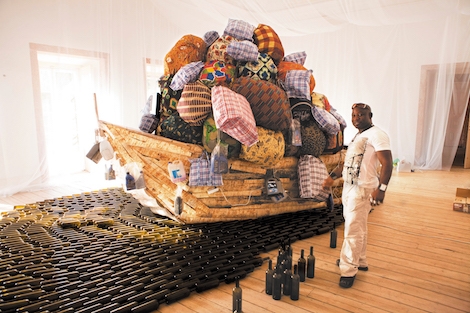 The centerpiece of The Beauty of Our Voice is Road to Exile—a monumental installation that addresses the migrant and refugee crisis, specifically, the desire of young Africans to escape in hopes of a better life. Road to Exile is a life-size boat that Toguo built at Watermill, heavily laden with bags made from African fabrics and placed on the precarious surface of glass bottles, evoking the danger of a journey that not all survive. Installed in one of the largest galleries at the Parrish, Road to Exile will be surrounded by drawings, etchings, and paintings from the Parrish collection that depict boats in various settings and eras. The juxtaposition of Toguo's Road to Exile with these works, which largely celebrate sea travel, exploration, and commerce, reveals the stark contrasts and ambiguous history of seafaring. Toguo initiated Road to Exile for the National Museum of Immigration in Paris in 2008 and has since created multiple versions for institutions worldwide.
Mobile Cafeteria
Toguo is transforming an entire gallery at the Museum for Mobile Cafeteria, a participatory installation inspired by African street cafés. At once playful and educational, Mobile Cafeteria is a space for visitors to reflect on the economic, social, and cultural relationships between the global north and south, as well as its imbalances and possible transformations. Visitors are invited to play African board games and watch recorded African soccer games while learning about Bandjoun Station, a center for culture and agriculture founded by the artist in his native Cameroon that reflects the artist's commitment to self-determination by Africans to set their own prices for agricultural products and artworks.
Mobile Cafeteria also serves as a gallery for Toguo's artwork that explores the socio-political issues in Africa and America as well as their historical correlation. Three nearly life-size staged photographs from his 2005/2008 series Stupid African President, featuring the artist posing as African politicians, will be on view: Speech, Afrika Oil?, and Forest Destruction.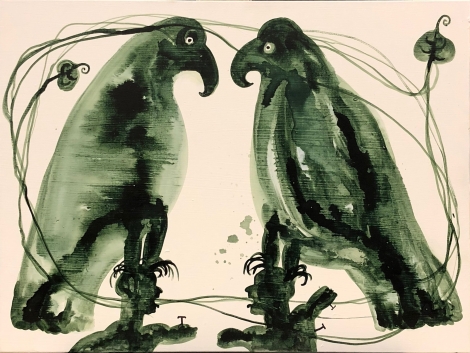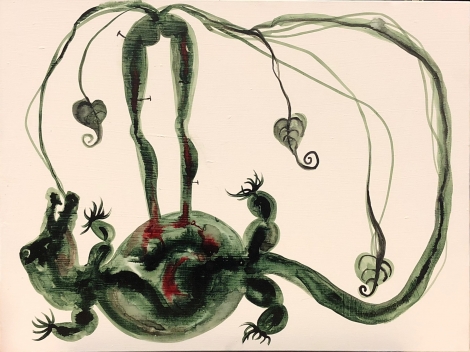 Both Untitled, 2018
Toguo's new series of pencil drawings on canvas, Black Lives Matter, depicts African Americans killed recently in the United States by members of police forces. Two wooden guns suspended by metal chains are aimed at portraits of Rekia Boyd, Michael Brown, Philando Castile, Terence Crutcher, Tyre King, Trayvon Martin, Keith Scott, Walter Scott, Alton Sterling, and Christian Taylor.
The exhibition also features large-scale and several smaller paintings that Toguo created at Watermill. Painted predominantly in olive green watercolor ink, the paintings depict human-like forms morphing into animal shapes or abstract creatures, erasing the separation between humans and nature.
Head Above Water—Hamptons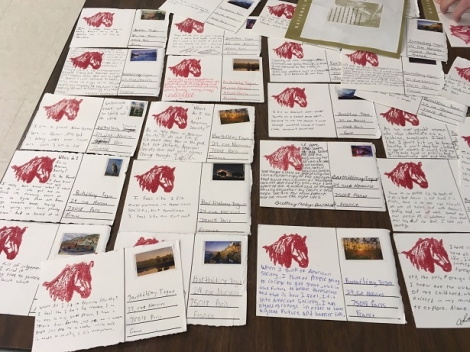 Toguo engaged nearly 100 Hamptons residents for his ongoing, worldwide community art project Head Above Water, created to provide an international platform for everyday people by bringing their voices into museum spaces. Since 2004, the artist has asked people living in challenging socio-political situations to write something about their lives, dreams, and hopes on a postcard addressed to him. For Head Above Water—Hamptons, Parrish and Watermill educators met with young adults from area schools and the Shinnecock Indian Nation who were asked to answer the question, "Where do I fit in, in American society?" Toguo provided postcards printed with his original artwork of a horse head, an iconic image that evokes Native Americans and freedom, as well as wealth and imperialism. The 96 framed postcards will be on view in the Museum's spine gallery, alongside Head Above Water—Lagos (2005) and Head Above Water—Mexico (2008).
About Barthélémy Toguo
Barthélémy Toguo addressed issues of global social and cultural turmoil with the site-specific installation Urban Requiem presented at the 2015 Venice Biennial. The artist often inserts himself into his work, as in Stupid African President (2005-2008) and the performance piece, Torture in Guantanamo (2006), presented in The Unhomely, 2nd International Biennial of Contemporary Art of Seville, Spain. In 2007 Toguo founded Bandjoun Station, an international center for artistic exchange, school, library, and organic farm.
Toguo's work is in the collections of the Museum of Modern Art and Studio Museum in Harlem, New York; Centre Georges Pompidou, Paris; Musée d'art contemporain, Lyon; Fondation Louis Vuitton; and Kunstsammlungen der Stadt, Düsseldorf, among others. Solo exhibitions of his work have been presented at institutions including Uppsala Art Museum, Sweden; Musée d'art moderne et contemporain de Saint-Etiennne, France; La Verrière by Hermès, Brussels; Fundaçao Gulbenkian, Lisbon; and Palais de Tokyo, Paris.
Notable group shows include Echigo-Tsumari Art Triennale (2018); Art/Afrique, le nouvel atelier at Fondation Louis Vuitton (2017); All The World's Futures at the Venice Biennale (2015); Body Language at the Studio Museum in Harlem, New York (2013); La Triennale: Intense Proximity, Palais de Tokyo, Paris (2012); the 11th Havana Biennial (2012); A terrible beauty is born, 11th Biennale de Lyon, France; the 18th Sydney Biennale (2011); and Laughing in a Foreign Language, Hayward Gallery, London (2008). His large-scale painting Rwanda was included in the 2018 Art Basel UNLIMITED Sector.
Toguo was made a Knight of the Order of Arts and Literature in France in 2011 and was shortlisted for the Prix Marcel Duchamp in 2016. He trained at the École Nationale Supérieure des Beaux-Arts in Abidjan, Ivory Coast; the École Supérieure d'Art in Grenoble, France; and the Kunstakademie, Düsseldorf, Germany.
The artist currently lives between Paris and Bandjoun, Cameroon.
Platform: Barthélémy Toguo: The Beauty of Our Voice is made possible, in part, by the generous support of The Dorothy Lichtenstein ArtsReach Fund, established by Agnes Gund; Galerie Lelong & Co.; Burger Collection, Hong Kong; Andrea Kerzner; the Cultural Services of the FrenchEmbassy in the United States; and CRUSHCURATORIAL.(text Parish Art Museum)