Rob Perrée was in New York and visited some interesting exhibitions. Here a report of his findings.
The Whitney Biennial, Faith Ringgold and Frédéric Bruly Bouabré.
Rebecca Belmore, Prototype for Ishkode (fire), 2021
NEW YORK CALLING!
Cultural New York is trying to get back on track now that the disastrous pandemic seems to have come to a halt. Seems. Only time will tell.
Broadway still has to cancel a lot of musicals because players are infected with COVID or because half-filled rooms do not raise enough money to continue. The artworld is also not yet back to normal. There are fewer visitors and extended exhibitions, as a way to reduce costs. Added to this is the relatively new pressure to be inclusive. Some museums have more trouble with this than others. As a result, this puts pressure on many existing proposals for exhibitions.
Below is a small, subjective selection from the current offer of art shows in New York City.
1.
Mass publicity for the Venice Biennale threatens to overshadow the Whitney Biennial in New York. That is not quite fair.
The Whitney Biennial was first held way back in 1932 and it managed to be high profile and influential many times after that. In 1993, for example, it took the risk of not only selecting many black artists, but also presenting the infamous video of the black motorist Rodney King being beaten up by cops as a work of art (exactly 30 years ago). The negative reactions were numerous and fierce, but the exhibition ultimately marked a turning point in the acceptance of African American art.
This year's postponed biennale has chosen 'borders' as its theme. It wants to question the concept of America. Does America stop at the border to Mexico while many Mexicans participate in the American economy and add their culture to it? Is a Vietnamese person with the right papers more American than a Native Canadian who is similar to a Native American in ancestry and traditions? To make their theme more concrete, the curators have added a number of Mexican and Canadian artists to their selection.
They couldn't have known at the time they decided on the theme that 'borders' would take on another dimension due to a dictator's war mongering and the boundless reaction to that ruthless behavior.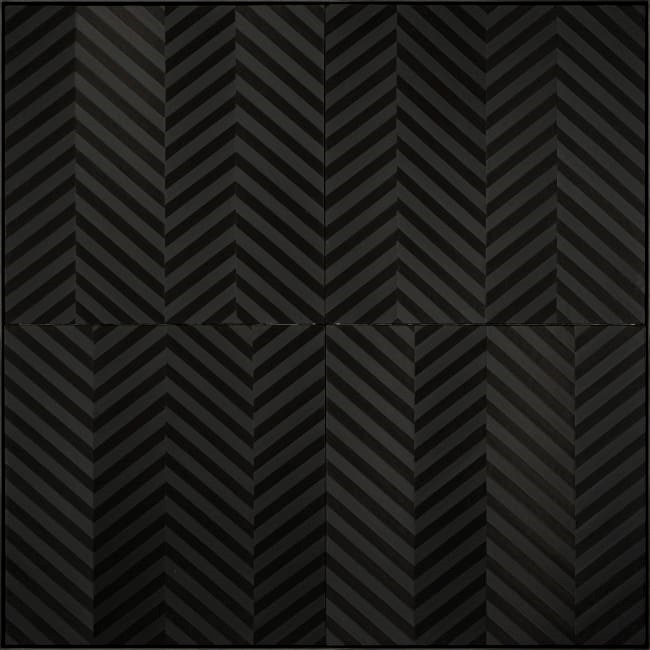 Raw Power, 2020
What is striking about this episode is the high number of abstract works of art, a confirmation of a trend that has been demanding attention for some time. Striking in this 'category' is the geometric work of James Little, in which he seeks in an original way connection with the Modernism of artists such as Mondrian.
There is also a lot of video work. Touching and shocking is Coco Fusco's video about Hart Island, an island off the coast of Manhattan where anonymous Americans are buried, because they have no next of kin, because they died in absolute solitude or because they were not collected from the morgue by relatives, as happened recently with COVID victims. Fusco pays tribute in a beautifully filmed work.
Adam Pendleton shows an intimate interview with black activist Ruby Sales. She was shot by a white student in 1965. She refuses to give in to feelings of revenge, on the contrary, she calls on all blacks to use their capacities and possibilities. The word victim is not in her dictionary.
It is striking that the contributions of the Mexican and Canadian artists are more political than the others. Andrew Roberts poignantly questions the senseless and deadly violence that takes place every day on the border with Mexico. On eight screens he shows the faces of victims affected by death. The Canadian Rebecca Belmore surrounds a wrapped human figure with a wreath of bullets who, through the lighting, takes on the character of a precious, large piece of jewelry and is thereby disarmed. Beauty as a means to fight violence.
Finally, another striking factor, one that can be seen as the outcome of the 1993 biennale. African American artists are now well represented and there seems to be no one to object to that anymore.
2.
They speak no evil, 1962
The New Museum in New York has a solo show by Faith Ringgold, a black artist of over ninety who for years had to operate on the margins because there was no interest in a black woman who supported the Civil Rights Movement in her work. She would later (from 1983 onward)chose for a medium that was often thought of as typically Feminine (in the eyes of men): the quilt. Ringgold is now taking advantage of the veritable wave of African American exhibits sweeping across the country. That in itself is nice, but the exhibition in the New Museum shows that she had earned that interest fifty years earlier.
Her portraits – The American People Series – from the sixties immediately reveal a personal style: figurative reduced to the essentials with many dark colors and a lot of black. In the early seventies she supported the Civil Rights Movement with 'power to the people' and 'Angela Davis' posters. Her engagement with civil rights but especially with the position of women was thus established.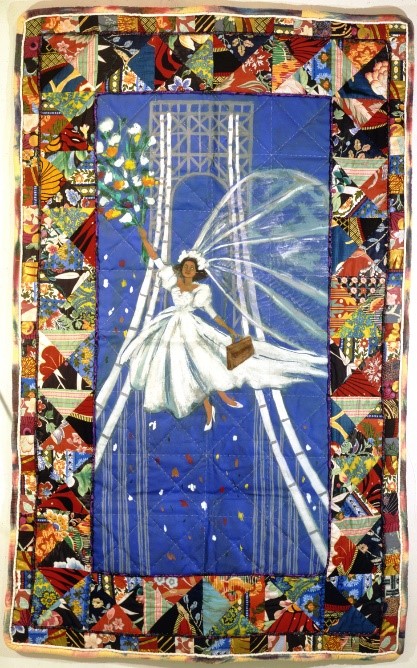 Woman Flying with Bouquet, 1988
In the eighties she started making quilts. Large works with a fabric frame and stories at the heart. Painted or with sewn-on image elements or with a combination of both. Sometimes they literally tell a story. Then Ringgold added painted texts. Many of these works have been incorporated into children's books.
In later quilts she tells Jazz Stories or refers to well-known works from art history. Women are usually central in the quilts. They are sometimes literally a tribute to powerful women, for example to Mahalia Jackson.
It is an exhibition that takes viewing time, but that time is filled in in a surprising, moving and special way
3.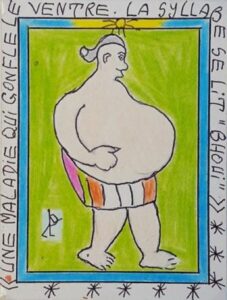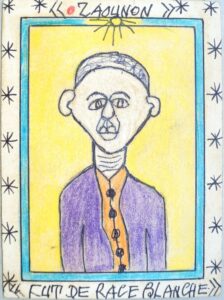 An exhibition that does not receive much attention, but which is important for twentieth-century African art, is World Unbound by the Ivorian artist Frédéric Bruly Bouabré (1923-2014). MoMA is presenting this exhibition because a few years ago the museum was given 45 of his works from Jean Pigozzi's Africa collection. These works are part of two series that Boubré was mainly concerned with in his professional life: a visual alphabet in more than 400 works intended for his people, the Bété, and a series of thirty works in which he describes the history and knowledge of his people. He does all this in the form of small, figurative, reduced to the elementary, boxed drawings in faint colors or in black and white, of simple objects and shapes, of ordinary daily actions and appearances. In the frame he draws the texts that belong to the drawings. They are a kind of drawn picture postcards. "……all the artist's efforts were aimed at recording, analyzing, and transmitting his knowledge of the world" says the catalog introduction to his work. The artist claims that all of his work stems from a "celestial vision" that came to him on his way to work in 1948. A sacred mission, as it were, for the benefit of his people. He has created a personal worldview.
It is not easy to view more than 400 small drawings in a museum room where people are always in your image. The book accompanying the exhibition is an affordable solution to that problem.
4.
When a work by Jean-Michel Basquiat is fetching 34 million at a public auction, two of his sisters open an exhibition about the child and the man behind the genius. In addition to some real works, they show especially videos, ephemera and artifacts. On an ordinary day, an ordinary viewer has to pay $65 to view all that beauty.
Anyone who still says that art is not about money, I hereby challenge to make that statement reality.
Rob Perrée is an art historian, independent writer and curator, founder and editor of Africanah.org. He lives and works in Amsterdam and Brooklyn.
The Whitney Biennial: until September 5, 2022
Faith Ringgold. American People: until June 5, 2022
Frédéric Bruly Bouabré. World Unbound: until August 13, 2022