Nicolas Moufarrege: 1947–1985
Queens Museum, New York, until Februari 23, 2020
Banana Pudding, 1982

NICOLAS A. MOUFARREGE, who died in 1985 at the age of 36, was a critic, a curator and an artist. During his lifetime, he was best known for the first two roles, by which he became an important catalyst in the early 80's East Village art scene. An Egyptian-born Lebanese raised in Beirut, he stopped off for a while in Paris before landing in New York in the late 1970's. He molded a complex mixture of his ethnic and cultural roots into a distinct sensibility, and his idiosyncratic embroidered paintings confirmed that he deserves to be remembered most of all for his art.
– Roberta Smith, "Nicolas Moufarrge Links Past and Present", New York Times, June 26, 1987.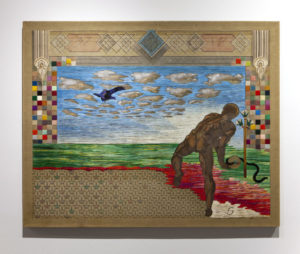 The Fifth Day, 1980
The Queens Museum is pleased to present Nicolas Moufarrege: Recognize My Sign, organized by Contemporary Arts Museum Houston (CAMH). Nicolas Moufarrege (1947-1985) was an artist and writer born to Lebanese parents in Alexandria, Egypt and raised in Beirut. During a career that lasted just over a decade, he created an original and idiosyncratic body of embroidered paintings made in Beirut; Paris, France; and New York City. Recognize My Sign—the artist's first solo museum exhibition—traces the development of his work from the lap-scaled portrait-tapestries he began making in the early 1970s to the final works he created while living in New York between 1980 and 1985. This exhibition offers an opportunity to rediscover the materially and conceptually compelling work of a singular creative force whose output is remarkably relevant and resonant today. Nicolas Moufarrege: Recognize My Sign is organized by CAMH Curator Dean Daderko and coordinated by Queens Museum curator Larissa Harris.
Moufarrege borrowed images from a broad and vast sourcebook; his embroidered paintings mix references from Classical sculptures and Baroque paintings with comic book heroes, Islamic tilework designs, Pop Art, and Arabic calligraphy. By playfully mixing Eastern and Western references, fiction and reality, and personal and historical registers, Moufarrege's work uses art and art history as vehicles to engage a more personal narrative.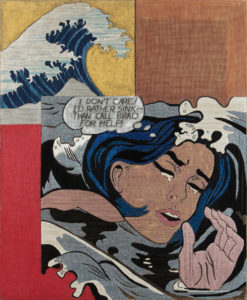 Untitled, 1984
Including nearly 40 tapestries and embroidered paintings, as well as drawings, photographs, and primary documents, Nicolas Moufarrege: Recognize My Sign traces the effects the artist's relocations had on the development of his oeuvre. Moufarrege's artwork draws from his experiences—including references to war, migration, and his identity as a gay man—yet it far exceeds these boundaries, offering myriad ways to approach contemporary painting, figuration, craft, transnational identity, desire, and queer life.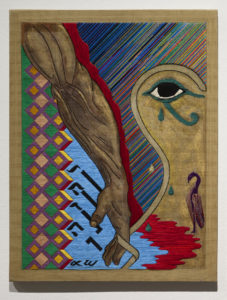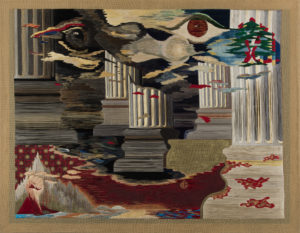 Untitled, 1983/The Blood of the Phoenix, 1975
Nicolas Moufarrege: Recognize My Sign is accompanied by a 64-page, full-color, fully-illustrated catalogue designed by NUU Group and published by the Contemporary Arts Museum Houston. It includes essays by Curator Dean Daderko and writer and critic Kaelen Wilson-Goldie, and a translation of a 1973 interview between Moufarrege and the artist and writer Etel Adnan.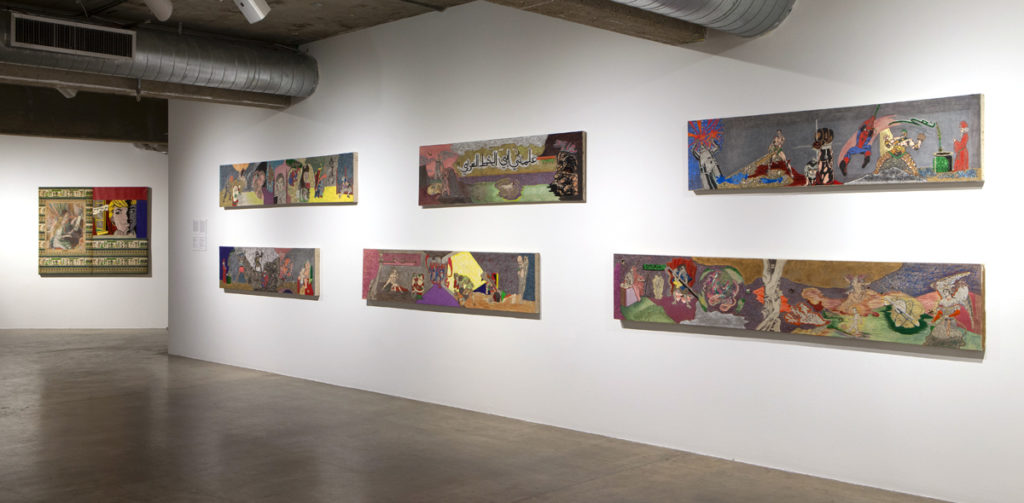 Installation View, 2020
Available at Queens Museum and digitally as a PDF is Recognizing the Present: A Doula's Guide to HIV in the 21st Century by created by What Would an HIV Doula Do? with support from Visual AIDS and Queens Museum.