Chief Nike Davies-Okundaye born in 1951 in Nigeria.
The Prince and his Bride, 2014.
About:
Chief Nike Davies-Okundaye born in 1951 in Nigeria, is one of the internationally known and renowned female designers and artists. She was brought up amidst the traditional weaving and dying practice in her native village of Ogidi in Western Nigeria. Her artistic skills were nurtured by her parents and great grandmother, who were musicians and craftspeople specialising in the area of cloth weaving, adire making, indigo dying and leather.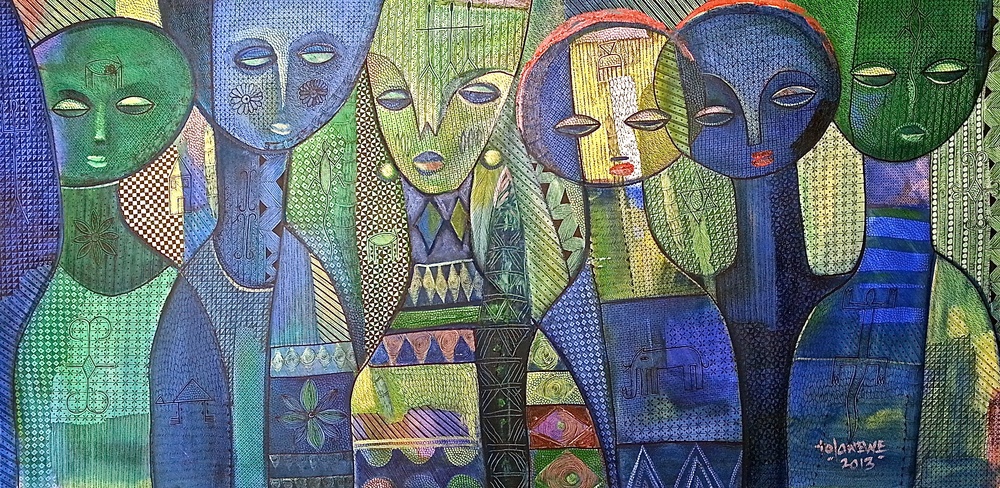 Beauty is everywhere, 2013.
Nike spent the early part of her life in Oshogbo which is recognised as one of the major centres for art and culture in Nigeria. During her stay in Oshogbo, her informal training was dominated by indigo and adire. She is today a proud product of the famous Oshogbo Art School.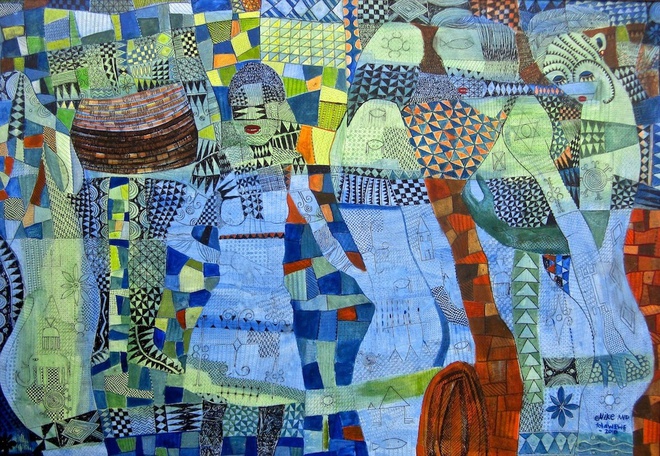 Pillars of Love, 2010.
The dynamism of Nike's compositions, coupled with the complexity and firm structure, emerge in her textile designs particularly for the adire and batiks. Nike brings to her adire a vivid imagination as well as a wealth of history and tradition regulating the production of adire. Adire is the traditional Yoruba hand painted cloth. Traditional adire designs are a myriad, full of meaning and history, which are combined into larger overall patterns with names that are universally recognised in the Yoruba culture. She seeks to re-establish the value of adire as art, and to increase the appreciation of this meticulously designed, hand produced textile. For many years, this veteran adire artist has created both adire and batik works that glorify the social practices and the cosmic drama of Yoruba tradition. The prevailing indigo colour of her textiles accentuates the aura, mystery and beauty of her designs.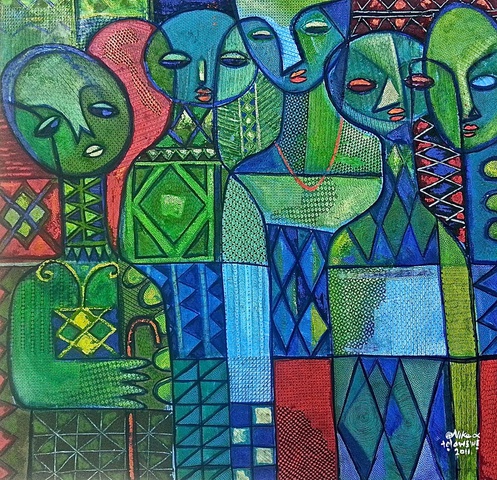 Royal Chief, 2011.
Nike has used her international success to launch a cultural revival in Nigeria. She is the founder and director of four art centres which offer free training to over 150 young artists in visual, musical and performing arts – one of which is the largest art gallery in West Africa, compromising over 7,000 artworks. The centre also serves as a rich source of knowledge for traditional arts and culture to scholars and institutions.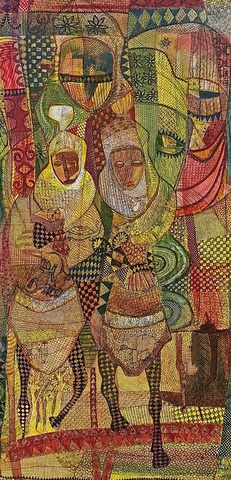 Trip to the Hills, 2010.
From her first solo exhibition at the Goethe Institute, Lagos in 1968, Nike has grown to become one of the major names on the international art circuit. In 2013 Chief Nike's painting with the famous adire symbols in the background was accepted by the world's largest museum, The Smithsonian. She 'represents the new breed of African female artist, many of whose realities are now international, though in essence they are perpetuating the living tradition of female artists and 'cloth-queens', controlling heady empires of fabric- wealthy powerful women'. Nike is known all over the world for promoting her designs through exhibitions and workshops in Nigeria, USA, Belgium, Germany, Austria and Italy, to mention a few. (COPYRIGHT © 2015 GALLERY OF AFRICAN ART, London)