"My main sources of inspiration have come firstly from paintings. I admire painters like Rembrandt. Caravaggio and Jean-Michel Basquiat are my favourites. I am attracted to Caravaggio's use of light and mood in some of his paintings. His paintings are very dramatic and therefore I like to take influence from his work."
Christabel Samuel interviews Othello De'Souza-Hartley.
The Masculinity Project.
Interview with Othello De'Souza-Hartley
There are a lot of stereotypes about being black
Othello De'Souza-Hartley is a London-based visual artist and photographer. His work is centred on identity. He has successfully completed several personal projects. I AM captured the pressures black women face from European standards of beauty particularly around their hair, styling and perception of natural black hair. Stylees was a ten year project beginning in 2003. He photographed people's unique fashion style, against a signature red backdrop. It was featured in The Photographer's Gallery as part of their Soho Project in 2008.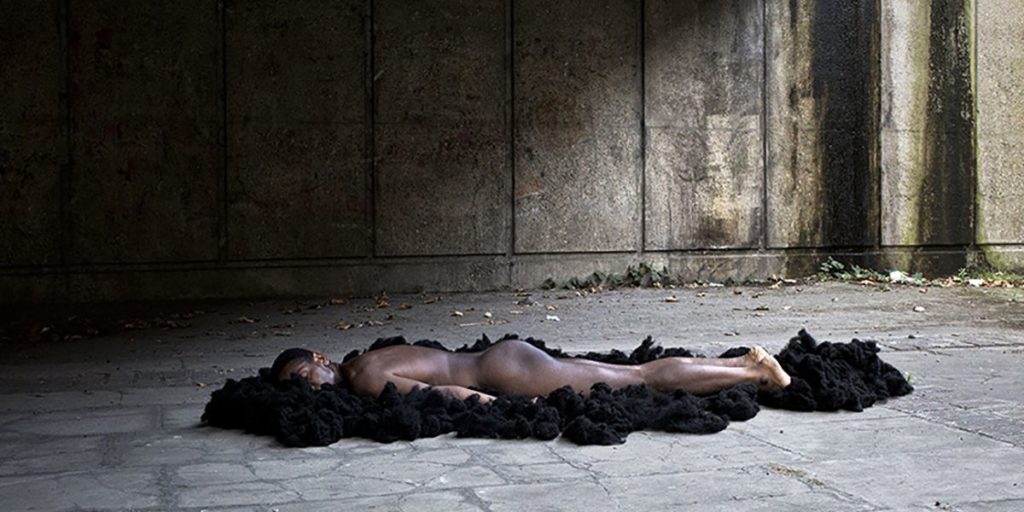 I AM Project.
Currently Othello is working on the Masculinity Project, where he is stripping back masculinity symbolically and literally. The project questions the notion of modern day masculinity. "I am questioning what my and other men's perception of masculinity is today. What does it consist of and what are the foundations that it is based upon? Is masculinity a performance?"
I caught up with Othello to talk about masculinity, coal mines and Caravaggio…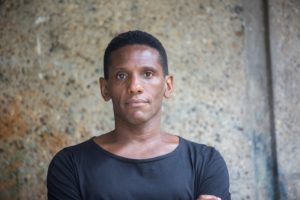 Christabel: Tell me about your background and career that led you to where you are now.
Othello: I grew up in Finsbury Park to a Trinidadian mum and Jamaican dad. I studied photography at Central St Martins, and then went on to do an MA in Fine Art at Camberwell College of Art. I have always been in interested in the arts before it was more performance based. Whilst I was at St Martins, I worked part-time at The Photographers Gallery, mainly in the bookshop and then worked part-time at various galleries. I didn't have any contacts within the art world; therefore working there helped me to get to know people in that industry. I was surrounded by books, which gave me lots of inspiration. I also got to know other artists who were working part time whilst they also developed their careers and eventually we developed long-term friendships and still support each other.
My first commission was in 2005 from the Camden Arts Centre. Kerry James Marshall, an African American painter had the main exhibition and I had a smaller exhibition, which was part of a residency. I wanted to celebrate local black heroes, the invisible people like the first black mayor of Camden, (a district of London). When I used to visit the National Portrait Gallery I had seen aristocratic white people in these period frames and I wanted to emulate those portraits. So I put these black people in the same frames. I got a lot of press from this exhibition and it was after this that my career started to take off.
I have received commissions from the National Portrait Gallery, National Trust, and Platform for Arts but I also wanted to develop my own projects. In 2016 I was taken on by Sulger-Buel-Lovell gallery and I had my first group show with them.

C: Why and how has art played a big role in your life?
O: It's my drug; even if I stopped being an artist, I would still love art.  For me it is way of life, it's something I am very passionate about. My apartment is full of art; not just my own work but I collect art of other emerging artists. It's also how I express issues around me.
C: What are your major influences?

O: My main sources of inspiration have come firstly from paintings. I admire painters like Rembrandt. Caravaggio and Jean-Michel Basquiat are my favourites. I am attracted to Caravaggio's use of light and mood in some of his paintings. His paintings are very dramatic and therefore I like to take influence from his work.
I like especially ballet and contemporary dance. Gregory Crewdson is another influence. He is a photographer but he works as if he is shooting a film however captures everything in one still. I really love the lighting in his work and how everything is planned which is similar to how I work.  

I have a big interest in politics and carry out lots of research and because of this interest my work needs to have social political context. My art is a great platform for that. I want art to reach a wider audience. I love it when art reaches people outside of the art world.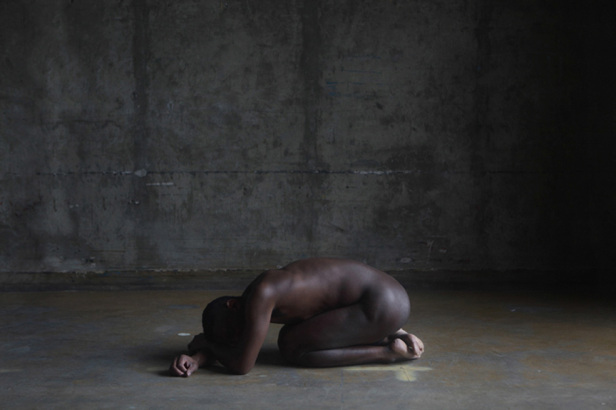 The Masculinity Project.
C: What inspired you to create the Masculinity Project?
O: My inspiration came from questions about my own masculinity. Growing up as a black man in the UK there are a lot of stereotypes about being black. I have been asked if I'm gay because of whom I am as a person. I am quite open and as an adult I never question if something I do is masculine or not. When I was growing up I wanted to do ballet, but was worried how my father would judge me. My aim was to understand what masculinity is today and how other men perceived masculinity within themselves.
As part of the Masculinity Project I visited the north of England. As a black man from the south of England this was unfamiliar because I was in a white working class area. I interviewed these men and they opened up and talked to me about issues affecting them such as job loss, suicide and depression due to closing of many of the industries. Some of the men I interviewed had lost a male friend through suicide. They began to question themselves as to why their friends couldn't open up to them and the difficulty men have in expressing their feelings when they go through a difficult period. One of the men, because of his experience of losing a friend, joined the Samaritans (a charity that deals with emotional distress issues within UK)
Another example was when I met someone who worked in banking. He had all the trappings of success that you would look for in a person. He also opened up to me through the project. He told me about the problems he faced. The project exposes people and gives them a chance. For example a feature of the project is being naked or exposed. As a man taking away the protection, stripping back what you carry with you, is a big thing.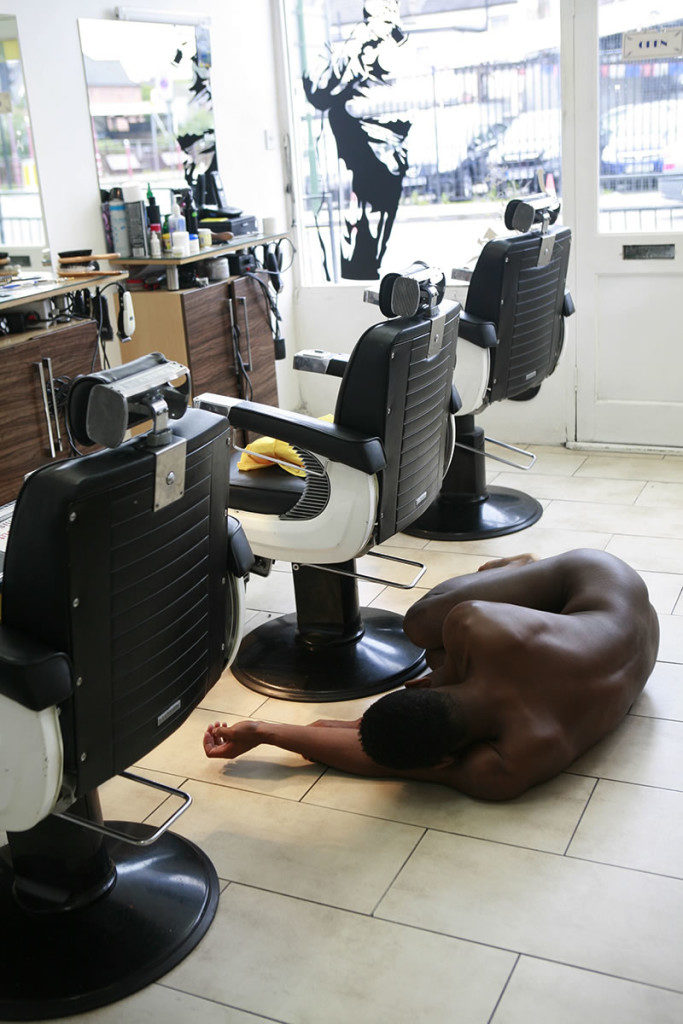 The Masculinity Project.
C: What has been the reception to your work?
O: The reception has been good, I have done some talks, had a few small shows and have been included in some group shows. I haven't had a solo exhibition to show the entire body of my work.
C: Can you tell me how other factors like race, gender, and age for instance has shaped your project?
O: This project is inclusive of all men as the general issues about masculinity are not exclusive to one group. Although race and working-class men do have separate issues.
The closing of industries has had a negative effect on working-class men particularly in the north of England. One of the issues that come up a lot whilst doing this project is mental health and depression amongst men.
With race there is an interest in a black man's physicality but not a lot of focus on their mind or their emotions. Black men still face difficulties in employment even if qualified. There are a lot of stereotypes about how a black man should look like and behave, there's an association with black men and a lack of father figures.
From my research with men in general they still feel pressure to provide. They're benchmarking themselves on this gold standard that society puts on them.
Age also plays a role in mental health. I held a focus group for men from the ages of 19 onwards. One of the group members, a 19 year old, expressed he was having anxiety attacks because he felt he would not be able to emulate their father's successes. Someone that age was already feeling like a failure. They were feeling the pressures and are worrying how they could provide for their family in the future.
One of the questions that keep coming up is why haven't I included women in this project. It is because there has been a lot written about feminism and I feel this is a time to have a focus on male issues. There is a higher rate of suicide in men because they don't know how to deal with their feelings. To have better relationships with women and other people they first have to deal with their own issues.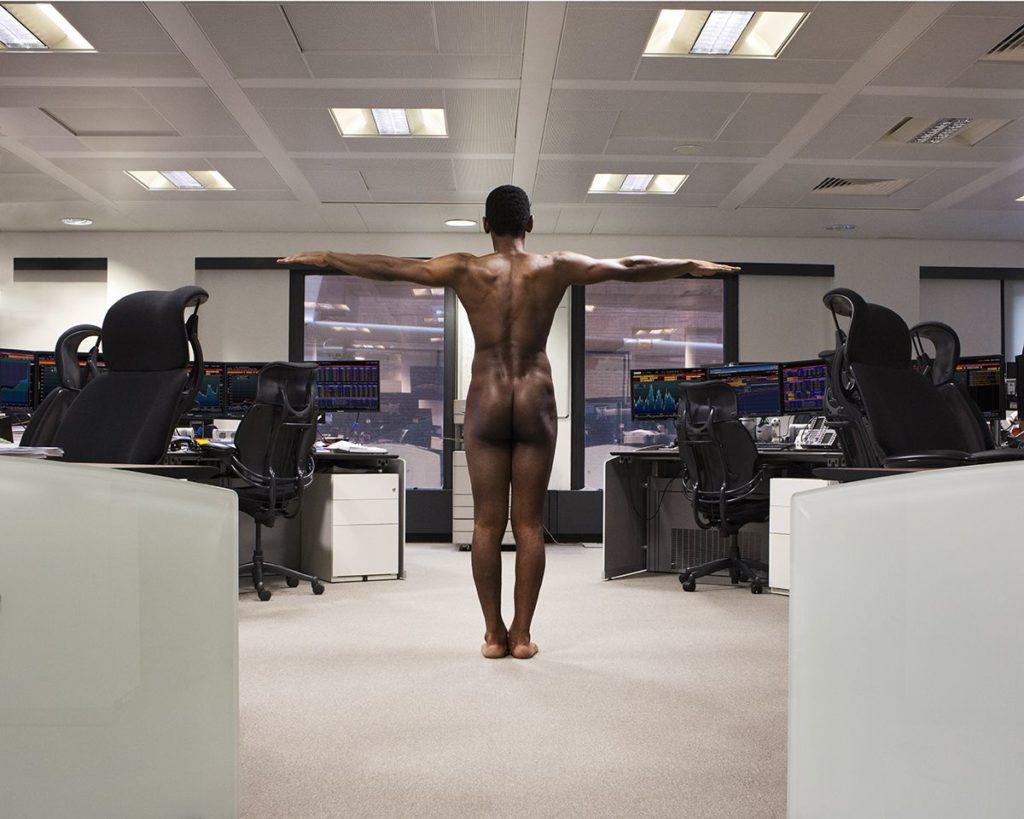 The Masculinity Project.
C: What is the proudest moment or achievement you've experienced so far on the Masculinity Project?

O: Like those examples, my proudest moment I would say are moments when men come forward to talk to me about aspects of their own masculinity after engaging with the project.
So far my projects has always been self-funded and that makes me proud for what I've achieved on my own work. The only funding I've received for this project is someone I knew personally who runs an organisation called OpenVizor.
The Masculinity Project will soon be coming to an end or at least a pause for now so I can work on the next one.
C: What are you working on next?
O: Currently, I am trying to raise funds to work on a project that explores Father and Son relationships. I want to create a discussion and dialogue between the fathers and sons. These relationships are dependent on factors like culture. There are a lot of unspoken words between fathers and sons. That's what I want to focus on. It includes a performance, a film, photos and a sound piece. Without saying too much I want the fathers and sons in the project to become performers. 
This is my biggest project yet and I need a budget to do it properly. So this time I am seeking corporate or private sponsorship to achieve my goal. At the moment I am trying to raise money. I need a large industrial space for the project because it is on a much larger scale than the Masculinity Project or anything else I've worked on before.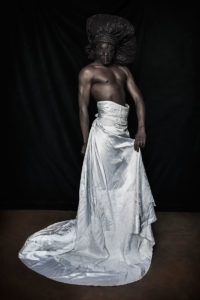 The Line Project.
C: Finally, what words of advice do you have for artists out there who are building their career?
O: Just focus on your work and keep making your work. Believe in yourself. Whilst I was building my work as an artist I did a lot of part-time jobs within an art environment and it was useful to talk and network with other artists. When I was working in a photography bookshop I was surrounded by inspiration. It was great because I was close to what I love!