Branly is a misfire for several reasons. The exhibition rooms are shrouded in darkness as if that is the way to symbolize Africa, turning it into a maze that confuses and irritates visitors. The collection on display mainly comes (or was stolen?) from French colonies, which means that the museum by definition gives a distorted image. And the tone of the accompanying wall texts is sometimes annoyingly educational.
Rob Perrée on Musée du Quai Branly
El Anatsui, (detail), 2020.
PARIS IN SEPTEMBER
FROM BARTHÉLÉMY TOGUO TO ANA SILVA
Many French presidents try to give themselves eternal life at the end of their term by initiating major Parisian projects. For example, we owe the Center Pompidou to George Pompidou, the Musée d'Orsay was created through the involvement of Valerie Giscard-Destaing, Francois Mitterand helped the Louvre build its pyramid and he took the initiative for a new opera house, and Jacques Chirac initiated the ethnographic Musée du Quai Branly.
Since they passed away these gentlemen could not know that those projects were not always successful. The Center Pompidou continues to restore itself as rust and rot threaten the open, steel building. Mitterrand's opera house makes many music lovers long for the original opera house, Branly is a misfire for several reasons. The exhibition rooms are shrouded in darkness as if that is the way to symbolize Africa, turning it into a maze that confuses and irritates visitors. The collection on display mainly comes (or was stolen?) from French colonies, which means that the museum by definition gives a distorted image. And the tone of the accompanying wall texts is sometimes annoyingly educational.
BARTHÉLÉMY TOGUO

Barthélémy Toguo, "Water Matters", 2020, a work especially made for the exhibtion in the Quai Branly-museum. (© Barthélémy Toguo / Courtesy Bandjoun Station en Galerie Lelong & co © ADAGP¨Paris 2021 © musée du quai Branly – Jacques Chirac, foto Léo Delafontaine)
Despite my reservations, I was there recently because the museum regularly programs interesting small exhibitions. This time it was Barthélémy Toguo's turn, an artist from Cameroon. His show was called 'Desire for humanity'. Beautiful blue watercolors of tormented bodies and of a human carrying water, as an indirect reference to the climate crisis; big size photos of Toguo as a 'Stupid African President'; installations that refer to the refugee problem ('Road to Exile' from 2005), and black watercolors of 'ordinary' people, people who are not playing important. Among those works are African objects. These seem to be placed in between mainly as a justification for an exhibition that is not specific to the museum, because they are not functional at all. Toguo's work does not need them. His work is about the problems of the present.
FRANCOIS PINAULT
There is a second disturbing trend which is not limited to France. Wealthy collectors want their own museum. Louis Vuitton got one in Paris in 2014, in 2015 the Prada Museum opened in Milan, in 2016 Caldenborgh opened its Museum Voorlinden in Wassenaar and since this year the billionaire Francois Pinault has his own museum, in the heart of Paris, in a former stock exchange building dating from the 19th century.
It was a mixed-feeling-visit. Pinault has a great collection. Kerry James Marshall, Marlene Dumas, Lynette Yiadom-Boakye, to name a few black artists, but also more than 15 works by the 'master' – David Hammons – one of my favorite African American artists. That he owns them is because he can buy what he wants. He is not a collector with an eye for talent, his purchases are all from established artists. Good, but risk-free.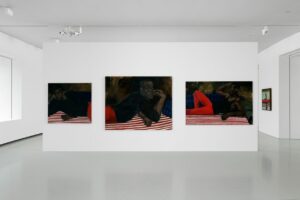 Lynette Yiadom-Boakye, Vigil for a Horseman, 2017, oil on linen, triptych, left panel: 121 x 131 cm, middle panel: 161 x 201 cm, right panel: 131 x 201 cm. © the artist
The round building he has purchased is over the top, dominant, a building in which trade was successfully conducted. Trade in everything, as the frescoes in the dome show. The upstairs restaurant seems to celebrate that past. A large, rather cold room, supplemented by a few small rooms, which can be reserved for business use. A kind of VIP lounges for art. The staff are dressed (no doubt by a famous designer) in modest blue uniforms. The fresh looking twenty-somethings walk like on a catwalk. My glass of Perrier (7 euros) landed without words but with an exaggerated gesture, from an oversized tray on my table. Artificial friendliness.
The plan is to also organize temporary exhibitions. Only then, as with Branly, will I find my way back to Pinault.
ANNI EN JOSEPH ALBERS
The Palais de Tokyo, the Centre Pompidou, the Louvre, d'Orsay, they are popular Parisian museums. The Musée d'Art Moderne de la Ville de Paris is less so. It has a somewhat sluggish image. It got that image when the Centre Pompidou came along. That would be the hip museum for contemporary art in a high-profile, high-experimental building. The solo exhibitions in the Musée d'Art Moderne in particular are often much better and more surprising than those in the acclaimed 'newcomer'. The current exhibition proves that.
An impressive overview of the work of Anni and Joseph Albers, Bauhaus artists and teachers who played a major role in Modernism with their abstract geometric works. They sincerely believed that art can change the world. Joseph would be best known for his love of the square. In these works he showed how the perception of color changes if you change the color of the environment of the color surface. Anni was best known for her fabric designs, influenced by Mexican motifs and colors. Both of them have, in a natural way, broke the boundary between art and design.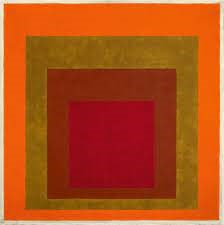 Josef Albers – Study to Homage to the Square – Warm Welcome, 1953/1955, oil on Masonite, 56 x 56 cm, photo: Lempertz
EL ANATSUI
I admire the Ghanaian artist El Anatsui. He may be famous now, but it took him years to get there. It wasn't until he was represented by an American gallery, almost 20 years ago, that his rise to prominence started. He makes carpet-like wall sculptures of typically discarded resources such as liquor bottle caps and cassava graters. He makes the ordinary special.
By combining colors, applying more layers and by the way of presentation – hanging down, continuously on the floor, draped, whether or not illuminated – he succeeds in building a varied oeuvre. It is also special that he not only uses material that is close to ordinary, daily reality, his works are made by his fellow villagers who can thus earn an income. Moreover, if they come up with good ideas, he incorporates them into his work.
Before the COVID crisis, El Anatsui was commissioned to make a presentation in the chapel of the Conciergerie, a building on the Ile de la Cité that goes back to the 14th century with varying destinations.
It's here now.
In that chapel are niches that once had a purpose unknown to me. Those niches are also the darkest spaces in a chapel that is poorly lit as a whole. The artist decided to hang his 'carpets' in it. He did not realize sufficiently that because of the lack of lighting, he was making the works disappear. His work becomes lost in space. He lost it from space. In the accompanying booklet it becomes painfully clear how brilliant and sparkling the works could have been. A mistake that the responsible curator should have prevented. A missed opportunity.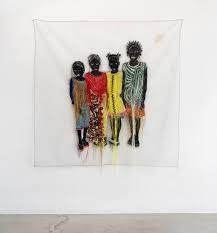 Ana Silvan, Family Portrait 9, 2021, courtesy the arist and Magnin-A
ANA SILVA
Magnin-A is a gallery that stems from André Magnin's collection of African art.
This month there was remarkable work on display by Ana Silva, born in Angola, living and working in Lisbon. Silva is a committed artist who cares about the fate of her country, especially the fate of women and children. She embroiders, pulls threads and weaves in an apparently sloppy way. The wires hang down. The folds in the fabric she works on have not been smoothed out. That makes her work vulnerable and credible. It is precisely this vulnerability of her 'models' that she wants to make visible and tangible. She makes her themes universal from a personal history.
Working with this material arises from the circumstances she lived in. Because of the colonial and civil war in Angola there was a lack of everything, including the materials that the artist uses. "I expressed my creativity by exploring what was around me."
With wonderful results, as this exhibition shows.
AKAA
From 12 to 14 November, the next African art fair AKAA will take place in Le Carreau du Temple in the Rue Perrée. A reason to travel to Paris again.
Rob Perrée is art historian, art critic, curator and founder of Africanah.org. He lives and works in Amsterdam and Brooklyn.