Africana Patrick Yonkeu Joel aka Omraam Tatcheda, Verso di Vetro (2018)
About:
My name is Patrick Joel Tatcheda Yonkeu, in art Omraam Tacheda. I was born in 1985 in Douala in Cameroon, and at school I studied science, at the St Jean Baptiste college de Bangangtè. After finishing school I went to university and won a scholarship to study fine arts in Italy. In 2016 I completed my studies at the Accademia di Belle Arti in Bologna with a research project on Zen in art. I live and work in Bologna, where I have my studio.
In my artistic research I often address topics linked to spirituality, constantly seeking the mechanisms that regulate contemporary society. I'm interested in finding a new form of spirituality better suited to our times, and through my work I attempt to convey the possibility that, somewhere in the world, there is a justice that can satisfy everyone in the best possible way. I address subjects concerned with the relations between human beings, and between man and the surrounding environment. I seek the place of man in the universe alongside the other creatures endowed with life . . .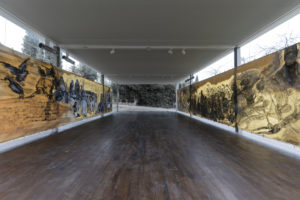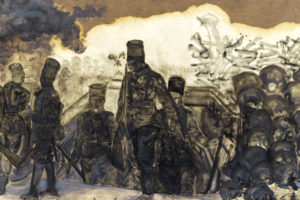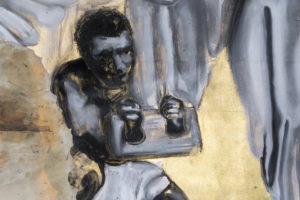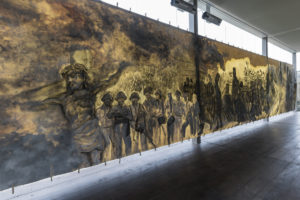 About Verso di Vetro
L'Esclavage et la Shoah sont poétiques, c'est pourquoi on célèbre les drames. Fredonner les vexations n'est point une fantaisie ou pourrait l'être, car elles portent en elles-mêmes des tons mélodieux. L'épique par contre ne pourra se passer de ses replis, comme un bouquet de roses, il réunit dans une composition les épines et les pétales comme les feuilles sur les branches. L'esthétique de la « poésie » épique et la « poésie » dramatique ne sont pas séparables, du moins, elles ne peuvent plus l'être dans une époque où les fils semblent indéfiniment scellés ou indéfectibles telle une ionisation varésienne (Varèse, Ionisation), ils sont paramétriques et linéaires, ils traversent plusieurs plans. Un conte ou une histoire nous est orchestré selon des séquences aux relations très complexes (répétitions, superpositions, imbrications, etc.), l'anecdote est parfois menée à son apogée par plusieurs procédés, parfois elle est plus dramatique que structurale, parfois vetro ou la mélodie transparente, vient avant et parfois c'est le verbe d'abord ou la parole versi qui retourne sans cesse à la ligne pour de nouvelles trames. Dans cette installation picturale, Omraam Tatcheda s'efforce de suspendre les liens de parenté qui unissent les pétales et les épines : les points de conjonction et de disjonction d'une historiette et une intrigue amoureuse — Il est un louangeur des derniers souvenirs soumis à des forces attractives-répulsives et à des anomalies oscillant dans plusieurs inflexions et flexions. Dans un premier temps, il chante une présence, puis il invoque et évoque l'absence, il use du récit, l'enflamme d'ombre et lumière, il essaye de raconter des histoires intimes et lointaines, les motifs conducteurs d'une vie, la sienne, et celle qui l'entoure.
*
Versi di vetro démarre de ses rencontres, il commence à germer après une collaboration avec l'association Arte Migrante Bologne autour de l'immigration, dans le but de réunir les peuples, évoquer les naufragés, des hommes en quête de liberté, qui ferment les rideaux de cette prétendue humanité indolore. Arte Migrante organise des thématiques autour de l'art migrant, avec l'intention de créer une inclusion à travers l'art, de nombreux évènements réunissent ainsi diverses cultures et personnes (étudiants, sans-abris, travailleurs, et chômeurs, jeunes et moins jeunes). Je voulais parler du déplacement, de l'identité et de la mémoire – Je voyais ces vêtements sur les rives – ces vagues – une perte – un tissu de tension – un livre fait d'ondulations. Omraam Tatcheda met en scène et le spectateur devient le témoin direct qui soulève les conflits plus ou moins exprimés dans ces courts motifs mélodiques, harmoniques ou rythmiques, parfois un visage ou une courbe noyée laisse entrevoir le suspens, une idée ou un sentiment étrange. Tout chef d'orchestre nous invite à une méditation, celle des partitions d'une histoire, une fiction qui sera aussi la notre, si nous acceptons de décoder les notes d'une composition visuelle baignée de proportions vastes, incluant plusieurs mouvements joints ou disjoints d'instruments, des voix connues et inconnues, des notes parfois étranges qui ne cessent d'évoluer enrichissant sa palette et modifiant la syntaxe au point d'en faire éclater les structures, telle une chiffonne faisant intervenir plusieurs cordes ou notes.(photos Foto: Ela Bialkowska/text Anna Mapoubi and Patrick Joel Yonkeu aka Omraam Tatcheda)