Artist/curator Philip Balimunsi has been appointed curator of Nommo National Gallery, Uganda's national gallery of art. What are his motives, his plans, his future projects? How important is the Nommo National Gallery for the art scene in Uganda?
Matt Kayem interviews him.
Phillip Balimunsi of the Nommo National Gallery in Kampala
An interview
Phillip Balimunsi has just been appointed curator of Nommo National gallery, a post he is the first to occupy at the institution. The institution which was always seen as the jewel of the Kampala art scene has been defunct for the last decade or so and had been written off by the artists. The once habitable and thriving home of Ugandan and possibly East African artists has been rotting away in mismanagement and finally Balimunsi emerges as its savior, to breathe life to it. An excellent orator, Balimunsi steps in the office with hopes high that he will revamp the gallery. Phillip just took a trip to Venice last year for a course during the Biennale. All this was my basis to track him down for a one on one. I met him at his new office and we chatted about Ugandan/African art and its politics, the Venice Biennale and curation.
*
MK: Who is a curator to you?
PB: A curator is a knowledge broker because you have to be knowledgeable in a particular field and what you do with the knowledge defines you as a curator. The word curator comes from a Latin word cura which means caretaker, so traditionally, a curator was a caretaker of artifacts in a museum set up. But this field has evolved overtime and one of greatest curators, Harald Szeemann discovered that curators needed a lot of independence to make decisions. He discovered that as a curator, you didn't have to be like administrator but become more of like a semi-autonomous department. So contemporary curating means this.
*
MK: You started out as an artist, what made you cross over to curation?
PB: I wanted to be an artist who shapes experiences but didn't know what it meant then. And many people thought I would be an art critic because I was so critical in terms of analyzing history but because I wanted to tell my personal story then, I started writing. Writing became therapeutical to me because I did it over and over again. I was however struggling to tell my story through the writing but after refining it a little bit, I felt that my experience needed to be extended to the industry. And before I graduated, I started doing interviews within studio experiences and I felt that we needed to document our story. So within that struggle, it started to define me as someone who belongs somewhere but I never knew who I was. Then in 2012 when Gabi Ngcobo came to Uganda, 32 in partnership with Bayimba organized the first curatorial session and this is when I started to understand who I was.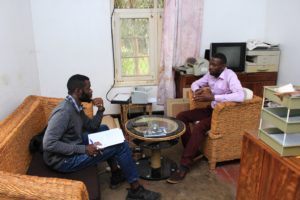 Chatting away in his new office room.
MK: How important is Nommo National Gallery to the art scene here?
PB: One, before you think about Nommo gallery as Nommo gallery, every country has a national gallery. The National gallery is the defining voice of the creative endeavors of that particular country. It's the projection of the country's history, it's the only place where national presentation can be clearly defined. But when you come down to this place, it's the first gallery in East Africa but I came a year after Kemi Kemi gallery which is now Paya Pa in Nairobi started by Elimo Njau. These galleries came as a result of the 1962 conference that debated on what African art should be and what it was then and how the curriculum should look like. So the goal of these galleries was to define what African or Ugandan art should be in the eyes of Ugandans. So Nommo gallery is that defining factor, remember we have a conflict of identity. We have an identity crisis as Ugandans or Africans. We have a colonial legacy and our native history. So as a national gallery, we have to find a grey zone, how we define ourselves amidst the contradiction and ideally globally, you cannot represent Uganda unless you come through a national gallery. So you cannot go to Venice without the backing up of a national gallery which is like that emblem defining who we are as a country nationally and internationally.
*
MK: You're making history today as the first curator of Nommo, why do you think it has taken Nommo National Gallery this long to have a curator?
PB: It's not only Nommo. It has taken Africa so long to get curators. Margaret Nagawa was the first Ugandan curator educated in the field at Goldsmith University but by then, people didn't know what curating was and the next breed of curators came in 2012 like I told you earlier. But still, up to now, we don't have an institution in Uganda that teaches curating, not even in Kenya or Tanzania. So how many people can go to South Africa or West Africa or even abroad to study curating and how many can come back to Uganda to do the job. So the first breed of curators came around in the 80s with the likes of the late Bisi Silva, Gabi Ngcobo, Rafael Chikukwa. But they also came back as independent curators because they couldn't fit within the system. Which means the system didn't plan for curating but simply looked at administrators of culture. But the world at large, the evolution of exhibitions has been into phases and Africa hadn't reached that phase of looking at critical dialogue, it was more of civil engagement within the curatorial arena. You would find embassies or politicians organizing exhibitions. So that was the initial phase of exhibition making where we were. The other countries had gone up to the third phase of interrogating international exhibitions. But also, the evolution of exhibition making to accommodate international exhibitions like festivals and biennales has changed mindsets because these are not institutional based but they are independent spaces and alternative display arenas. There are a lot of complexities with this like how to you manage audiences, content or displays. So the challenges birthed ideas of having production managers and we are a growing country which cannot afford that structure. So upon the discovery that there is someone who can do everything, then curating came into play. And that particular course came because of the crisis Bayimba was facing, they wanted to create a directed festival but they didn't know how to go about it and hence started a workshop on curating. So this was a wakeup call to the national gallery too which felt it needed a curator to change the exhibition design. But also there weren't professionals to take up the position.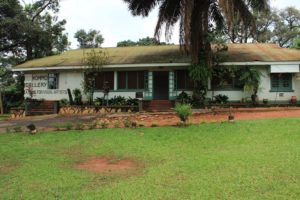 Nommo National gallery as it stands today, is a former colonial bungalow
MK: You come with a wealth of knowledge and expertise to occupy this post, what do you think has to be fixed with this institution?
PB: One, it's not only about this institution but the entire industry. I normally tell people that our narratives are shaky and hollow; they are really filled with holes. You cannot find a driving factor of what the true narrative of Ugandan history in terms of visual art. So for me, my overall intention to join curating was to capture the original stories of which we are the true story of what Uganda is in terms of history and the visual narrative. So ideally, if we can begin from documentation because we don't have tangible documents people can refer to. The earliest documentation was done by either missionaries, for example Clement Delise captured what she thought of our art with a mind of a tourist. And as a tourist, your picture is always vague, trivial, often subjective and not true at other times. And that's what we have. And the other thing is that the little we have oftentimes is dependent on grants which are stringent. Therefore we need a home based documentation steered by local experts and by this I mean people who've been part of the history. Our history is always oral and if you want to get our history, you have to do interviews. But most who've done this documentation do not understand the languages, habits and they end up taking a different picture. So for me, if we can fix documentation, create processes, this industry is amazing, we already have the product. So our challenge is the delivery process, not the production process. Create catalogues, digital archives, publications, t.v you name it and we will be good to go.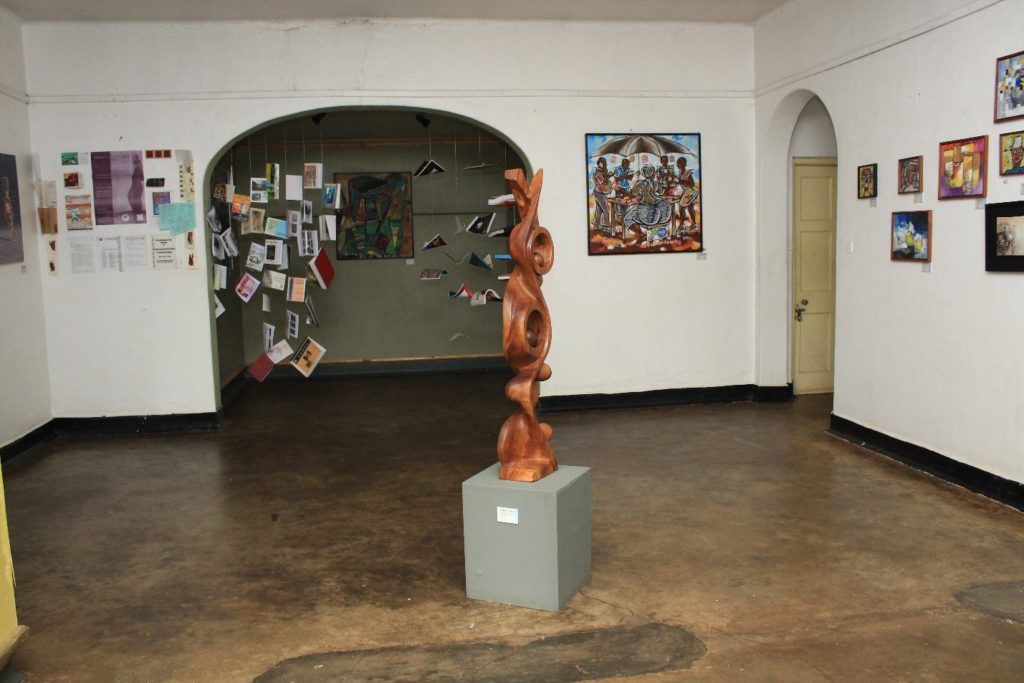 Installation shot of Long Wait the inaugural and current exhibition under the tenure of Phillip Balimunsi at Nommo gallery.
MK: You were in Venice from early June till September, how rewarding was your the trip?
PB: I don't usually like travelling to Europe or those countries, I'm always strategic. I don't want to lose the true vision of what Uganda is and what I can do for my country. I had arranged my trip three or four years ago and because of resources and all that, I needed to taste whether it was worth it. So I needed to look for funds and also grow my experience. The idea that took me to Venice was, how do we create a Ugandan pavilion? I was oriented into the biennial process by Venice architects, curators, pavilion managers, exhibition designers, collectors, philosophers, influential artists and also attending a curatorial course by leading institution instructors.I studied fundraising, press management, exhibition histories, publication and exhibition management. I curated an exhibition of European artists as a group project to implement all studied experiences. I visited over 300 exhibitions in Venice – Italy, 10 exhibitions in Netherlands and 1 major Ai Weiwei retrospective in Germany. I also studied architectural preservation and conservation in Italy. I visited all the Biennial pavilions and made several presentations and artist critiques. I also met over 10 top notch collectors, over 40 curators from leading museums. I also bought all the Biennale catalogues and came back with a bunch of books too.
*
MK: You mention that your main objective was to pave way for a Ugandan pavilion at the Biennale. How far are we from achieving that and what needs to be done?
PB: One, it's a costly venture but before that, money shouldn't be a problem because looking for 2 billion shillings to take 3,4 or 5 artists can be done. The biggest challenge is, what do we want to present, what story do we want to take to Venice? But also, we need to be aware of the quality of exhibition design, the quality of cataloguing, the quality of photography and so forth. We need to pay attention to the little details we have ignored for a very long time. And when you go to Venice, the cheapest catalogue is 10 Euros, it's like a giveaway price but if you brought that to Uganda, you will feel like it needs to be about 20 Euros! For the quality of paper, the printing and photography which is top notch. But also artists should be aware of value creation within their work in terms of studio processes. I mean, you will hardly find a Ugandan artist whose work can go for 100,000 Euros. We are talking of a stage that needs an artist who is 400,000 Euros plus. So we need to grow the artists until they are ready for these platforms and the institutions too.
*
MK: You are interested in histories and how they inform or affect contemporary practices. Can you expand on this?
PB: We are facing hard times in terms of presentation of realities, in terms of both visual and performing arts. We really have a huge complexity with the reality visa-via what we present. So ideally, my question is always, how do we present the reality in its trueness without reaping it apart and without losing the conscious of who we are. That really informs my intentions within curating. Remember now that contemporary art now has gone into spaces that are not very conventional academically. You have performance, poetry, literature and process-oriented forms which are informed by the factor of time. If you come late to an exhibition that has a performance, you've missed the exhibition. So you need to be part of everything. So as a curator, you need to understand where we come from and how this comes about. Traditionally, we are performers. In the 60s and before, a Ugandan artist was a writer, a poet. In the colonial times, we could hardly distinguish music from painting or crafting. Everything was a linkage of telling a story or transferring a message. So this is what the west has re-interpreted as contemporary practices yet we experienced our contemporary way back even before colonialism. But the challenge is to present contemporary art forms in the midst of politics, social controversies and economic tragedies. That's why I track back and try to find out what the intentions were then and how have we transcended and transitioned from modern, post modern and contemporary art. So for me, history informs the present in that particular angle.
Installation view of the show, Anecodotes of Origin which Balimunsi co-curated during his Venice course and orientation.
MK: What is your assessment of the Kampala art scene and how does it feed the East African art scene and the broader African industry and perhaps the international arena?
PB: Uganda and Nigeria are very iconic in the history of art making in Africa. No one should dispute that more so when it comes to the more conventional art forms. Uganda and Nigeria have the first and oldest art schools with Ibadan starting in 1937 and Margaret Trowell in the 30s or 40s. So these two institutions very much inform who we are today. With all this, Kampala becomes a fulcrum because it harbors this iconic history because art in East Africa was taught here and Nigeria in West Africa. So you have the Wole Soyinkas there and the Elimo Njaus here. South Africa feeds in because it had a direct contact during apartheid. Well, this makes Kampala so pivotal in the art, we had the 1962 conference here and you have poets like Okot P'Bitek in the ranks of Wole Soyinka. So the evolution of the Kampala art scene determines a lot of East African art and affects a lot of African art. 55 artists and intellectuals gathered here in 62 from wherever in Africa. Kampala also informs the historical perspective of East Africa where by the first gallery was opened by Elimo Njau who was a lecturer at Makerere University and the first student of Margaret Trowell. So and then he comes back and they form this gallery in 64. But now, because Kenya has an economic muscle, the capitalized on the delivery process which is galleries and museums, plus the free access to the western world where they easily go out and come back. And to crown it, they have never experienced political insurgencies like we have. Most of these iconic artists have had their footing at Makerere, look at people like Zarina Bhimji. But we lost it when we went through the political victimization where everyone who went never came back and whoever came back, went silent and never wanted to share their experiences. And Kenya benefitted from all this dilemma but we are still very pivotal because if people are looking at history and engaging in historical debates, they always come back to Makerere University.
*
MK: You are a reader and you came back with a whole library from Venice. Which two titles would you recommend to one beginning out as a curator?
PB: Actually, I rarely start from western writers. There is one from AbdouMaliq Simone, he looks at people as moving infrastructure, and I love that book. It's actually a research paper, he doesn't look at museums, and he looks at Africans having temporary structures because that is our culture. He doesn't take pleasure and glory in infrastructure that is borrowed from the west. He inserts that African unity are not the buildings and African cities are not punctuated by architectural monuments but by human beings. If you have ten people, then you have a city. So the title is "People As Infrastructure: Intersecting Fragments in Johannesburg". Another interesting one is "Self-Organized" which is a collection of essays by different writers. I liked the one from Jan Verwoerts, All The Wrong Reasons and it looks at the idea of independent practices and why people take up independent practices. It gives you a clear picture why we have alternative spaces, in Africa, why we have project based ideas, artists' studios cum galleries. It looks at the failure of national institution as a beginning of alternative spaces. It looks at co-optation of practices and the failure of major institutions. It's very ideal for one who wants to understand the complexity of an art scene like Kampala's.

Matt Kayem
MK: What are your future projects?
PB: I'm a really hardworking guy and passionate and the first step for me was to re-structure the industry which I needed me to be part of. The infrastructure which is the National gallery. For me being part of this place, I see myself achieving a lot for the industry and for myself but the big future is the moment I do the Venice pavilion, I don't need to do it again. I'm looking at creating processes that lead to the Venice Biennale. All this comes from a strong national gallery and when I went to Venice, I wanted to learn where we start from. And how do we create a self-dependent industry where artists don't have to co-opt other practices to survive. Not to start a canteen but you have a huge array of areas that fit within your career to choose from, like writing, speaking and so forth.
Matt Kayem is a contemporary artist, art critic and writer living and working in Kampala, Uganda. He can be reached via email mattkayem@gmail.com.