Pope L : Pope.L: Choir: Oct 10, 2019–Winter 2020, Whitneu Museum New York
Blue People Area drop of halter, 2012

About: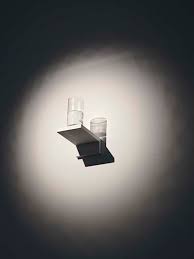 Choir, 2019
b. 1955, Newark, NJ, Lives and works in Chicago, IL
Pope.L brings his boundary-breaking practice to the Whitney with the debut of a newly commissioned installation, Choir (2019). For over four decades, Pope.L has used performance, painting, drawing, installation, video, sculpture, and theater to grapple with gender, race, and societal concerns. Expanding on his ongoing exploration of water, he investigates its physical properties and associations—ranging from life-giving to destructive—to find connections between this ubiquitous substance and complex social issues. Pope.L was the recipient of the 2017 Bucksbaum Award, which is presented to an artist in the Whitney Biennial. Choir opens in the Lobby Gallery on October 10, 2019 and runs through Winter 2020.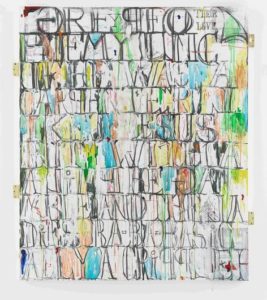 Crying Painting, 2016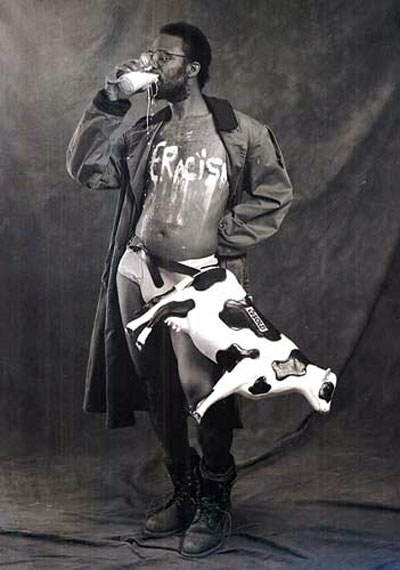 Eracist
Diptych, 2015
This exhibition is part of Pope.L: Instigation, Aspiration, Perspiration, a trio of complementary exhibitions organized by The Museum of Modern Art, the Whitney Museum of American Art, and Public Art Fund. Utilizing both public and private spaces, the expansive presentation addresses many elements of the artist's oeuvre, from singular early works to a monumental new installation and a new large-scale performative work inspired by the artist's iconic crawl series on the streets of New York City. The three exhibitions underscore Pope.L's innovative approach to the notion of duration, the flow from moment to moment, and the process of creation, which is often made apparent in the work itself.(text Whitney)
*
Pope.L is a visual artist and educator whose multidisciplinary practice uses binaries, contraries and preconceived notions embedded within contemporary culture to create art works in various formats, for example, writing, painting, performance, installation, video and sculpture. Building upon his long history of enacting arduous, provocative, absurdist performances and interventions in public spaces, Pope.L applies some of the same social, formal and performative strategies to his interests in language, system, gender, race and community. The goals for his work are several: joy, money and uncertainty— not necessarily in that order.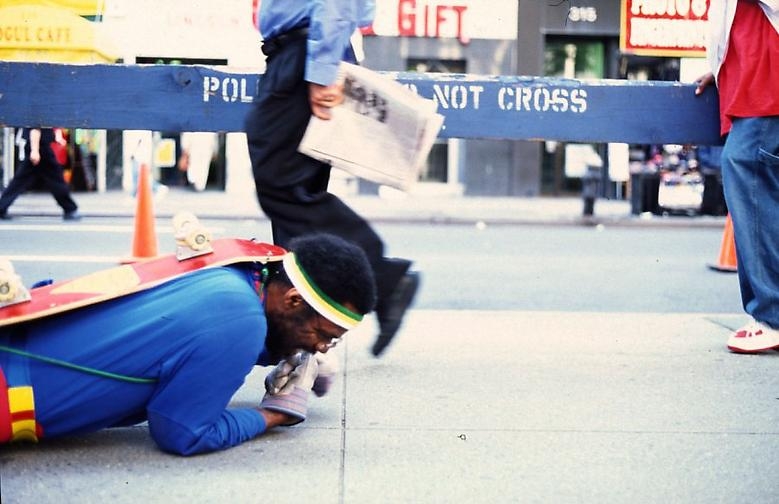 The Great White Way 22miles, 9 years, 1 street, 2000-2009.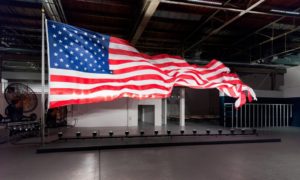 Trinket, installation, 2015
Pope.L began his career in the 1970s, creating works that find their foothold in personal travail, reading philosophy, and performance and theatre training with Geoff Hendricks and Mabous Mines. He studied at Pratt Institute and later received his BA from Montclair State College in 1978. He also attended the Independent Study Program at the Whitney Museum of American Art before earning his MFA from Rutgers University in 1981. His first performances occurred on the street, and later at major and historic venues, such as Anthology Film Archives, Franklin Furnace, Just Above Midtown, Museum of Modern Art, New Museum, Performa, The Sculpture Center, and the 2002 Whitney Biennial in New York; MIT and Mobius in Boston; MOCA Los Angeles; Shinjuku Station in Tokyo; Diverse Works in Houston; Cleveland Institute of Art in Ohio; Baltic Centre for Contemporary Art in Gateshead Quays, UK; Prospect.2 in New Orleans; Walker Art Center in Minneapolis; Museum of Contemporary Art Chicago; and CAM Houston, among others. Major performances include Baile (2016); The Problem (2016); Pull (2013); The Black Factory national tour (2002–2009); The Great White Way (2001–2002); Community Crawls (2000–2005); Eating the Wall Street Journal (2000); Black Domestic aka Roach Motel Black (1994); How Much is that Nigger in the Window (1990-1992); Times Square Crawl (1978); and Thunderbird Immolation (1978).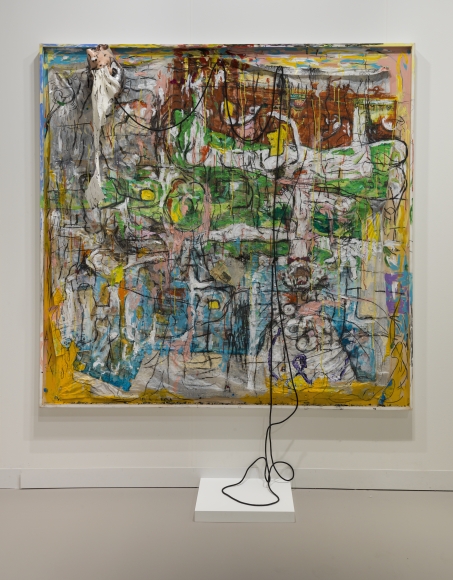 Sunny Day White Power, 2016
Recent exhibitions, performances, and projects include Flint Water Project at What Pipeline, Detroit (2017); Whispering Campaign at documenta 14, Athens and Kassel (2017); Claim (Whitney Version) at the 2017 Whitney Biennial (2017); PLAMA (The Spot), a commercial commissioned for On the Tip of the Tongue at Museum of Modern Art Warsaw (2016); Baile at the 32nd Biennal de São Paulo (2016); The Freedom Principle at ICA Philadelphia (2016) and MCA Chicago (2015); The Public Body at Artspace, Sydney (2016); Less than One at Walker Art Center, Minneapolis (2016); Trinket at The Geffen Contemporary, Museum of Contemporary Art, Los Angeles (2015); Black Pulp! at Yale School of Art, New Haven and IPCNY in New York (2016); Radical Presence: Black Performance in Contemporary Art at Walker Art Center, Minneapolis, CAM Houston, and Studio Museum in New York (2014); Claim at Littman Gallery, Portland State University, Portland, OR (2014); Cage Unrequited at Performa, New York (2013); Forlesen at The Renaissance Society, University of Chicago, Chicago (2013); and A Long White Cloud, Te Tuhi, Auckland, New Zealand (2013).
His work has also been the subject of important group and solo shows throughout the span of his almost 50-year career, including Against the Grain: Wood in Contemporary Craft and Design, Museum of Art and Design, New York (2013); superhuman, Central Utah Art Center, Ephraim (2012); Reenactor, Williams Center Gallery at Lafayette College, Easton, PA (2012); The Last Newspaper, New Museum, New York (2010); 30 Seconds Off an Inch, The Studio Museum in Harlem, New York (2009); Corbu Pops, Carpenter Center for the Visual Arts, Harvard University, Cambridge, MA (2009); Thirty Americans, Rubell Family Collection, Miami (2008); Black Is, Black Ain't, Renaissance Society at the University of Chicago (2008); Drawing, Dreaming, Drowning at Art Institute of Chicago (2008); Art After White People: Time, Trees, and Celluloid . . . at Santa Monica Museum of Art, Santa Monica, CA (2007); William Pope.L: The Black Factory and Other Good Works, Yerba Buena Center for the Arts, San Francisco (2007); 7e Biennale de l'Art Africaine Contemporaine, Dakar, Senegal (2006); Double Consciousness: Black Conceptual Art since 1970, Contemporary Arts Museum Houston (2005); The Interventionists: Art in the Social Sphere, Massachusetts Museum of Contemporary Art, North Adams (2004); The Big Nothing, Institute of Contemporary Art, University of Pennsylvania, Philadelphia (2004); Only Skin Deep, International Center of Photography, New York (2004); William Pope.L: the friendliest Black artist in America at ICA at Maine College of Art, Portland, DoverseWorks Artspace in Houston, Portland Institute for Contemporary Art, ME, Artists Space in New York, and Mason Gross Art Galleries at Rutgers University in New Brunswick, NJ (2002-2004); eRacism: Retrospective Exhibition, Institute of Contemporary Art at Maine College of Art, Portland (2002); eRacism: White Room, Thread Waxing Space, New York (2000); Eating the Wall Street Journal and Other Current Consumptions, Mobius, Boston (2000); and Out of Actions: Between Performance and the Object, 1949–1979, Museum of Contemporary Art, Los Angeles (1998).
Negro Idea, 267, 2001-2006
Pope.L is the recipient of numerous awards and fellowships, including the Bucksbaum Award, Joyce Foundation Award, the Tiffany Foundation Award, the United States Artists Rockefeller Fellowship, the Bellagio Center Residency, Solomon R. Guggenheim Fellowship, Andy Warhol Foundation grant, Creative Capital Foundation grant, Franklin Furnace/Jerome Foundation grant, National Endowment for the Arts fellowship, Artists Space grant, and more.(text and courtesy : Mitchell-Innes&Nash)
All images © Pope.L.